ShotFlow vs. Creative Force.
Full feature comparison
Creative Force offers true end-to-end workflow software for creating content at scale. See why Creative Force is the full-featured alternative to ShotFlow in this head-to-head comparison.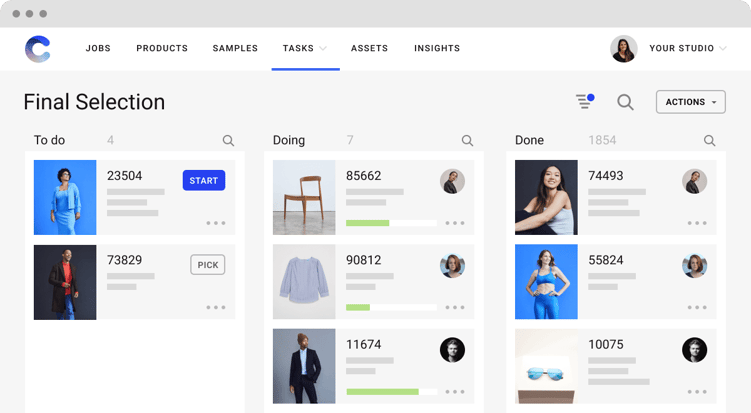 Creative Force vs. ShotFlow Products
Retailers, brands, and customers today are asking for more content to be produced faster than ever. Both Creative Force and ShotFlow claim to help their customers deliver these results by optimizing their content workflow. Below, you'll learn the similarities and differences between the two.
Disclaimer: The information provided here is believed to be accurate at the time of this writing. If you notice any errors or have suggestions for improvement, please don't hesitate to contact us through the chat feature on this page. Your feedback is greatly appreciated.
So first, let's compare the Creative Force vs. ShotFlow product offerings out of the box:
Product comparison
Product comparison
ShotFlow
Creative Force
Sample Management
Creative Force can pool samples between clients & brands.
Workflow Automation
Yes, limited
Separate 3rd party systems and development required.
Full end-to-end platform for automation. No 3rd party tools are required.
Review & Approval
Yes, limited
Separate 3rd party systems and development required.
Multiple review stages with annotations.
Asset Repository
Asset copy is saved for each step of production and review.
Cloud Video & Review
Yes, add-on
Fully integrated add-on. Multiple review stages with annotations and full end-to-end cloud workflow.
Editorial Project Management
Yes, add-on
Fully integrated add-on. Full end-to-end workflow for editorial projects.
Reporting
All Charts, Reports, and Dashboards have to be configured by an Admin.
No setup required for standard reporting of Brand/Clients, Samples, Products, Assets, Vendors, and Studio Progress. Custom reports available for Enterprise clients.
Post-Production Management
Yes, limited
Separate 3rd party systems and development required.
Retouching, review, and reporting are handled within the platform. Direct integration to multiple vendors.
Comparison of ShotFlow Features
Both Creative Force and ShotFlow solutions include sample management and reporting. Creative Force also includes workflow automation, vendor management, review & approval, asset repository, post-production management (retouching, review, and reporting), and add-ons like cloud video and editorial workflows.
Creative Force is a true end-to-end enterprise studio management solution, with capabilities from sample management to handling post-production and reporting in the product. Shotflow requires third-party systems to provide comparable features.
Below is a feature comparison of the two products. Or go directly to the Product Tour here.
Feature comparison
Feature comparison
ShotFlow
Creative Force
True End-to-End Workflow
No
Separate 3rd party systems and development required.
Handles the entire content creation workflow, from product data ingest and sample management through post-production and final asset delivery.
Style Guide-Based Production Requirements
No
Data ingest rules (using boolean logic) need to be configured separately from Style Guides and individually for Products, Samples, Shots, and Asset records.
Style Guide configurations power production requirements and are visible to all teams for reference.
- Capture One Reverse Cropping
Photoshop Integration
Built-in Photoshop panel with automatic file upload.
Video Review & Annotation
Automated File Handling
End-to-end handling of files. No manual tasks involved.
Real-Time Asset Tracking
No
Only tracks shots and samples.
End-to-end tracking in all stages of the production process.
Barcodes
Includes tracking of samples, locations, sub-locations, and containers.
Asset Management
Yes, limited
Separate 3rd party systems and development required.
Asset copy saved for each step of production and review.
Support
Support portal
Ticket system for admins only.
In-app chat support
In-app chat support available to all users. Typical response time is 60 seconds or less.
Updates and Improvements
New release every 2 weeks
Integrations
Limited
Requires API configuration or 3rd party software to connect.
15+ connected integrations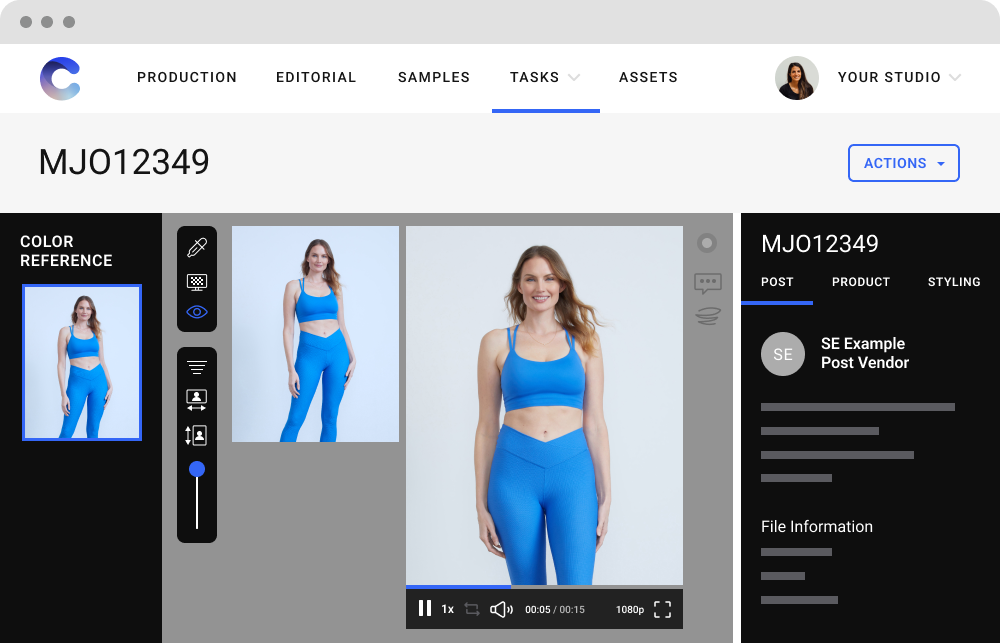 Creative Force or ShotFlow?
Creative Force is a robust, full-featured alternative to ShotFlow. ShotFlow only handles workflow through image capture; additional 3rd party software is required to cover the entire content creation process. Alternatively, from the moment a product sample arrives on set to PDP delivery and more, Creative Force handles your end-to-end eCommerce and editorial content production in one platform.
Creative Force is a SOC 2 Type II-certified, secure platform that supports your business every step of the way, including an in-depth training program, customer service support, and integrations with a lot of software you're already using.
Are Creative Force and ShotFlow both end-to-end solutions for content creation?

Creative Force is an end-to-end solution, out of the box. From product data to asset delivery, the software covers the entire production process.

The standard ShotFlow configuration ends at image capture. ShotFlow requires 3rd party software for file handling, post-production, and review.
How do the reporting capabilities compare?

Creative Force comes with all the standard reports you need to measure samples, assets, post-production, studio efficiency, and more. Custom reports for cost and budget analysis can be created for Enterprise clients together with their in-house Data Analyst using Looker (part of Google Cloud).

ShotFlow requires users to configure charts, reports, and dashboards separately for each brand/client added. The system can only report on samples and if shots are completed. If changes are made to the system, reports may need to be recreated. Any additional reporting on assets and post-production requires development, scripting, and third-party systems.
What customer support options are available?

Creative Force offers in-app chat support powered by Intercom. Chat is available for all users and is located in the bottom right corner of all Creative Force applications, so users never need to leave the program to get help. Chat response time is under 2 minutes and covers all time zones.

With ShotFlow, administrators log in to a separate portal and submit support tickets for individual issues.
How are assets managed?

Creative Force has an asset area that houses a copy of each image at each production step in the cloud. There are no caps on the storage of photo and video assets. Workflows can be configured to asset files are delivered to the correct location or post-production provider.

ShotFlow requires development to provide thumbnails of captured assets after they have been exported out of Capture One. There is no central asset area and third-party systems are required. Any asset tracking beyond capture requires development and scripting.
How do style guides work?

Creative Force style guides make it easy to communicate which shots are required. Style guides only have to be created once and are shared throughout the workflow for use by photo and retouching teams. Lists can be manually ingested in the Jobs tab and administrators can easily configure data source folders. API integrations with a PIM are possible.

ShotFlow uses an ingest engine requiring Boolean logic rules for each sample, product record and shot to be created when ingesting data sheets. These data rules can be complex and challenging to manage for large clients. Sharing style guide information with photographers requires a separate configuration process.
What training programs are available?

Creative Force has an online training academy with detailed courses for key features. In addition to the in-app chat feature mentioned above, Creative Force has an online help center that is updated regularly with examples and videos.

ShotFlow does not have an official training program. The support portal contains basic process steps, while customers are able to create their own documentation to supplement. Usually, only administrators get access to the support ticket system.
Can we pool our samples to share with clients?

Creative Force was built to be collaborative. Samples can be shared between clients in the system which allows for flexibility and better reporting.

ShotFlow requires development to configure separate brands into one app. Separate brand apps cannot share samples.
How often is the software updated?

Creative Force has a large, dedicated product and development team, releasing updates to the product every two weeks. These updates include adding customer-recommended features, continually improving performance, and fixing bugs quickly.

ShotFlow has occasional software updates. Customers do most of the testing for new releases and only reported issues are addressed. Feature requests from customers can take a while to implement.
I'm already using a particular software. Can I integrate it with Creative Force or ShotFlow?

Creative Force regularly adds new integrations based on recommendations from customers and partners.

ShotFlow requires heavy development scripting, API calls, and 3rd party software to facilitate connections.
Who manages the platform?

With support of Creative Force's onboarding and customer service teams, the Creative Force platform can be managed by anyone who has gone through the online training academy. Additional client information (presets, workflows, and style guides) is only needed when new clients are added.

ShotFlow requires a dedicated administrator to build all brand and studio app connections, users, talent, field properties, sample labels, data ingest rules, and all reporting charts for each client/brand separately. A developer is required if post-production workflow and review capabilities are needed. When studio processes are updated or users leave the company, each app has to be updated accordingly.
One powerful end-to-end solution.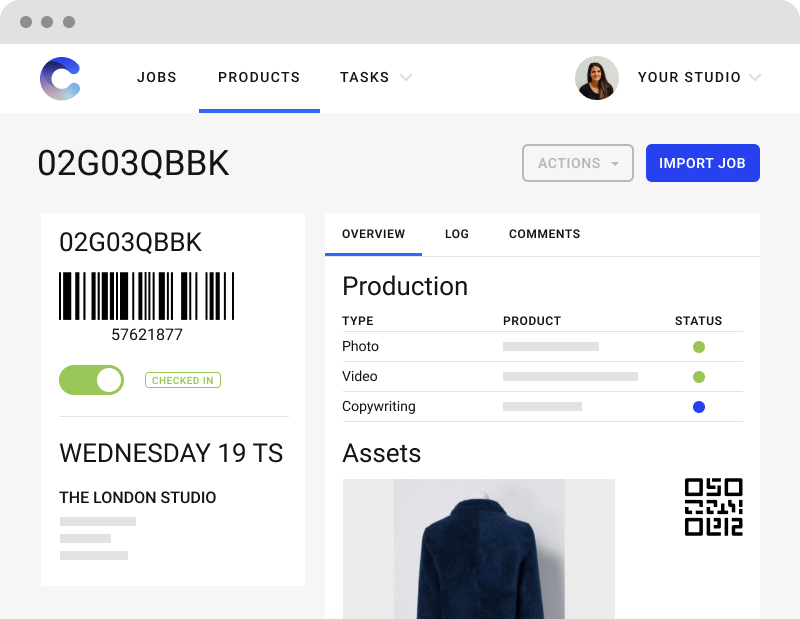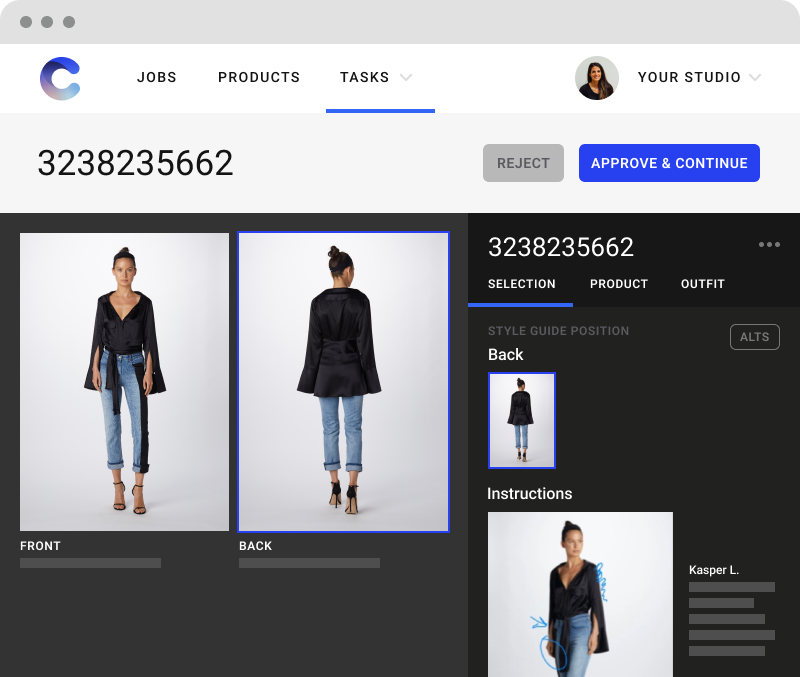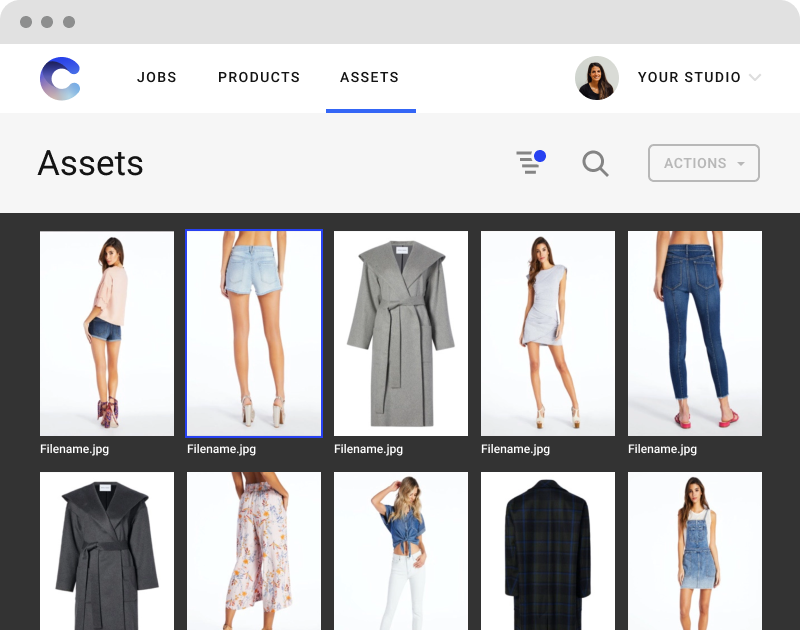 Ready to see Creative
Force in action?
Talk with one of our experts to learn how you can empower your teams to work faster, deliver superior results, and simplify eCommerce content production.
Deliver assets on time, on budget, and on brief
Reduce time-to-market
Increase operational visibility