Sample Management
Know (exactly) where your samples are
Use barcodes and advanced search features to track samples throughout production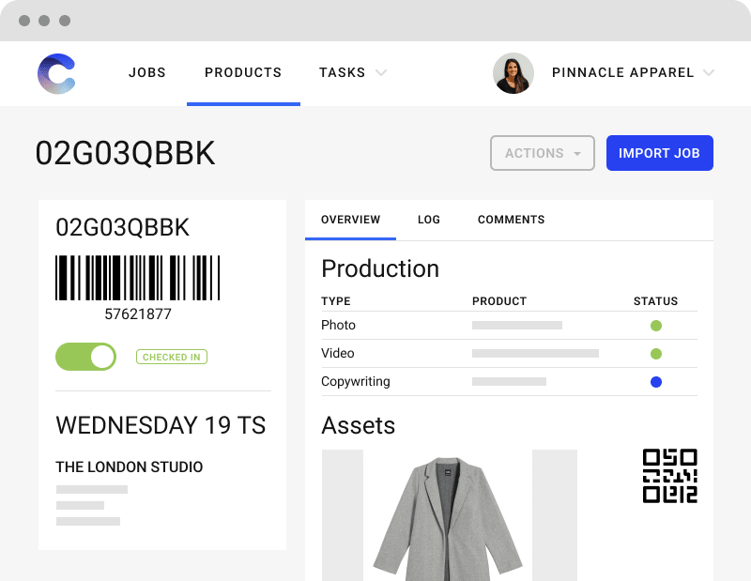 Barcode Scanning
Whether using existing sample barcodes or creating new ones in Creative Force, barcodes are an essential tool for organizing, tracking, and managing the samples flowing through your studio.

Samples are checked in and out with a standard handheld scanner or a smartphone. Every scan is associated with a location, so you'll immediately be able to follow samples as they move around the studio and get total visibility into production progress.
Designed to Handle Volume
Whether shooting 100 or 100,000 samples, your team will be able to handle the volume while staying organized.

In Creative Force, sample management is built into every workflow. Barcodes enable team members to track every sample throughout the entire production process, from check-in to on-set to storage and more. Plus stakeholders get full visibility with real-time updates.
Locations & Containers
Organize your studio into unlimited locations and sublocations (for example, receiving rack, styling, small cove, or outbound) for detailed tracking. Use virtual containers to track, move, and check-in samples in bulk.

Creative Force captures all relevant data and allows you to verify or edit the information on-the-fly, avoiding costly, time-consuming mistakes downstream.
You'll even have a detailed, time-stamped event log for each sample, making it easy to identify any bottlenecks in your studio.
Features designed for peace of mind
Sample coordinators, prep teams, and producers: imagine your day without spreadsheets or panicked "we're missing a sample on set" calls.
Data capture and verification during check-in
Custom labels with bespoke properties
Unlimited locations and sublocations, both internal and external
Unique container barcodes for rails, boxes, racks, and more
Audible alerts when scanning to speed up the process
Quick actions via the Creative Force mobile app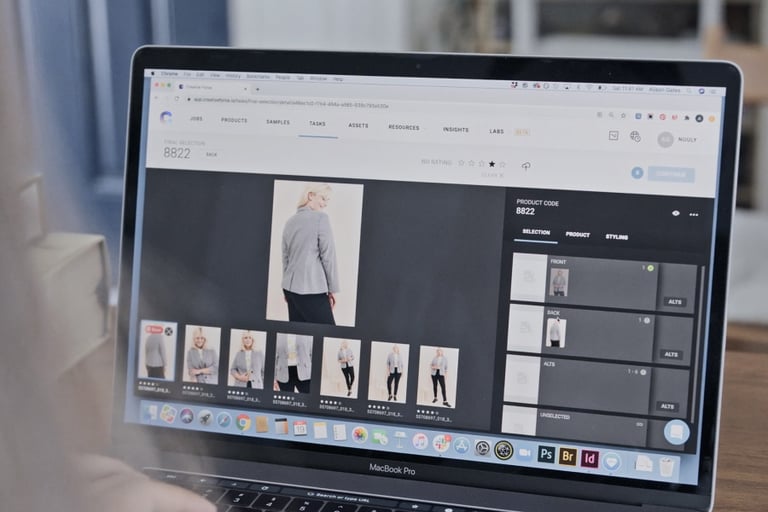 Is Creative Force the solution for you?
Talk is cheap. Let us show you how Creative Force can bring real value to your studio operations and help you overcome those time-stealing, costly challenges. You can explore pre-recorded demos on your own or reach out for a guided tour.
End-to-end workflow solution
Works out-of-the-box
24/7 support in less than a minute
SOC 2 Type II certified
Native and custom integrations
Questions? Let's ... expand.
How does Creative Force work?

To simplify things a bit, Creative Force enables and elevates what we call flow production – a collaborative and continuous way of producing content at scale, where assets are moved individually through the many stages of production, as soon as they're ready.

This is in contrast to traditional batch production, where a single production stage is completed for all assets before they advance to the next step. Flow production eliminates bottlenecks and hold-ups, and Creative Force supercharges that concept with automation, metadata enrichment, integrated review tools, and so much more.
How is Creative Force different from other studio software?

Let's first differentiate between studio software and studio management software. Creative Force is studio management software that optimizes the processes around specific areas of studio operations, like sample management or post-production management – in some cases by integrating directly with studio software your team uses daily, such as Capture One or Photoshop.

Other studio software solutions do a fine job of solving problems within particular, well-defined areas of operation. But only Creative Force takes a holistic approach to studio operations and provides the tools to effectively increase productivity and visibility across the entire content creation process.

Read more about how Creative Force compares to some alternatives out there →
Who can use Creative Force?

Creative Force is built to meet the needs of brands, retailers, and commercial studios engaged in high-volume content creation for eCommerce or editorial projects. If you work professionally with any of the above, chances are you'd see remarkable improvements to your workflows with Creative Force.

Every team from studio intake to styling to capture to post-production and beyond will benefit from the extensive workflow automation, increased production visibility, and many collaboration tools.
What makes you sure I'll see positive results using Creative Force?

From the get-go, we'll work with you to analyze your specific business needs to determine exactly what kind of an impact Creative Force will have on your unique processes, lead times, throughput, and resources.

If we don't believe you'll see immediate, measurable improvements in the areas you wish to optimize, we'll let you know. We're not interested in anything less than 100% satisfied customers.

Speaking of satisfied customers, we invite you to check out our case studies. You'll find them on our website's aptly named Success Stories section.
How long does it take to get up and running with Creative Force?

There's no one-size-fits-all solution when it comes to studio operations, so we'd be foolish to make any timeline promises until we've analyzed your particular needs. That said, we're big fans of getting things done as quickly as possible while maintaining the highest quality possible. It's kind of our MO. A personalized onboarding experience and our Creative Force Academy allow us to accomplish exactly that.