Cloud Video
Elevate your content production with video
Introducing the easiest, most efficient way to add video to your workflows
Video: The Creative Force Way
The time-saving, human error-squashing features we've championed for photography workflows are now available for video – within the same, powerful platform, so you have total operational visibility.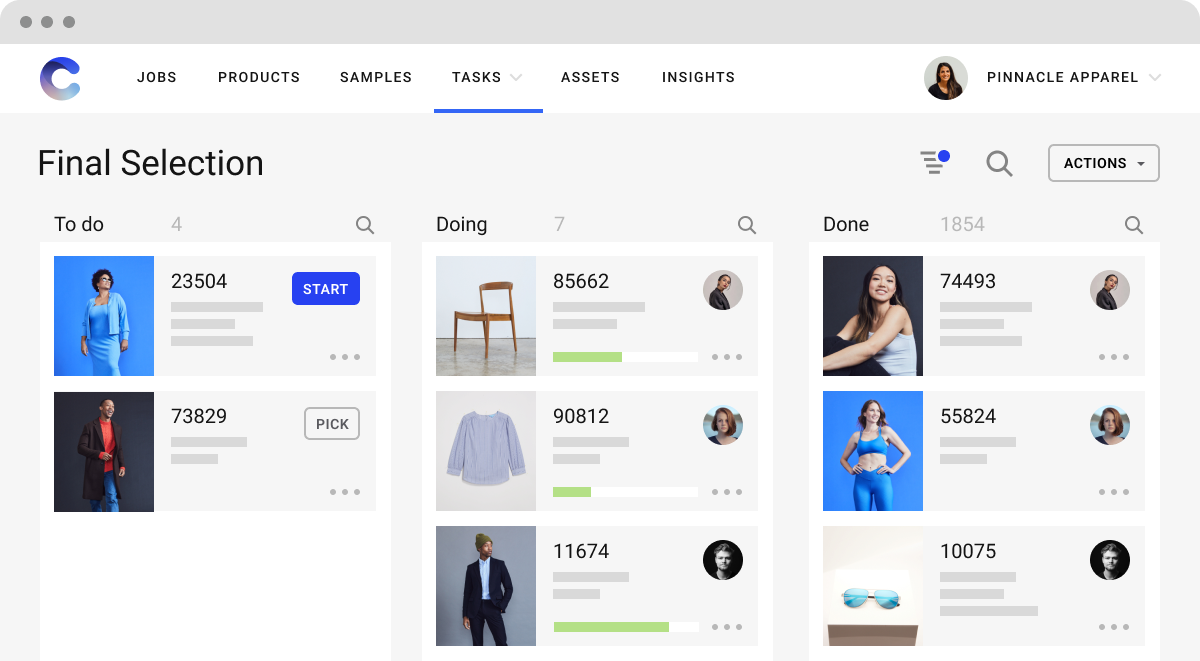 Combined Production Task Overview
Gain complete, real-time visibility into production progress with kanban views, event logs, and detailed reporting. Easy overviews enable you to identify – and eliminate – bottlenecks to speed up your turnaround time.
Automated File Handling
Ingest and distribute 4K MOV and MP4 files via FTP with post-production instructions, naming conventions, reference images, and alternates – without ever having to manually handle a file.
Done. Focus on the next shot.
Color References for Post-Production
Enforce color consistency across all media types by including a color reference for your external post-production vendor. A predefined image asset – such as a completed detail or flats shot – will automatically be part of the package your vendor receives via FTP. Ready for import in Premiere Pro or any other video editor.
Effective Collaboration
Make selections, request reshoots, and easily add detailed, visual mark-ups for post-production team members. Review from anywhere with full access to contextual instructions and production data.
Let's get technical
Video is a powerful medium. And it requires an equally powerful production platform. (Hint: We have that...)
One, integrated workflow engine for all content types
Automated file handling and file naming
Automated metadata enrichment
Timestamped mark-ups and comments
Up to 5GB individual file size
Frequently Asked Questions
How does Creative Force work?

To simplify things a bit, Creative Force enables and elevates what we call flow production – a collaborative and continuous way of producing content at scale, where assets are moved individually through the many stages of production, as soon as they're ready.

This is in contrast to traditional batch production, where a single production stage is completed for all assets before they advance to the next step. Flow production eliminates bottlenecks and hold-ups, and Creative Force supercharges that concept with automation, metadata enrichment, integrated review tools, and so much more.
How is Creative Force different?

Let's first differentiate between studio software and studio management software. Creative Force is studio management software that optimizes the processes around specific areas of studio operations, like sample management or post-production management – in some cases by integrating directly with studio software your team uses daily, such as Capture One or Photoshop.

Other studio software solutions do a fine job of solving problems within particular, well-defined areas of operation. But only Creative Force takes a holistic approach to studio operations and provides the tools to effectively increase productivity and visibility across the entire content creation process.

Read more about how Creative Force compares to some alternatives out there →
Who can use Creative Force?

Creative Force is built to meet the needs of brands, retailers, and commercial studios engaged in high-volume content creation for eCommerce or editorial projects. If you work professionally with any of the above, chances are you'd see remarkable improvements to your workflows with Creative Force.

Every team from studio intake to styling to capture to post-production and beyond will benefit from the extensive workflow automation, increased production visibility, and many collaboration tools.