Planning
Take charge of your production schedule
Schedule products and resources for upcoming shoots in a dynamic production calendar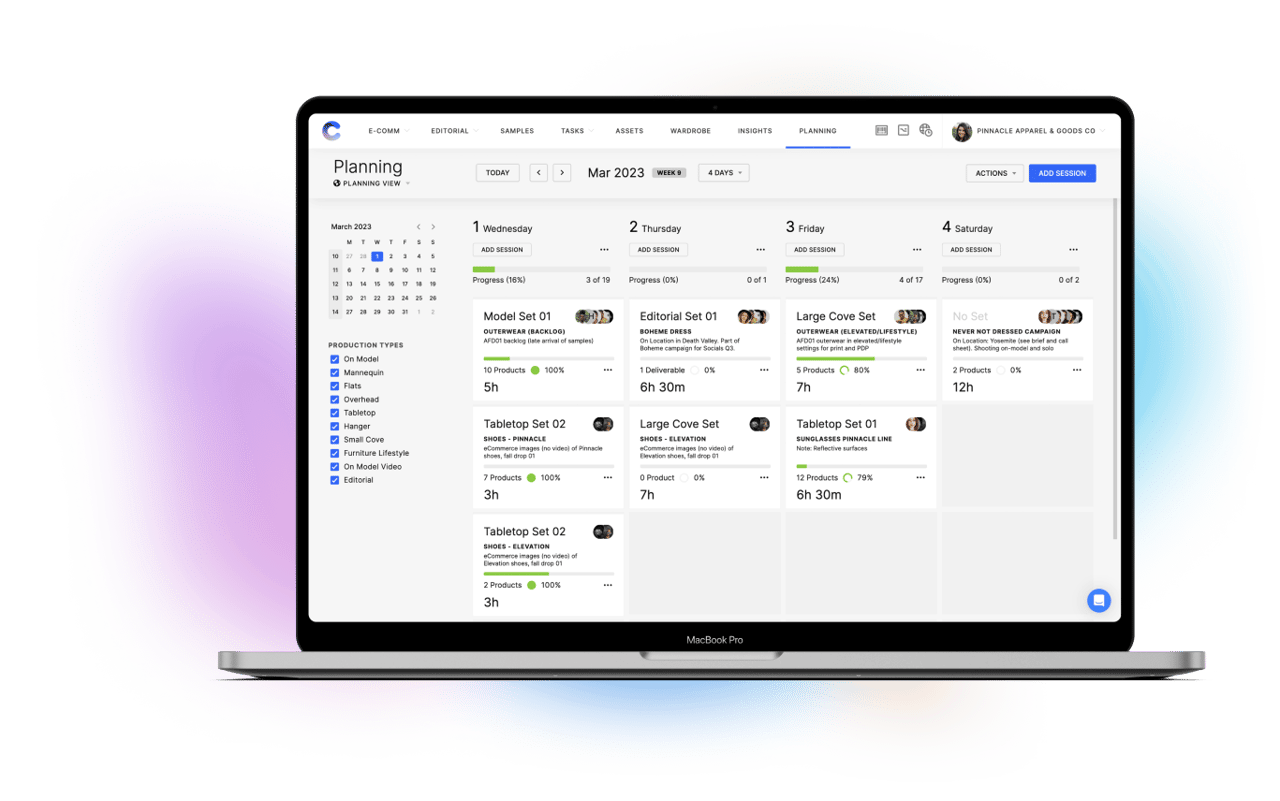 Streamline your production calendar
At-a-glance overview of the production schedule
Link Creative Force production tasks to the production schedule
Assign resources like sets and team members
Build and save dynamic calendar views based on filters, including sets, assigned team members, clients, production types, and more
Monitor shoot progress in real-time


Plan ahead
Leverage detailed and flexible Session Cards to plan your production schedule.
Schedule dates and times
Book set locations
Assemble on-set teams
Assign products and deliverables
Identify double-bookings with alerts
Execute planned sessions
Load scheduled team, set, and
shot list on-set automatically
Set teams can start work immediately based on the plan, without searching for assignments
The shot list and plan update instantly when new production tasks are added during the shoot (whether by the producer or on-set)
Maintain flexibility
Model out sick? Sample didn't arrive? Quickly update the schedule on-the-fly to adapt to changes.
Reschedule using drag-and-drop
Edit dates, times, team, sets, and products on-the-fly
Changes are instant, so the calendar is always up-to-date
Increase operational visibility
Visually track session progress on the production calendar
Identify unfinished work
Generate data-driven reports
Gain Control and Clarity
with a Dynamic Production Calendar
Managing a large eCommerce studio can be challenging, especially when communication is scattered across multiple platforms like shared spreadsheets, email chains, and text messages.

Keeping everyone updated on the latest changes to the plan requires manual calendar updates and can become even more complicated with last-minute changes, missing samples, and incomplete shot lists.
Planning & Resources enables studio leaders to effortlessly schedule sets, products, production tasks, and assign team members using a dynamic production calendar. It facilitates the creation of hybrid teams, seamlessly incorporating internal employees, freelancers, models, and other vendors for each shoot.

With a clear overview of the production calendar, Planning & Resources empowers studios to efficiently manage schedules and effectively allocate team members and resources. This results in increased productivity and improved visibility across all studio operations.
Ready to explore Planning?
Our experts will show you how Planning can empower your teams to work faster, deliver superior results, and simplify production. Streamline your processes and reduce go-live time today.
Consolidate production data into a single, easy-to-use planning calendar
Simplify and streamline on-set production
Increase operational visibility