SpinMe vs. Creative Force.
Full feature comparison
Creative Force offers true end-to-end workflow software for creating content at scale. See why Creative Force is the full-featured alternative to SpinMe in this head-to-head comparison.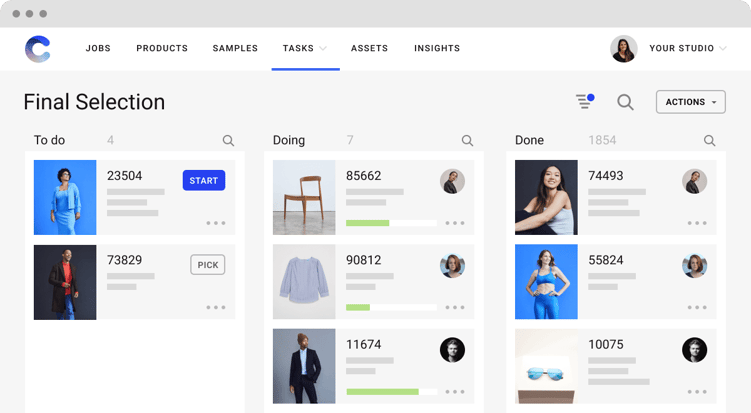 Creative Force vs. SpinMe Products
In today's competitive market, eCommerce retailers have to produce more content faster than ever. Both Creative Force and SpinMe claim to help their customers deliver just that by optimizing their content workflow. Below, we've highlighted the similarities and differences between the two.
Disclaimer: The information provided here is believed to be accurate at the time of this writing. If you notice any errors or have suggestions for improvement, please don't hesitate to contact us through the chat feature on this page. Your feedback is greatly appreciated.
So first, let's compare the Creative Force vs. SpinMe product offerings out of the box:
Product comparison
Product comparison
SpinMe
Creative Force
Sample Management
Limited
Does not include barcode generation.
Can generated bar codes and pool samples between clients & brands.
Workflow Automation
Limited
Can trigger an export upon status change, re-ingestion from post production, and has naming, metadata, and delivery presets.
File naming, metadata enrichment, and asset distribution: it's all taken care of by the software. Outdated spreadsheets, PDF print-outs, incorrect file names, and missing shots are a thing of the past and are all replaced by automated file handling.
Review & Approval
Multiple review stages with annotations.
Asset Repository
Has a centralized repository for digital assets.
A copy of all digital assets is saved for each step of production and review.
Cloud Video & Review
Yes, add-on
Fully integrated add-on. Multiple review stages with annotations and full end-to-end cloud workflow.
Editorial Project Management
Yes, add-on
Fully integrated add-on. Full end-to-end workflow for editorial projects.
Reporting
No
Must be done manually using SQL data
No setup required for standard reporting of Brand/Clients, Samples, Products, Assets, Vendors, and Studio Progress. Custom reports available for Enterprise clients.
Post-Production Management
Limited
Modular app can be added that will update product statuses once they're sent to post-production, and then reingest images into the platform for QC.
Retouching, review, and reporting are handled within the platform. Direct integration to multiple vendors.
Comparison of SpinMe Features
Both Creative Force and SpinMe solutions include vendor management and asset repository. Creative Force also includes extensive sample management, workflow automation, review & approval, reporting, post-production management (retouching, review, and reporting), and add-ons like cloud video and editorial workflows.
Creative Force is a true end-to-end enterprise studio management solution, with capabilities from sample management to post-production and reporting in the product. SpinMe requires third-party systems to provide comparable features.
Remote Work in Realtime
Creative Force is also a native, cloud-based system built for global teams. That means no VPNs, no virtual machines, and no bandwidth issues. Your entire workflow system can perform all functions and be accessed from wherever your team needs it.
Below is a feature comparison of the two products. Or go directly to the Product Tour here.
Feature comparison
Feature comparison
SpinMe
Creative Force
True End-to-End Workflow
Limited
Modular system. Full end-to-end is not required to purchase.
Handles the entire content creation workflow, from product data ingest and sample management through post-production and final asset delivery.
Style Guide-Based Production Requirements
No
Reference images and PDF options only.
Configure detailed Style Guides that appear in-product and control production requirements. Visible to all teams for reference.
Capture One Integration
No
Capture occurs inside the SpinMe platform.
Photoshop Integration
Limited
Able to right-click an image, choose "View image in Photoshop", and changes will be saved in SpinMe.
Built-in Photoshop panel with automatic file upload.
Video Review & Annotation
Fully integrated add-on. Multiple review stages with annotations and full end-to-end cloud workflow.
Automated File Handling
Limited
Users can manually set up and export files to clients /jobs.
No manual tasks are involved with the end-to-end handling of files.
Real-Time Asset Tracking
Products can be assigned a location during production.
With barcode scanning, users have end-to-end tracking for all stages of the production process including locations, sub-locations, and containers (when tracking more than one asset at a time).
Barcodes
Limited
Requires additional 3rd party software for barcode generation & scanning.
Includes tracking of samples, locations, sub-locations, and containers.
Cloud Storage for Assets
No
Local server and storage setup needed.
Security
Local storage
Security level depends on local setup.
Asset Management
No
Assets are updated as changes are made.
Full version control with a copy of the asset is saved for each step of production and review.
Support
Email
Clients must e-mail tech support, with up to 24 hour response time.
In-app chat support
In-app chat support available to all users. Typical response time is 60 seconds or less.
Updates and Improvements
New release every 2 weeks
Integrations
Limited
PhotoRobot, AutoCam 360, Photoshop
15+ connected integrations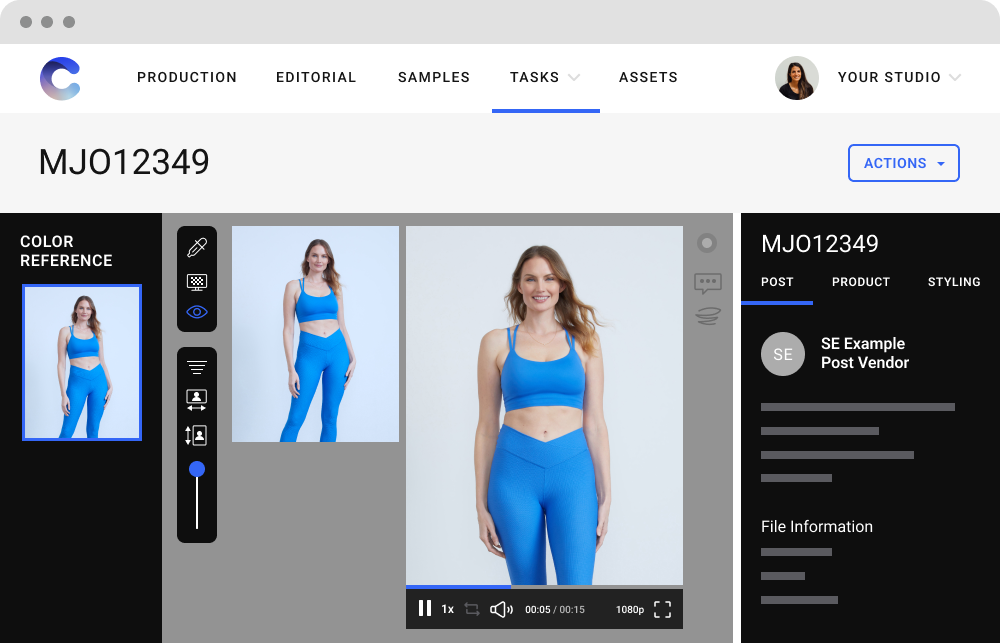 Creative Force or SpinMe?
As an alternative to SpinMe, Creative Force is a cloud-based, end-to-end content creation platform that handles every step of production in one tool, from moment a product sample arrives in the studio to PDP delivery and beyond. By comparison, SpinMe offers limited sample management and workflow automation features, while requiring local storage.
Creative Force also supports your production team every step of the way with a robust online training academy, in-app chat support so you get answers in minutes, and integrations with the software you're already using, like Capture One, Photoshop, and more.
Are Creative Force and SpinMe both end-to-end solutions for content creation?

Building a system that helps users from the very beginning to delivery is important. From product data to asset delivery, Creative Force covers the entire production process. The software is a complete end-to-end solution, out of the box.

The standard SpinMe configuration has limited sample management and workflow automation, no review & approval, and no reporting or add-ons like cloud video and editorial.
How do the reporting capabilities compare?

Being able to find the information you need and then use that information to build a better workflow could be one of the most incredible pieces of Creative Force. All the standard reports you need to measure samples, assets, post-production, studio efficiency, and more are available in Creative Force. Cost and budget analysis can be created using custom reports for enterprise clients together with their in-house data analyst using Looker (part of Google Cloud).

SpinMe requires users to input all data manually using SQL data.
What customer support options are available?

If there's an issue, you need help immediately. At the bottom right corner of all Creative Force applications there is chat support powered by Intercom. This means that users never need to leave the program to get help. Response time is usually under one minute.

SpinMe users will have to email tech support with up to 24 hours of wait time.
How are assets managed?

No matter what piece of the journey you're in, you can always look back at where the content evolved from to edit, update, or restart any edits. Creative Force houses a copy of each image at each production step in the cloud. Don't worry about storage as there are no caps on photo and video assets. Workflows can be configured to asset files are delivered to the correct location or post-production provider.

SpinMe updates assets as changes are made so users would need to be responsible for their own backup of previous versions.
How do style guides work?

Making sure you get the shots required is one of the most important things an end-to-end workflow management system can do. With Creative Force, that's exactly what our style guides help you do. They're created once and are shared throughout the workflow for use by photo and retouching teams. Lists can then be manually ingested in the Jobs tab and administrators can easily configure data source folders. API integrations with a PIM are possible.

SpinMe includes reference images as well as PDF style guidelines options.
What training programs are available?

The online training academy at Creative Force includes detailed courses for most key features. On top of the in-app chat feature, there's also an online help center that is updated constantly with examples and videos to help you in the journey.

SpinMe does not have a training program. They do offer demonstrations at their testing center in Cheltenham, UK.
Can we pool our samples to share with clients?

The easier you can share samples with clients, the easier it is to be collaborative. Creative Force was built to do just that which creates flexibility and better reporting.

SpinMe requires users to configure the system for bulk uploads to the appropriate end-point system.
How often is the software updated?

Every two weeks the Creative Force development team releases updates to the product. You can find what's involved in all of these above in the Sprint Release Notes, under "resources."

SpinMe has occasional software updates.
Can I integrate software I'm already using with Creative Force or SpinMe?

Creative Force currently has over 15 integrations and is regularly adding new connections based on recommendations from customers and partners.

SpinMe currently has limited integrations available.
Who manages the platform?

Creative Force believes that the platform should be as easy as possible to be managed by anyone who has gone through online training. Additional client information (presets, workflows, and style guides) is only needed when new clients are added.

SpinMe can be used across multiple functions and departments.
One powerful end-to-end solution.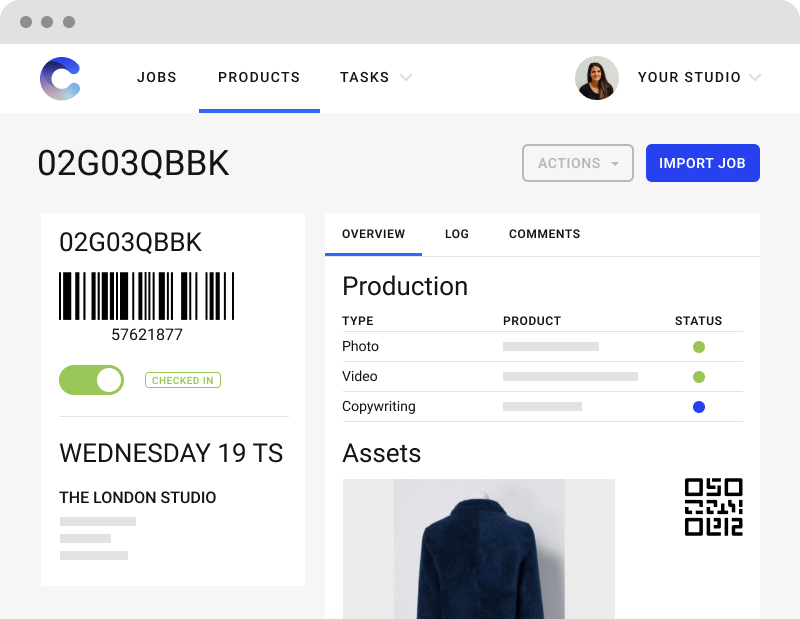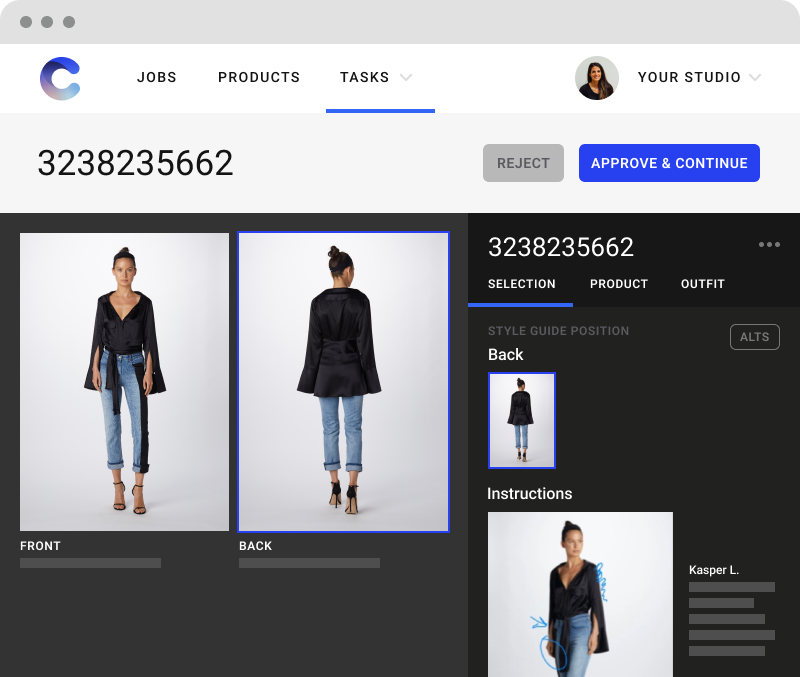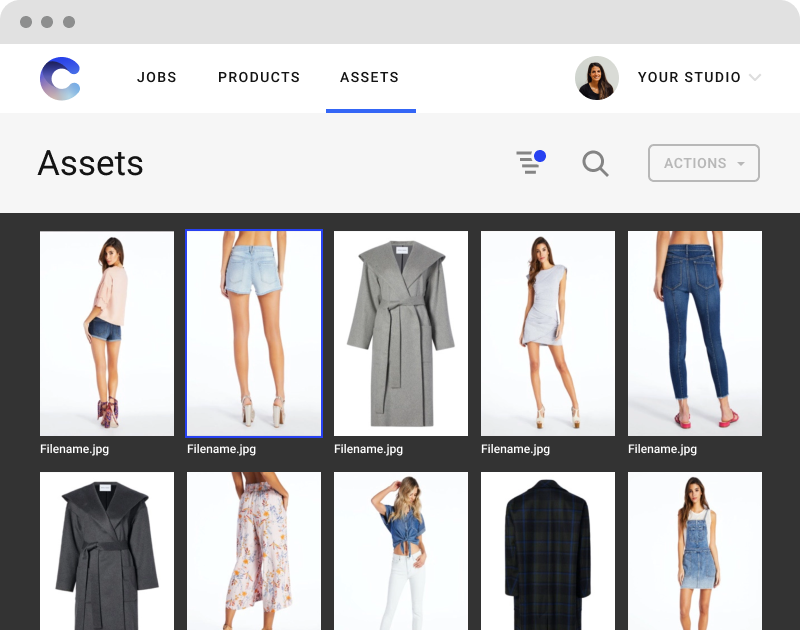 Ready to see Creative Force in action?
Talk with one of our experts to learn how you can empower your teams to work faster, deliver superior results, and simplify eCommerce content production.
Deliver assets on time, on budget, and on brief
Reduce time-to-market
Increase operational visibility