Free Comprehensive guide / 195 pages
KPIs, Reporting, and Dashboards for eCommerce Photo Studios
Learn how to capture data and build dashboards for day-to-day management, expand reporting, and forecast in modern, high-volume eCommerce Studios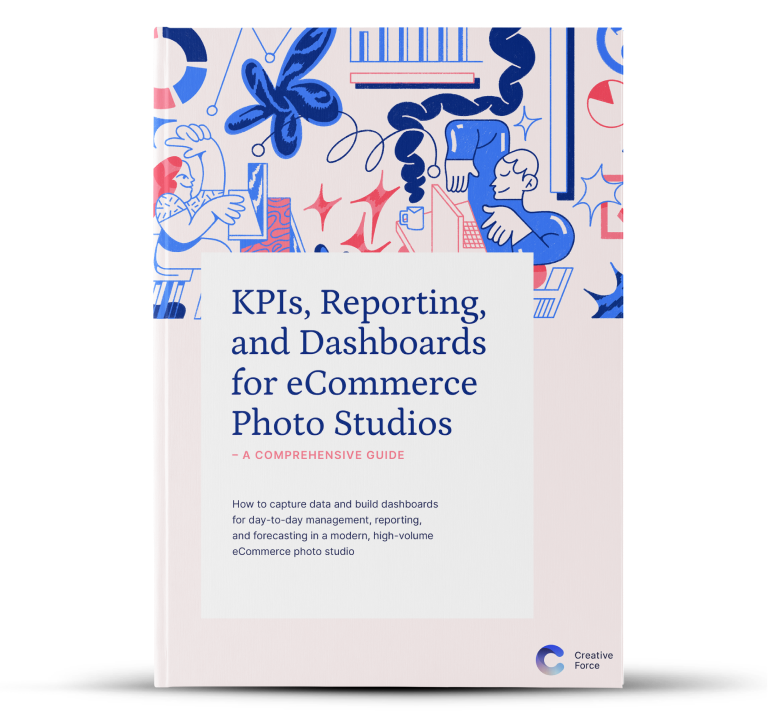 The 3 Goals of Studio Reporting
1. Improve Operational Efficiency

How the KPI Guide Can Support
Your Photo Studio
Absolutely free!
✔ Introduction to Studio Reporting and KPIs

✔ Setting the Right Goals, the Right Way – Making Use of Your KPIs

✔ Systems & Data

✔ Introduction to Reporting

✔ Reporting For Higher Management

✔ Daily Production Monitoring

✔ Team & Talent Performance

✔ Post-Production Vendor Management
✔ Flow Reporting

✔ Customer & Stakeholder Relationship Reporting

✔ Financial Reporting

✔ Styling & Inventory

✔ Asset Performance & Conversion Reporting

✔ Visual Reports

✔ Advanced Reporting in Looker
Sneak peek
Chapter 1
Measure right, manage right
There is a clichéd quote that is often (mistakenly) tossed around by management: "What gets measured, gets managed."

The idea is if you can't measure something, how can you manage it? And more to the point: how can you make a plan to improve something that is unmeasurable? How will you know what is working, what isn't working, or if you're even on the right track?

This viewpoint is not uncommon, as evidenced by the myriad salespeople, solutions providers (and sometimes coworkers) showing off largely unhelpful pie charts and data points – all of which look professional enough, but don't actually help you do anything.

Part of the problem is that they're getting that old cliché I mentioned wrong.

The accurate quote is: "What gets measured, gets managed – even if it shouldn't."

What's interesting about this quote is that it challenges the very idea of what everyone in studio management is being asked to do these days: measure everything!


Let's make an example
For example, a brand's stated goal may be something like "increase the quality of our brand's photography so that we can use product imagery for both eCommerce and marketing (emails, social, etc)."

If your studio is measuring and prioritizing a common studio KPI like "cost of photography per product," not only may that KPI be useless – it may be harming your studio and brand.

While you watch your "cost per product" KPI dashboard drop each month, hiring cheaper stylists, outsourcing photographers, cutting additional angles, and pumping up productivity, the quality of your creative will likely be taking a nosedive. Images are less consistent, the styling is more rushed, styled less effectively, and you have less variety in your shots. Your brand was trying to invest in one thing ("more versatile assets, for use across eCommerce and marketing") and you delivered the opposite ("less costly but less versatile assets").
Get KPIs right with this all-new and exclusive guide for studios.
Trusted by the world's top brands, commercial studios, and online retailers