Leveraging Data to Drive Studio Efficiency
Jump in Post-Production Efficiency
Reduction in the Required Number of Style Guides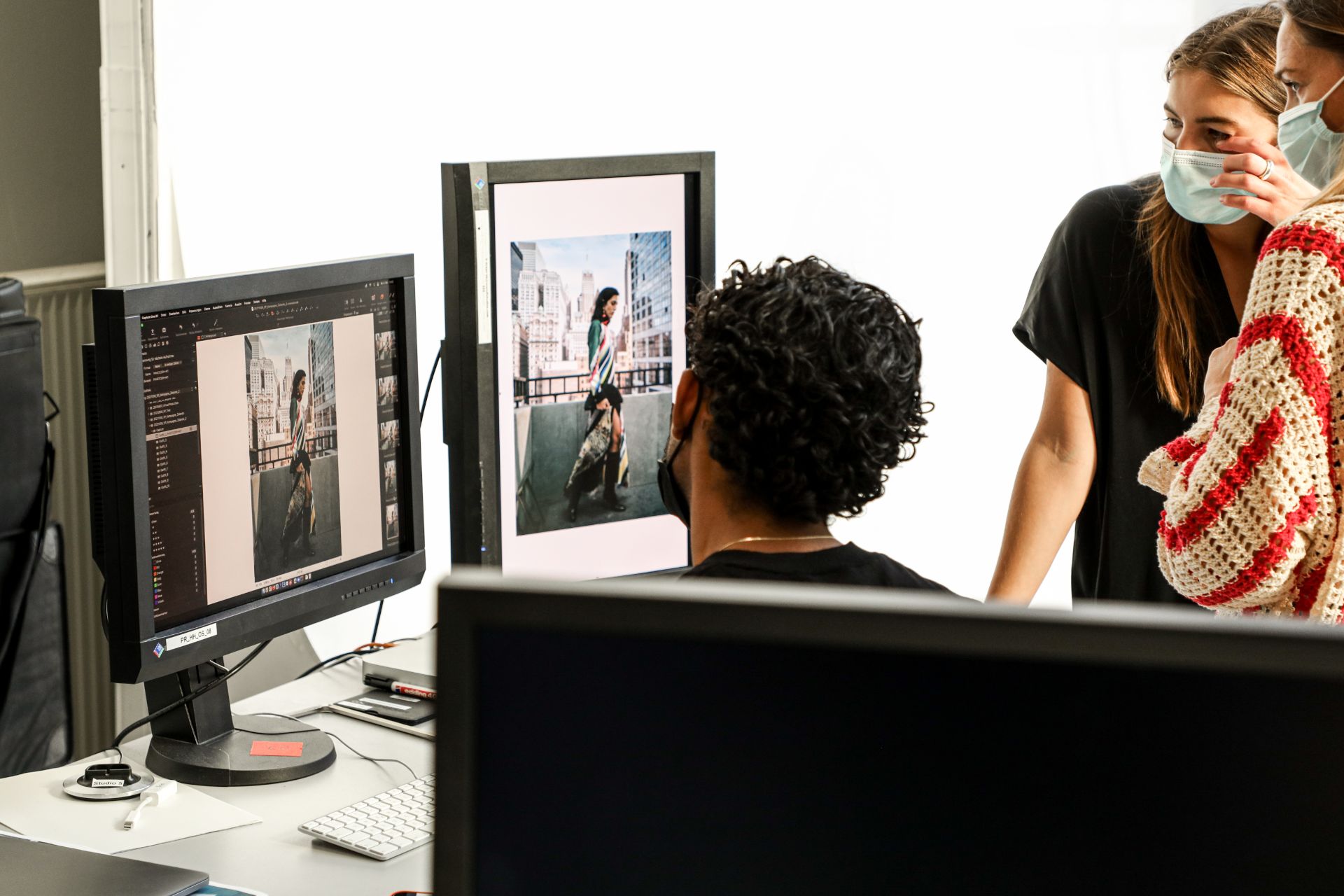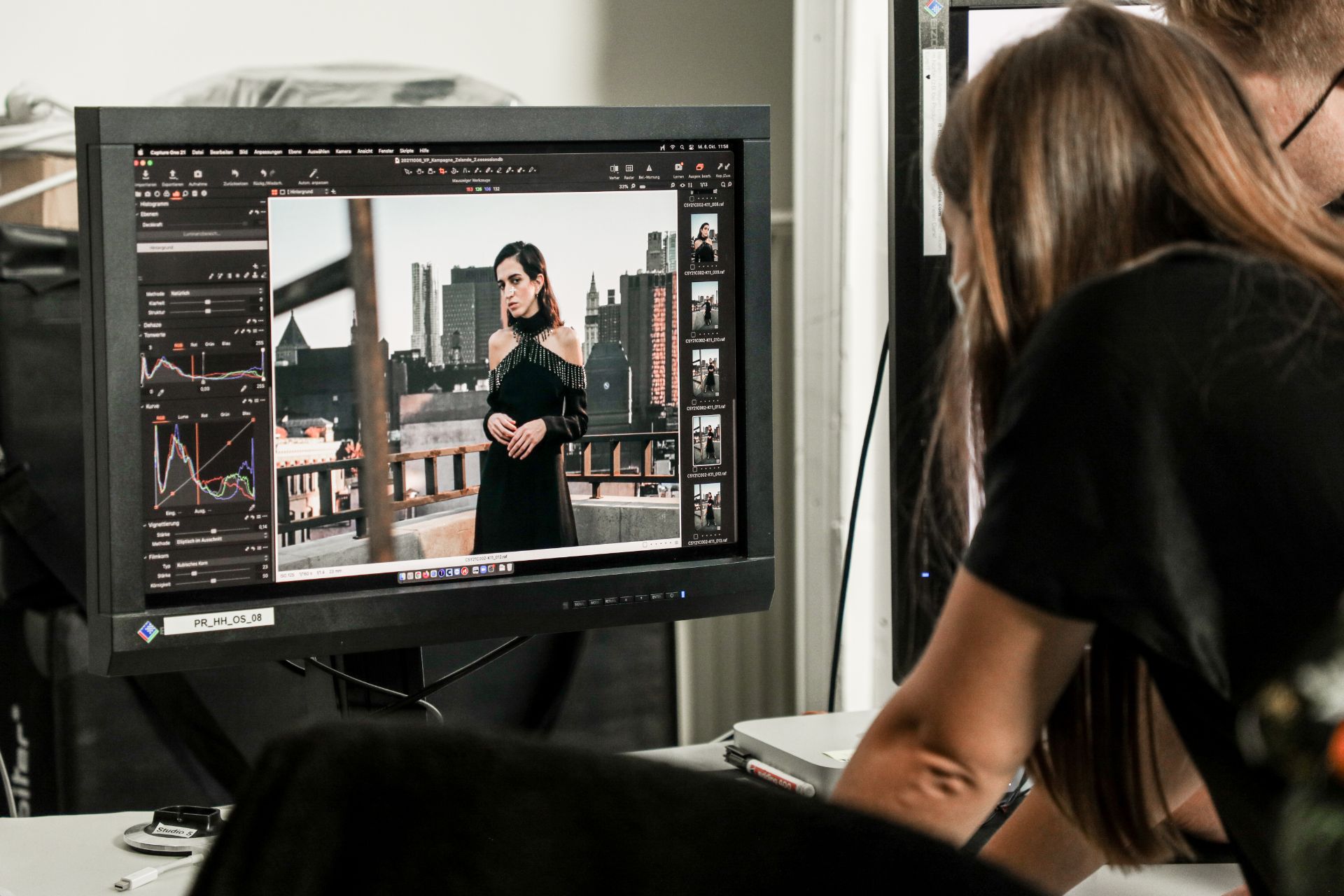 Get to Know Orendt Studios
Since Hamburg, Germany's Orendt Studios was founded in 1999 they have effectively positioned themselves as the leading European service provider for photos and moving images.
"The success we've had – we attribute it to trust," says Torsten Orendt, the studio's founder and CEO. "We've loved conjuring up big things with our customers and elevating them to a next level. Through that, we've become a studio they place trust in over and over."
And those customers keep trusting Orendt again and again, as is evident from the studio's high volume of work. Working with 300,000 SKUs per year for some of the world's premium brands like C&A, S. Oliver, and Zalando, Orendt produces an average of 5,800 shots per day.
Industry: Commercial Photo Studio
Location: Hamburg, Germany
Company Size: 325 Full-Time Employees, 400 Freelancers
Photo Studio Teams: 220 Full-Time Employees
Skus Per Year: 300,000
Website: orendtstudios.com
Shots Per Day: 5,800 Daily Average
Number Of Studios: 6 Studios and 11,000 SQM / 120,000 SQ FT
Year Founded: 1999
Goal:
Create Data-Driven Efficiency That Can Scale
The Orendt Studios team wanted what so many studios desire: to take their production data from just being available information across disparate systems to a fully connected and well-structured tool that could be leveraged to inform decisions, improve efficiency, and ultimately, get clients' products online even faster.
It was about productivity but also growth. Orendt's clients hoped to scale and Orendt wanted to scale too – with existing customers as well as new ones.
Their goal was of such strategic importance that they had very seriously considered building a production tool in-house. Until they found Creative Force – a solution that could meet their needs and was also a committed partner dedicated to ensuring their success.
Challenges:
Lack of Data and Too Many Manual Tasks
Incomplete and Siloed Production Data
Manually updating hundreds of Excel files is no one's idea of efficient or accurate data management, right? The lack of automation makes the exercise painstaking for studio teams as well. Orendt's team was relying on those Excel files or FTP transfers to manage client accounts and their indivi dual requirements, and a lack of automation led to uncertainty about the information being complete, consistent, and up-to-date.
This lack of automatically collected, updated in real-time, and centralized data made it difficult to get a true sense of where there were inefficiencies in their processes and where it made the most sense to focus on improvement. It also meant they couldn't get their client's products online as fast as possible or make recommendations, like cross-selling opportunities, based on data.
But it wasn't for lack of trying. The team at Orendt ran an efficient operation but were constrained by their technology and a lack of production data about their entire process from beginning to end.
Post-Production Was a Perennial Challenge
The team at Orendt was largely in the dark about external post-production. They weren't receiving production data from vendors and had no oversight, which meant they didn't know automatically if they were always receiving complete suites of imagery that met spec.
On top of that, transfers were slow and manual – they knew things could be better.
"It was totally by transferring data manually from FTP to FTP," Lars Macario, Orendt's Product Manager for Creative Force, says. "So there was no way to figure out if they were complete or not. And if you don't recognize that they're incomplete, you're going to send out pictures with mistakes or with wrong file names."
Inconsistent and Sometimes Inaccurate File Naming
Sometimes it's all in the name. As Lars notes, the lack of automation with file transfers led to incorrect files being shared and inconsistent naming conventions across Orendt's client accounts (you can see how all of Orendt's challenges were so interconnected).
When it was time to transfer files, whether internally or with clients, everything was being done manually through FTP. Lars shared that "transfers would sometimes be incomplete, or, at the very least, we didn't have a simple way to notify all of the key stakeholders that the transfers were complete."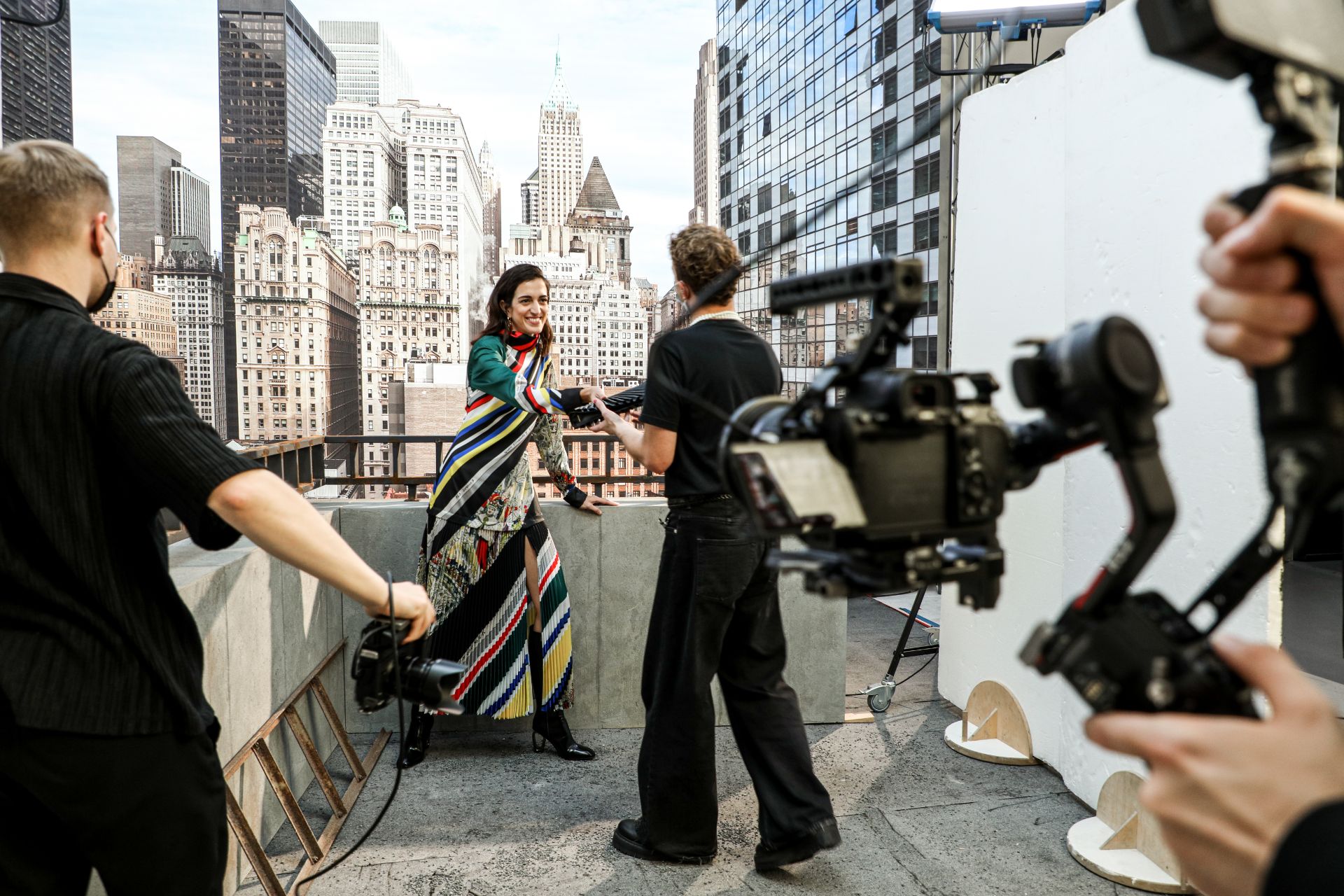 Style Guides – Manually Updated, Light on Details, Print Versions Only, and Far Too Many of Them
Style guides at Orendt weren't digitized, they were only available on set in print, which meant they needed to be updated manually every time a client changed a request, requirement, or creative direction.

This often led to them being out-of-date or worse, guaranteed re-works would be necessary when products had inevitably been shot according to one of the lingering style guides that wasn't quite up-to-date.

It also meant the studio teams needed hundreds of style guides to keep track of requirements across all of their clients and the unique needs of the various product categories.
Difficulties Providing Operational Visibility and Production Oversight to Clients
The Orendt team wanted their clients to be as involved in production as they needed and wanted to be – whether that was to provide art direction, review selects, or track production in progress so they knew when final assets would arrive. But without an end-to-end production solution that wasn't possible.
Trouble Forecasting and Planning Without Accurate Sample Data
Not knowing when things were going to arrive or what exactly they would receive made forecasting, planning, and adequately staffing very challenging.
The stress was compounded by a 48-hour turnaround time they are bound to in their client SLAs and made it all the more important that they could hit the ground running when items arrived. They also wanted to get products ready for check out and shipped back quickly so they could keep their stock volume as low as possible.

Decision:
Become More
Data-Driven
The team at Orendt wasn't initially sure if they were ready to abandon their existing processes and systems in favor of a more automated solution. After all, the jump to new technology can seem daunting to a studio, especially one as high-volume as Orendt, not to mention the challenges around change management for studio-level staff. The stakes were high.
After setting aside the early reservations about the inherent risks of implementing a new third-party solution, the Orendt team decided to start small, piloting Creative Force in just one of their studios.
Within a couple of weeks, they found themselves embracing the platform, with its clean, intuitive UI and suite of capabilities that streamlined production for their team and benefited their customers immensely.
"This wasn't a technology upgrade; it was a lifestyle upgrade," Lars says. "The team very quickly saw firsthand just how dramatically Creative Force could lower their workload and make life easier for them."
Solution:

Upgrade to Automation Over Manual
Data Captured Automatically and Updated in Real-Time Drives Performance
Goodbye, Excel sheets. With Creative Force automating input from a client's data source, Orendt always has up-to-date information across all of their client accounts. This makes it easier to manage production and respond to changing client requests on the fly without any disruptions.
With the additional information now at their disposal, Orendt is even able to offer their clients cross-selling recommendations for products and outfits based on metadata captured in Creative Force's on-set application.
"We aren't losing time triple-checking our records before we approach a client about a new possibility," Lars says. "We have reliable real-time data on the projects we've done and on the nature of our clients' scope, so now we confidently approach them with anticipated needs."
Quality Improves and Rejection Rates Decrease with Post-Production Insights
Having a smarter system now helps Orendt quantify the speed and quality of their post-production vendors. The accountability made possible with Creative Force's Post-Production Vendor Report has helped the Orendt crew speed up timelines immensely.
Using the report they can now identify which of their vendors is better at specific product categories or retouching effects and can assign work based on each vendor's specialty, greatly improving quality.

In fact, using data from the external post-production rejection report, the team was able to incrementally improve their style guides to reduce errors and ultimately bring their rejection rate down to less than .01%.

With the post-production stage so under control, Orendt is able to redistribute talent, as the overseeing team moved from four people to just one.
And the consistently improved quality has allowed Orendt to bypass the QC step following external post-production, saving more than seven hours per product, on average, and allowing their clients to get products online a full day faster!
File Naming and Asset Delivery Aided by Greater Operational Visibility
"It's so simple to just change a production process while we're actually in production," says Lars about the organizational transparency improved by automation.
With files named automatically and renamed instantly based on changes to the production process, and with assets saved at each stage of production, Orendt's team doesn't have to worry about creating a time-consuming administrative crisis when they encounter necessary mid-project redirection.
Conditional Style Guides Add Dynamism and Eliminate Confusion
Thanks to conditional rules in Creative Force that allow for product category data to trigger production according to a specific style guide, Orendt was able to combine style guides and drastically reduce the number they relied upon.
"The style guides provide so much detail and flexibility that we're able to consolidate what could have been 600 style guides down to 50," Lars says.
The style guides even get better with time. Thanks to rejection reports in Creative Force, Orendt can identify which specific style guides cause the most re-work and delayed timelines and then work with clients to improve them.
Now that Orendt's style guides are digital they can be automatically updated in real-time any time a client makes a change to the production spec or request, ensuring they always produce exactly what each client needs. This also means they are able to generate invoices from those style guides, billing accurately for actual work completed. This saves the team time and the headache of needing to do it all manually and also ensures greater accuracy that allows them to pass savings on to their clients – a real win-win.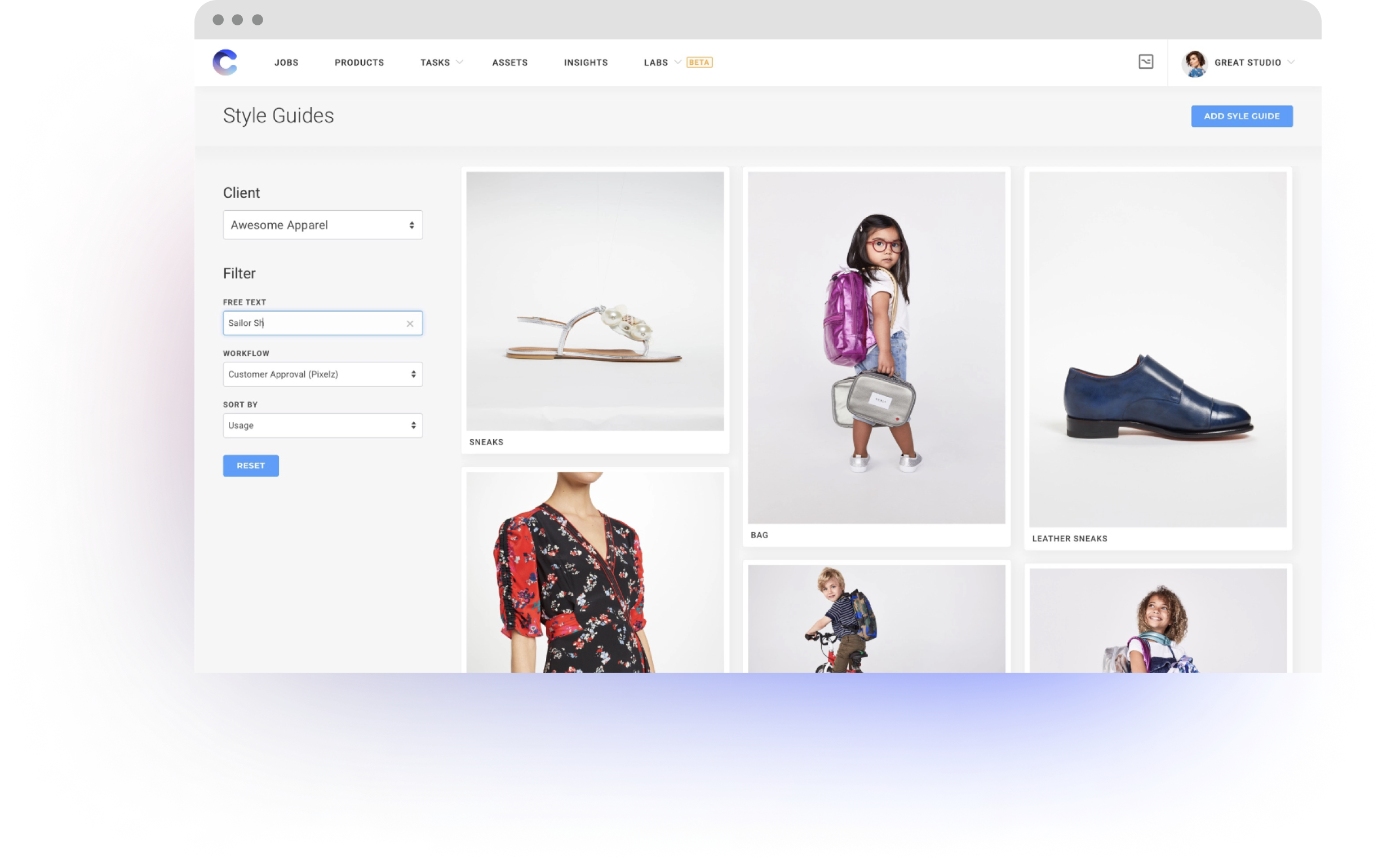 Better Oversight of End-to-End Production, Work in Progress, and Lead Time Estimates
With fully-integrated technology solutions to manage end-to-end production, Orendt is now able to give their clients unlimited oversight – with kanban views that make it easy to track work in progress at a glance to lead time estimate reports that help them plan when products will go live.
Orendt's clients can also access their Creative Force to view live production, provide art direction, and perform final selection of photography. No more Team Viewer sessions needed to keep clients involved!

Perfect Forecasting and Planning with Better Sample Tracking
The team at Orendt now has access to up-to-date shop arrival date information, which means they know exactly what products and categories will be arriving and can accurately plan ahead for the most efficient production possible.
They're able to classify like items to plan production capsules based on what's already been checked in and waiting to be shot and only samples that have been checked into the system are able to be included in that planning.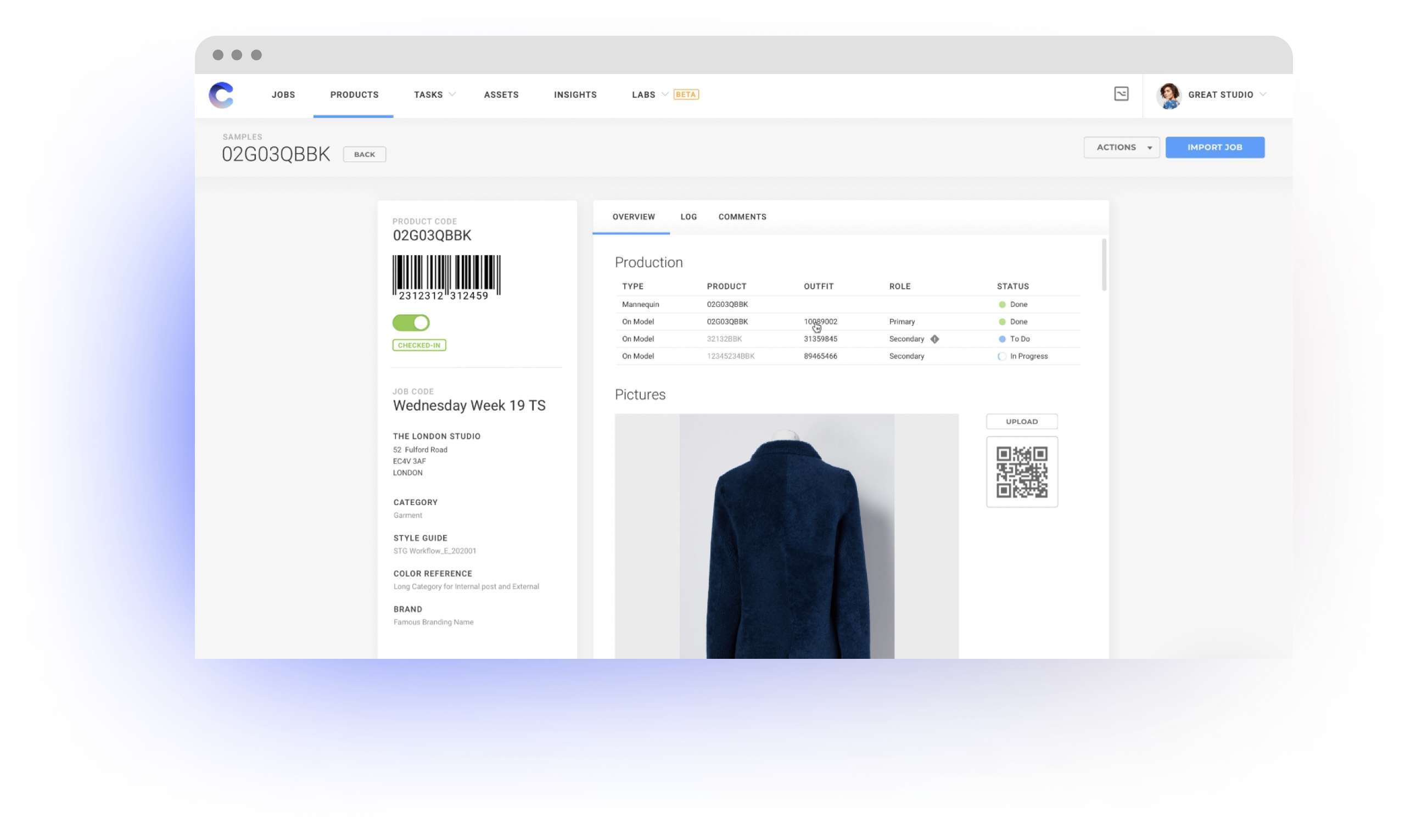 Based on that accurate forecasting information they know exactly how many team members they'll need and can staff to perfectly meet their needs.
And the system tracks it all for them with a 'Status for Today' dashboard, for each individual client.
As soon as items have been shot and the teams have finished with them they get flagged as 'ready for check-out,' which ensures they always meet their client SLAs.
The Results They Weren't Expecting
Perfect Forecasting and Planning with Better Sample Tracking
All of the data and reports Orendt now has access to means they can perfect each production step, saving valuable time and getting products online much faster.
The team knew an automated, end-to-end platform would save time but what they hadn't accounted for was how the knock-on effect would generate incredible results.
Combining shop arrival date information and capsule planning, with kanban views to manage work in progress and digital flow reports to identify (and improve) bottleneck steps, with post-production vendor reports, rejection reports to improve style guides, along with lead time reports plus the other 40+ custom reports they use has added up to a much, much faster turnaround time. They now can turn web-ready assets around 82% faster, getting them online in less than one day!
Orendt's studio team loves the time they save with Creative Force's guiding automation and enjoy working in it day in and day out thanks to the intuitive functionality and beautiful UI.
Incredible User Adoption
Orendt's studio team loves the time they save with Creative Force's guiding automation and enjoy working in it day in and day out thanks to the intuitive functionality and beautiful UI.
"When I'm going on set now there's a really happy mindset," Lars says. "Everyone enjoys their work and looks forward to what they get to do each day."
They've even become evangelists for the platform, encouraging clients to make the jump and save themselves time, expense, and more stressful production.

"We're at a point where we get thrilled if one of our clients makes the switch to Creative Force too because they benefit so much and our studio teams love that they get to use it more often in their day-to-day," Lars says.
Less Training Required
That end-user excitement has meant that team members eagerly learned the software. So well that they've made the training part of Lars's job all but unnecessary. He says on-set team members can now quickly and easily get new team members trained and up to speed without him even needing to get involved.
Organizational Health
There's teamwide excitement about the studio's quality of life and about its growth possibilities, in terms of cross-selling clients and onboarding new accounts.
Sooo Much Data
Creative Force automatically collects production data at each step of the process any time there's an action performed and can associate anything with an asset as metadata, including custom metadata properties.
This trove of data is used to serve users standard reports but also allows Orendt to create 50 different custom reports through Creative Force. They use those to improve their own processes and give clients access to 24 of them to improve things like cross-selling.


Business Growth
In fact, access to those client-facing reports has turned out to be a new and unexpected unique selling point for Orendt. All of their clients can make use of the reports and insights available in Creative Force to monitor progress, track sample arrival dates, estimate time-to-online, and get a general overview of end-to-end production. As Lars puts it, "without this data they had no overview but with Creative Force, we can now give them whatever they want. We can help them improve online sales!"
As a result, Orendt is up to four studios across Europe and 15+ client accounts running on Creative Force. Client onboarding is far quicker and more scalable too, going from three months down to two weeks.