Accelerated Growth and Client Acquisition Through Streamlined Production
Their results
at a glance
Faster onboarding times for freelancers
Freelancers that now can seamlessly plug in and out of their studio production teams
New satellite studios opened (all during the pandemic)
New clients whose production is managed through Creative Force
The Quest for Growth
Five years in and enjoying the success of their creative production company, Rob Harkey and Lindsay More Nisbett wanted their business to grow big, not old.
The Line Studios, a full-service creative production company, was creating product photography, content imagery, and video for a deep client roster, especially in beauty and fashion eCommerce. Their Brooklyn headquarters was abuzz with one shoot or another. Their team – six full-timers and a diverse group of freelancers – was constantly busy.
For Rob and Lindsay, keeping the status quo would've been possible, and even profitable. But they wanted more growth potential as well as flexibility. Their next step: add satellite studio capabilities so Lindsay could manage shoots from out of state and they could harness the talent of more remote workers.
Client work
by The Line Studios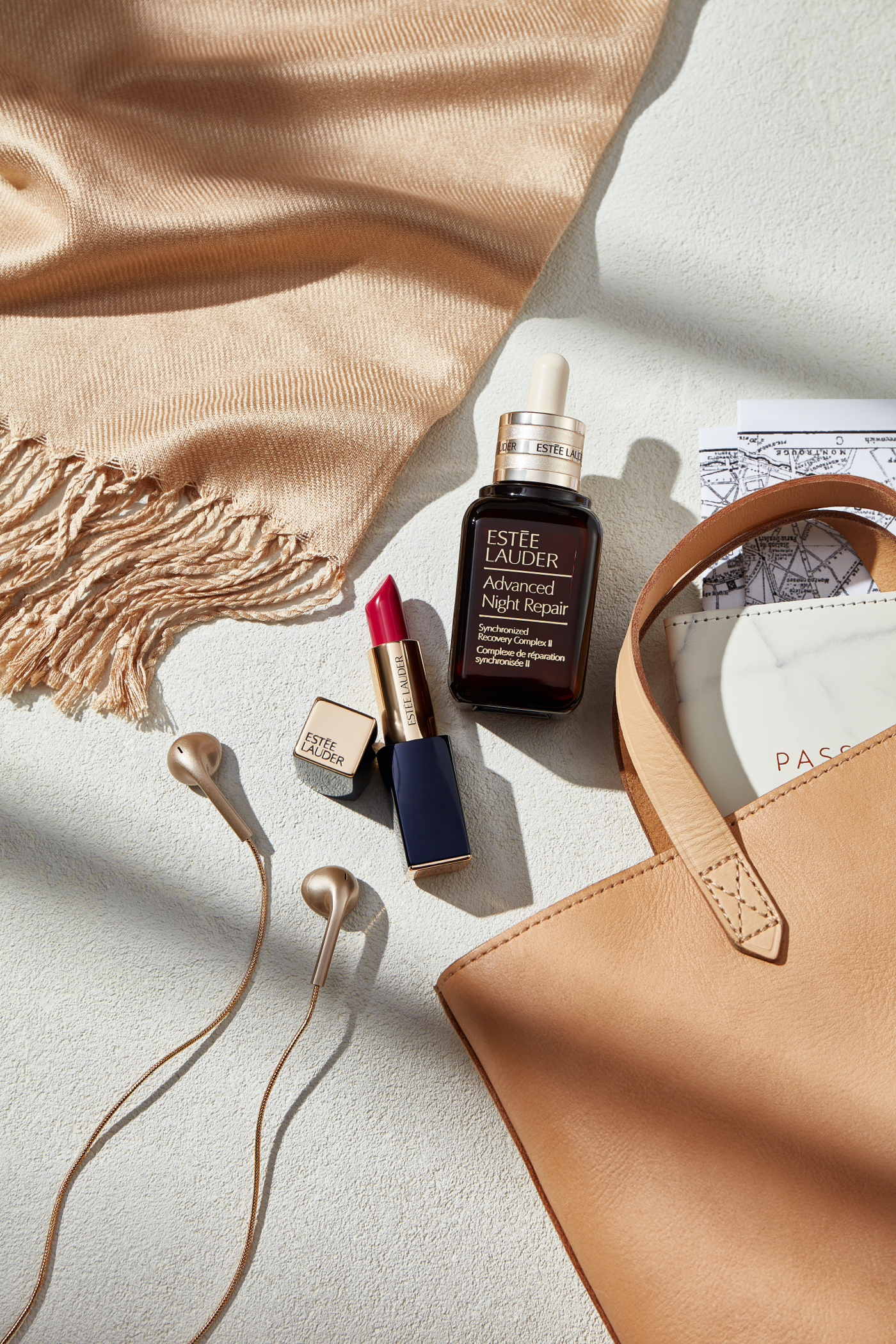 A Strategic Execution (and Partnership)
While it sounded great, the plan required execution – and the right tools. Rob and Lindsay would need to make sure that satellite production didn't experience bottlenecks in production from a simple unanswered question or unresolved issue, like a stylist waiting to receive direction, or a photographer not completing the project.
With this concern in mind – needing a photo studio management platform that would help them manage both their main studio as well as satellite work and inventory – Rob and Lindsay partnered with Creative Force.
And within months of adding satellite capabilities, The Line Studios' new system was truly put to the test, as the coronavirus forced them to close their Brooklyn office and rely on at-home satellites and a growing network of freelancers.
So how did The Line Studios fare with the satellite shift and the emergency move toward at-home studios? Well, in about one (very wild) year, they've launched four new satellite studios, increased productivity by 18%, and acquired 20 clients.
That's ... impressive. And it's why we caught up with Rob to offer virtual high fives and hear more about The Line Studios' resilience and growth this past year:
In March 2020, The Line Studios had already moved toward satellite studios, but you were then forced to work entirely remotely, because of the global shutdown. Most studios had to pause operations. You kept running. How?
Right, we'd moved toward remote studio capabilities months before. This was because we wanted our team to be free to operate satellite studios in remote locations.
So we partnered with Creative Force for our studio needs. Then the pandemic hit, and everyone had to work from home, stay socially distanced, and so on. Because we had the project management for satellites in place, we had this entire infrastructure for managing satellite studios. We knew we could onboard new freelancers, get stylists and photographers the information they needed for each shot, and keep track of inventory.
Setting up a satellite studio, when you have weeks to plan, is one thing. But these at-home studios – you had to create these quickly. It's no small task. How did you adjust so well?
It was quite the scene back in March. At that point, we're simultaneously shutting down our headquarters and setting up at-home satellites. Our photographer Michael is back in our headquarters creating full-size models of the home studios where our talent will work – seriously, Michael is in there modeling each at-home studio, to scale, in our offices – to make sure we understand every light source and ceiling height, and we get every detail just right, so that we know what shoots can be accomplished at which studios.
Then he's driving around New York in a rental car to do contactless drop-off of gear at these home studios and to give direction on lighting, equipment, and all that.
It's a highly accelerated version of the process you'd go about when setting up any satellite.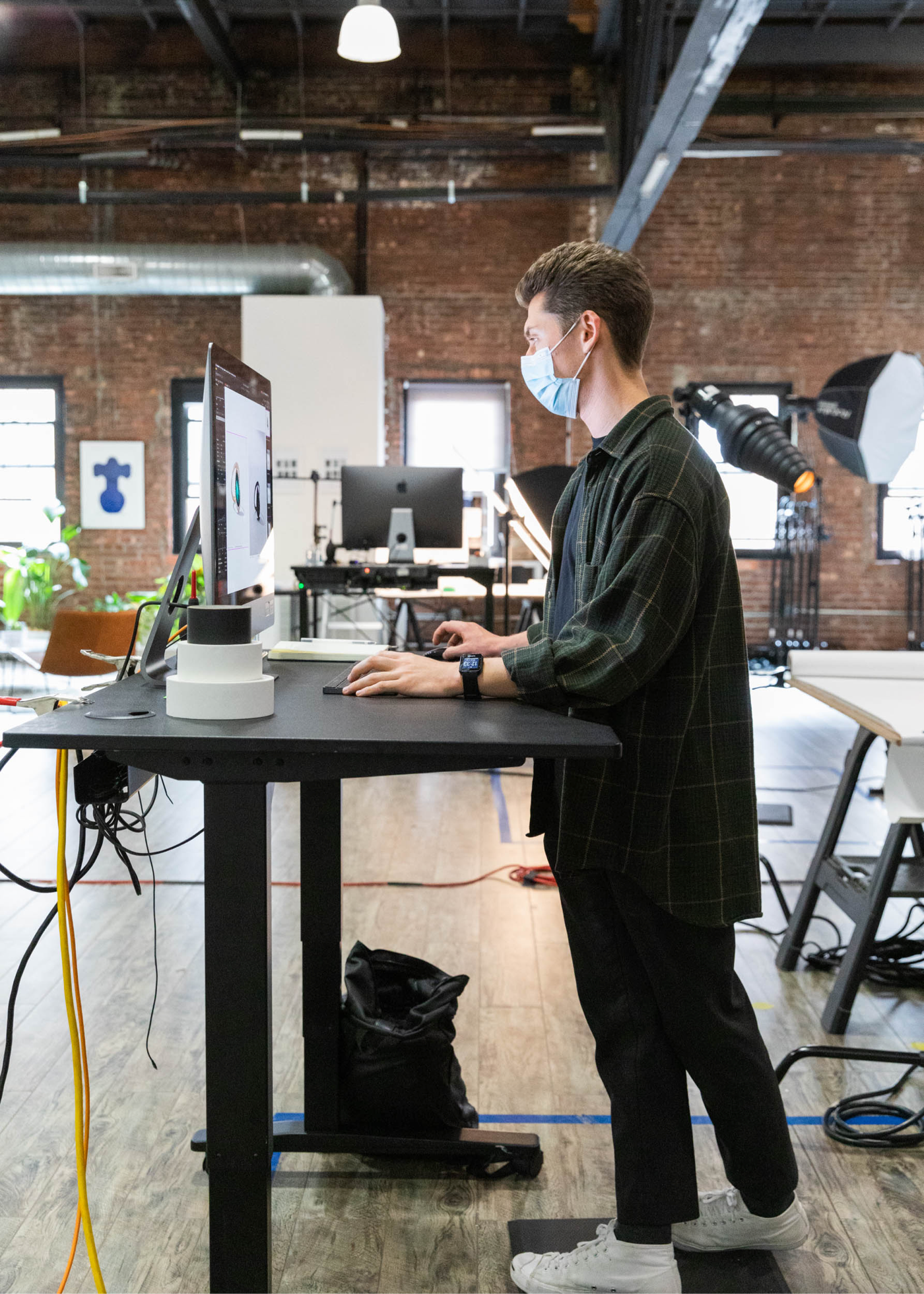 Behind the scenes at The Line Studios
With the equipment in place, was the adjustment relatively smooth for you?
Absolutely. Again, it's just an extreme, accelerated version of the questions you're asking anyway when managing satellites. We're figuring out what person is best suited to handle which product from that person's at-home satellite.
We send products all over the place, based on skillset, the person's at-home studio capabilities, and the pace of work that person can maintain. There are a lot of considerations, but we have the intel entered into Creative Force that helps us make those choices.
So you're distributing products to stylists, photographers, and others instead of having those people in the same room for collaboration. How does everyone feel about that?
Well, there's still collaboration, because we can leave real-time notes for each other on Creative Force. That's big, because people are having to step beyond their usual roles.
In our case, this meant Michael and our other photographers were working without a stylist. So it was great for us to have a platform where we could provide them with real-time feedback on the styling for a given shot – that's helpful assurance for someone who's doing double duty.
What's really interesting is that our stylists were taking on the role of photographer. For an item that needed a lot of styling, we were sending the whole shoot to a stylist, not a photographer, and asking the stylist to shoot for us. So again, having a platform where we could give real-time feedback and not slow down our project flow meant everything to us.
So yes, everyone was doing double or triple duty. What's the buzzword, "cross-functionality"? We were pushing the creative boundaries of cross-functionality.
Client work
by The Line Studios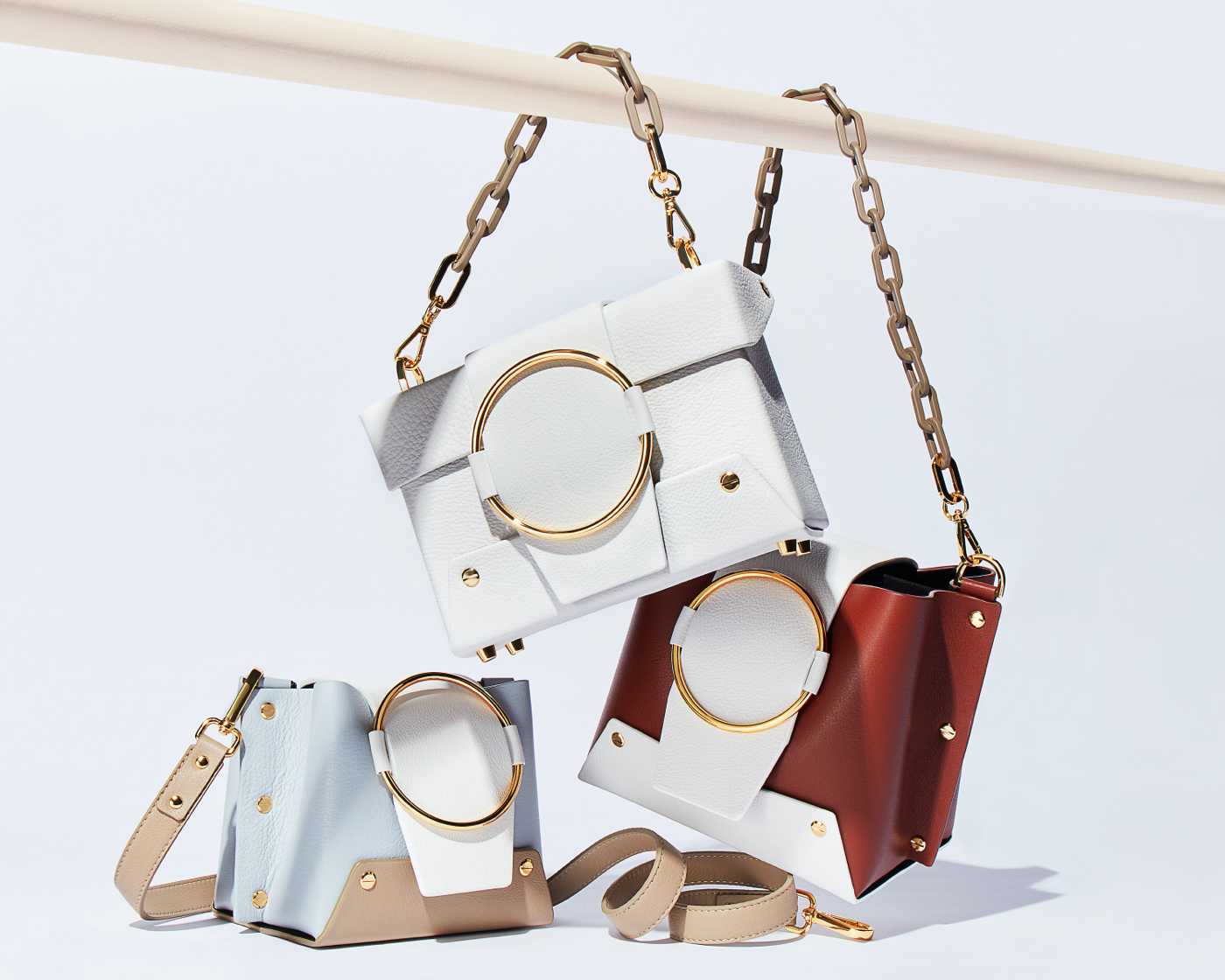 Everyone is growing into the situation. For you, doing project management – is it proving doable?
The management side of it has been so straightforward. We're able to manage so much through the barcodes that Creative Force provides for each item. So a stylist, photographer, or anyone on our project scans that barcode into Creative Force and sees their specific action for both Styling and Photography.
We don't have 4,000 different email and Slack chains floating out there. A lot of questions that would usually come to me get answered ahead of time.
Speaking of barcodes – in 2019, when you first partnered with Creative Force, you came back with requests for product features. One of the features that came out of our talks was real-time tracking through SKU codes.
Yeah, when we were first moving to satellite studios, we knew it was going to be nearly impossible for us to manage all of the product samples we'd have floating out there. It'd be a headache unless we had the technology to keep us organized. Now it's great because, with the SKU code, we know not only where the product is but what assignment everyone has on the job – it's right there in the metadata when we scan the product.
Tracking inventory has become remarkably simple. We know what item – down to the unit size and other guidelines – is sitting in what studio, whether in Brooklyn, Manhattan, Pennsylvania, Florida, or wherever. We even know what room it's in. Was it scanned into the sample prep? On one of the photography sets? We're on top of it.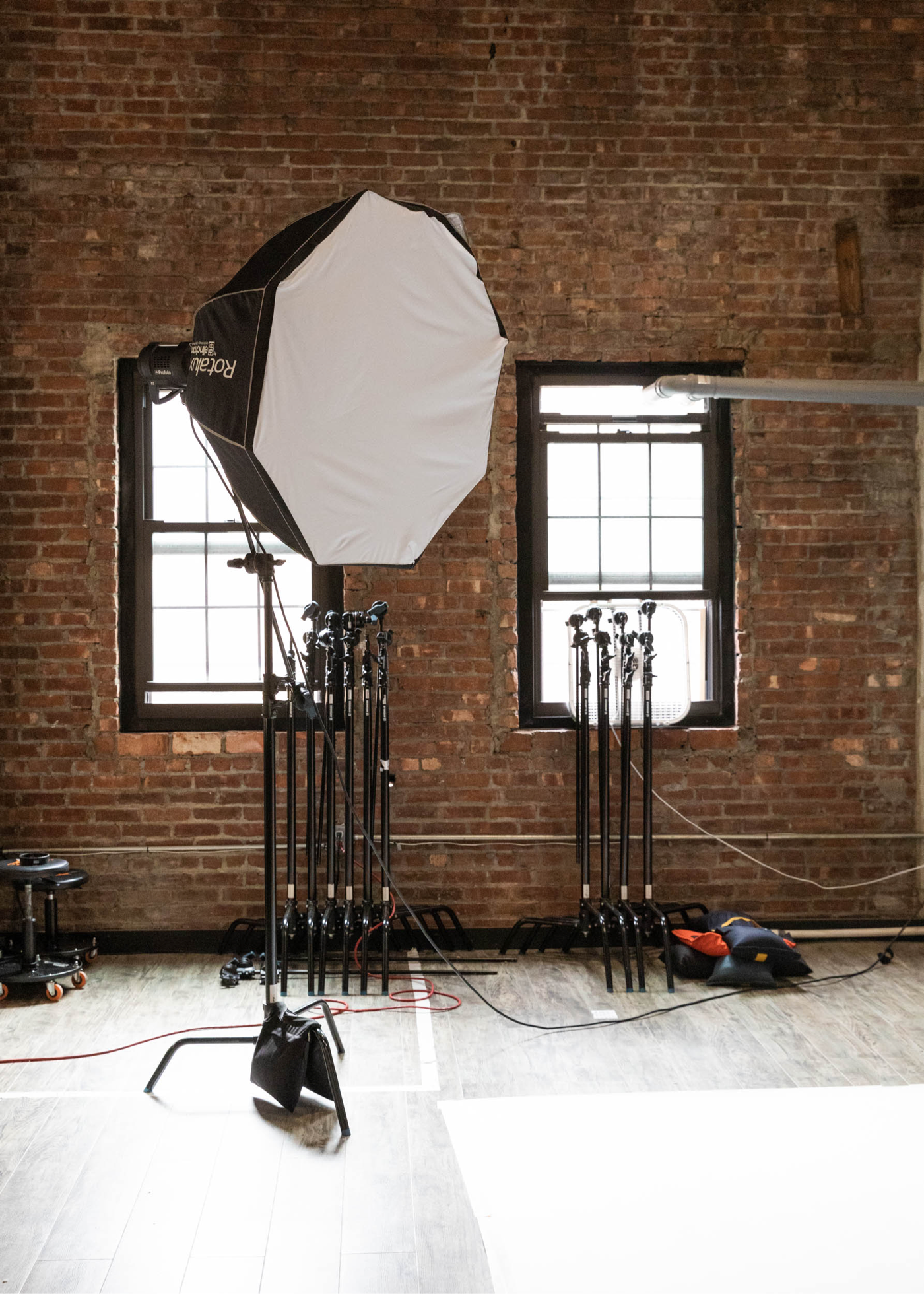 Behind the scenes at The Line Studios
One of the things we hear a lot from Creative Force users is that it has radically simplified communication. Agree?
Exactly! The way it was for us before Creative Force, every photo could end up being its own email thread with questions and directions. Now I use the mark-up feature in Creative Force to highlight any issues with the image. Then I go to the notes section to talk through ways we can resolve any issues.
When you're bringing in a lot of new talent – freelancers working remotely, especially this year – it's a lot easier to leave a note in Creative Force than it is to triple-check that you have the right combination of people copied on an email about one image.
How are you adjusting to being offsite for more of the creative process?
I feel omnipresent now like I'm at all of our different shoots at once. Before this, I'd set up a desk near the set of one of our shoots and from there give direction to the whole process. The thing is, I can still give direction now. I could be in the Alps and still give direction.
The other thing is, our clients used to be on set with us fairly often. And we might get back to that in many instances, as life returns to normal. But for now, given the shutdown, they're still remote. So we're using the Photo Review feature in Creative Force to get client feedback quickly. We're doing this before post-production work so that we're not inefficiently putting time toward post if the client is going to redirect us, anyway.
Client work
by The Line Studios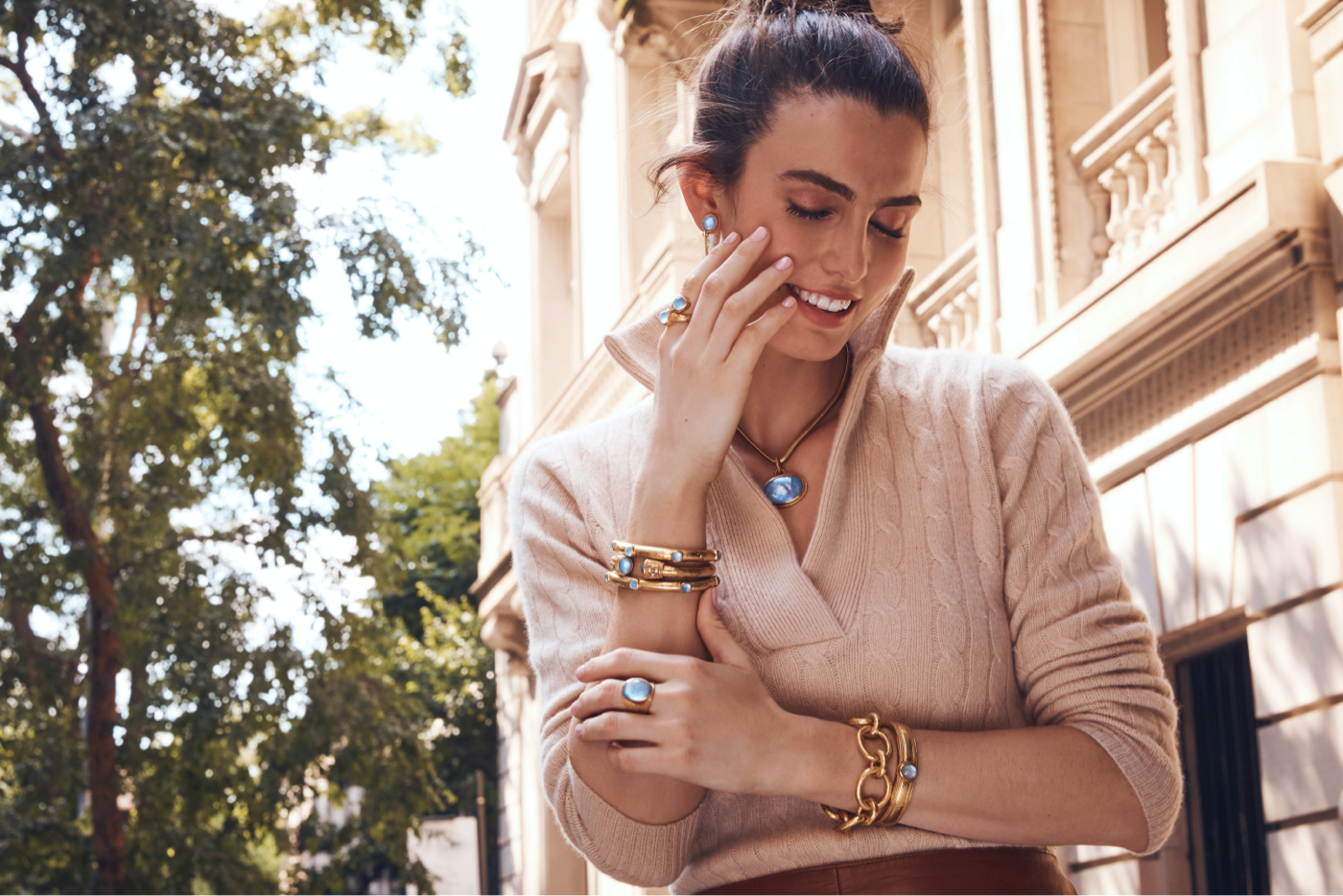 Talk about some of the metrics you're getting on productivity.
The Insights and Studio Reports sections of Creative Force have proven to be a big help. We can see where we expend the most time – photography, final selection, post-production – and use that to guide talent acquisition, budget, and a lot more. While data isn't our only tool for hiring and decision-making, it's a nice piece.
It sounds like you're absolutely rolling now.
Thanks. And yeah, our lead times have improved from five days to two, because we can fly through projects with multiple satellites operating at once and with communication so streamlined. There are fewer questions now, and even when there are questions, they're being handled in one spot.
Post-shutdown we hear the phrase "the new normal" – this idea that some of our 2020 changes will prove efficient enough to stay with us going forward. What's the new normal for The Line Studios after everything we went through this year?
As we reopen our headquarters, with all of the protocols you'd expect – distance, masks, limited personnel, taking temperatures – we're doing more of our shoots remotely and using Creative Force. Even when all concerns subside, that's our plan.
We're also keeping with that cross-functionality we discussed. When our talent needs to be nimble and take on a few tasks from a role that isn't their norm, they get a lot of guidance from the Creative Force interface. It's a cross-training tool, in that sense, so that we can all fill in for one another when needed.
Because we want to scale bigger, we're giving work to more freelancers. Creative Force is like our training tool for all the new talent. We don't need them to learn a dozen different platforms for project management. We don't need them to create new accounts with a bunch of messaging services for communication. We need them to learn Creative Force. Simple.
We're up to something like 50 freelancers on our team. They're coming in and learning our process right away. It's meant a much quicker onboarding process.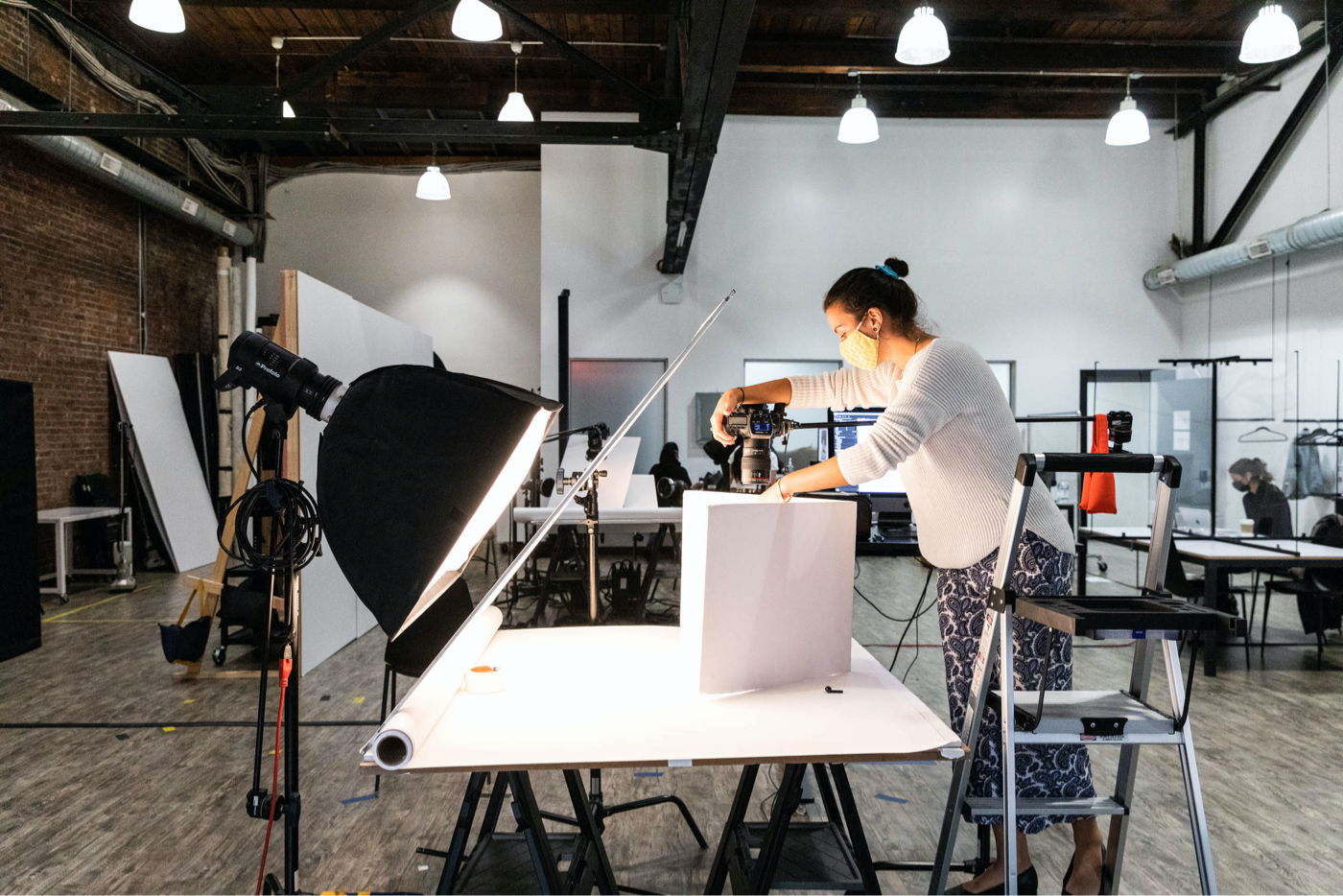 Behind the scenes at The Line Studios
You've also used Creative Force as a selling point to attract new business, is that right?
That's right. We want to be known for being nimble and lean. That's the sort of attribute that everyone talks up – everyone wants that reputation, but they don't do the actual work to get there. Clients want the real thing, they want more than buzzwords. For us, Creative Force is our practical proof that we're ready for anything – from project adjustments to global pandemics, it turns out.
You've done an amazing job.
Thanks – it feels good to be where we are.