Conflict Resolution in Photo Studio Teams
No matter the workplace, disagreement happens. Especially in a creative space like a photo studio. But with some smart strategies, you can address a serious conflict before it intensifies - and even prevent them from happening in the first place.
This blog post is a part of The Studio Manager Series.
Ahead of the launch of our Studio Manager Playbook, we've been sharing best practices in a key area of studio management: teamwork.
For our final post on this theme, we've asked two of our own team members – and former studio managers – to offer some strategies a studio manager can use to avoid conflicts on set. So your team can get back to doing what they do best.
Prevention is the Best Conflict Resolution Technique
What skills are needed to address conflict resolution in a photo studio? Well, ideally you'll start by focusing on creating environments that make disagreements and clashes less likely to occur and escalate.
"A tight-knit environment, time pressure, fast turnaround - eCommerce studios can frustrate creatives. As a manager or team lead, your best approach to solving issues is to try and prevent them." says our Onboarding Specialist Adam Fedorowicz, formerly production manager at Bestseller Studios and Stylepit.
Let's look at some key conflict triggers - and how you can mitigate them.
Explain Roles & Responsibilities
We touched on clear roles and responsibilities in our post on effective communication. This helps eliminate the misunderstandings and resentment that can lead to conflict.
"Stylists and photographers, for example, often work very differently and have different processes and training, ranging from creative to highly technical. And certain roles are less or more demanding at different points in the process - for example, a stylist will do the bulk of their work pre-shoot, " says Adam.
"To avoid a sense of favoritism, it's important to explain why people may need different things in their process."
Respect Roles & the Time People Need
"When people are blindsided, that leads to conflict," says Sarah Uriarte, former Technical and Studio Operations Manager at eCommerce pet retailer Chewy - and lucky for us, now Product Manager at Creative Force.
"That's why it's critical to show respect for each team or team member's particular skill set, how long it takes them to deliver, and why they ask for the time that they do – even if it's not immediately obvious to you."
Sarah recommends looping in the right people at the appropriate time early enough. It might not always be possible - sometimes information gets delivered late, or a high-priority client gets accelerated - but it will go a long way if you as the manager show people you respect their role and their work. Show that you've done your due diligence about their role when making a request.
Invest in Relationship-Building Across Teams
At eCommerce photo studios, silos can emerge between the creative team and other groups. For that reason, it's important to build trusting relationships between those teams.
"Studios can often feel quite separate from the rest of the business - other teams may see it as cut-and-dry work, whereas for those in a studio, it feels more personal because it is a creative job. So working to bridge gaps between the studio and other corporate teams goes a long way. It's about day-to-day relationship building to prevent conflicts," says Sarah.
Adam says that regular meetings and updates can solve this. "Team leaders should communicate regularly. If there's changes, additional work, overtime, layoffs, anything - it should be openly shared across teams."
What To Do When Conflicts Happen
Despite our very best efforts as studio managers, a conflict might still arise from time to time. So what now?
When there was a conflict within the studio team, one technique that often worked well for Adam was to encourage the parties involved to take a break.
"I'd say 'Hey, I get we have a conflict - take a 20-minute break, go outside, take a walk around the building. Get out of this high-pressure environment. Maybe it will help, maybe not. At least you'll get some fresh air.'"
"Most of the time it worked," he adds.
Get to the root of the problem with active listening
Skills such as active listening come in handy here - it may help to invest in some active listening training for your team in anticipation of potential disagreements. Ensure that all team members involved listen actively to one another without interrupting, so everyone feels heard.
In doing so, you can come closer to identifying the underlying issue behind the conflict - and get to work brainstorming a solution with everyone involved. This also helps people feel valued and invested in the resolution.
Sarah says it's important to move things forward and not let grudges and resentment build. After you've worked with the group or relevant parties to come up with a solution, it's important to let go as a team.
"At some point, you just have to say - okay, we've just got to take the next step and move the project forward."
"If there's a conflict in a studio team - differently to other corporate environments – it's good to be gentle," says Sarah.
"Have everyone feeling good where possible - a good vibe in a studio environment is going to produce better creative results at the end of the day."
Stay Tuned for More Tips
Did you find these conflict prevention and resolution tips helpful? Over the coming months, we'll be sharing tips and tricks from our upcoming Studio Manager Playbook. To start, we've been focusing on collaboration and teamwork - sharing tips on how to build a cohesive team, implement effective communication, and foster a creative environment. Next up, we'll be looking at how technology can help studio managers.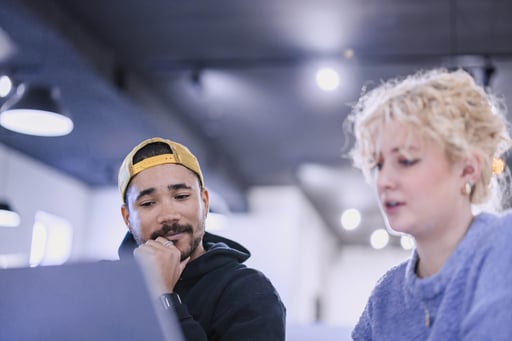 The Studio Manager Series & Playbook
Hey studio managers! Ready to make your operations run smoother and increase your productivity? Sign up and follow our hands-on, tried-and-true industry tips to get you there!
Jun 14th 2023
9AM PDT / 12PM EDT / 6PM CET
Maintaining creative consistency is a significant challenge for studios. Learn how Creative Force can help manage your company's visual standards from capture to post-production with smart automations and dynamic style guides.
Jun 14th 2023
9AM PDT / 12PM EDT / 6PM CET
Maintaining creative consistency is a significant challenge for studios. Learn how Creative Force can help manage your company's visual standards from capture to post-production with smart automations and dynamic style guides.