Customizing and Automating Metadata Capture for eCommerce Photo Studios
You're probably familiar with the technical information that your camera automatically captures and records when you take a picture. Things like camera make and model, lens information, and settings that were used to capture the image.
First, here's a quick intro video from me that discusses the tools in Creative Force that allow you to automate and customize metadata capture for your eCommerce studio. Who doesn't love things being made easier and completed automatically?
What is Image Metadata?
Before we talk about the incredible things you can do with the program to make things easier, let's talk about what valuable information that image metadata actually holds. Image metadata in its simplest form is text information about an image file embedded in the file itself or in a file associated with it.
In Photoshop, there are 12 categories of metadata.

Basic: The most important information on the image goes here, everything from contact information to copyright status and information.

Camera Data: This is information added automatically by the camera.

Origin: When the original file was made.

IPTC and IPTC Extension: "International Press Telecommunication Council" information. Professionals use this due to the universal acceptance for everything from news to libraries and museums.

GPS Data: Where the image was taken.

Audio Data and Video Data: This data is for audio and video and includes everything from artist and album info to frame rate.

Photoshop: If the image has been edited, this is where you can see information about those edits in a Photoshop file.

DICOM: "Digital Imaging and Communications in Medicine" and contains medical metadata.

AEM Properties: "Adobe Experience Manager" is metadata that connects directly to Adobe and can allow for the grouping of metadata using schemas.

Raw Data: This is the file's raw XMP structure created by Adobe Systems, Inc. Usually properties such as title, creator, subject, and description are included here.

At its simplest definition, metadata is used to make organization easier. Imagine being the person who has to find a file in the middle of thousands. It's easy to see the connection to finding a needle in a haystack. When you capture metadata, instead of searching through thousands, you might be able to narrow it down to only a few with specific details.

All of that being said, the way that you capture metadata is important. Let's talk about one of the ways you're probably very familiar with.

Image Metadata in Action.
If you've ever used Capture One or Lightroom to create an image catalog then you've seen the power of image metadata at work. When you're doing things like adding keywords and using color tags and star ratings, you're inputting metadata manually to better archive your images.
This particular metadata becomes exponentially more important in the world of eCommerce. Beyond what the camera can capture automatically, we need to be able to capture information about the product itself so that it already exists in the file when we import them into our DAM system.
What's in a Name? Accurate Schemas.
In eCommerce, it's also helpful to capture metadata about the team that shot the product on set. At the studio level, it's common to record the photographer's name, the stylist's name, and the set on which the item was shot. But too often those required metadata fields have to be inputted into existing fields for the schemas already present. For example, the photographer's name must be inputted in the author's field and the stylist's name in the description field. That's because, unfortunately, the fields in existing schemas used to capture metadata just don't describe the type of information that an eCommerce business needs in its images.
Like any database management in your company, you want a clean and accurate method of recording data. And this is where Creative Force can really help with metadata capture.
Custom Namespaces. Sky's the Limit.
Creative Force allows users to create custom namespaces with their own properties outlined within that namespace to contain the information they need.
So, if a user wants to create a custom namespace that captures the photographer, stylist, and set name, but also information about the product itself (color family, collection, etc) they can create custom namespaces and describe the fields that they want to appear in that namespace. You can create a metadata field for literally anything you can imagine and populate it with information.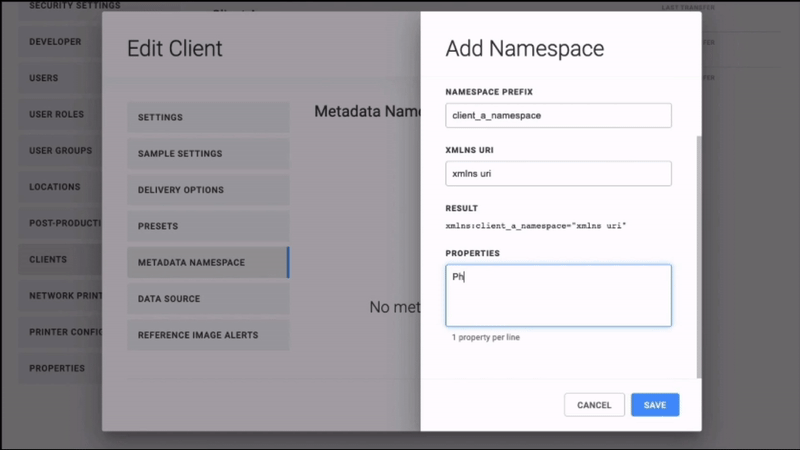 "Creative Force does something that's just really special when it comes to handling metadata and it's a small thing but I think it's really important. We can create custom namespaces with our own properties outlined within that namespace to contain information that we need. Whatever you might need or want to organize these images by, we can create custom namespaces and describe the fields that we want to appear in that namespace. Literally anything that you can imagine, you can create a field for and populate it with information."
Multi-Client, Multi-Schema.
Because Creative Force is a multi-client platform — and designed to be that way — users can create custom namespaces for each client and apply those to the images for that client within the system. And, to take it even a step further, users can identify specific variants that need additional metadata or different metadata and apply that information based on the variant. All of this to say, users can get very, very granular in metadata namespace customization in this platform as it is now.
More Automation. More Creativity.
Creative Force's handling of metadata enables users to take any valuable information that's in the platform, whether it's from a shot list or a job or user's data, and apply that to a custom namespace property. This eliminates the need to ask employees to punch in a photographer's name or a color family after the fact because that information can automatically be populated based on what's set up in presets. Automation systems like this do wonders for saving time.
And less time spent on manual metadata capture, means more time doing what studio teams do best — creating high-quality images for their brands. Not to mention even less chance for human error.
"Information can automatically be populated based on what we set up in our presets and we can let our teams in the studio focus on doing what they do best, which is creating great images for your studio or your brand, and we let Creative Force handle the metadata."