But there are other types of important metadata that help tell a picture's story. Descriptive metadata, or text information used to describe the actual image itself, and administrative metadata, which contains information like the copyright owner's information, rights and usage terms, play an important role in cataloging images.

Metadata in Action.
If you've ever used Capture One or Lightroom to create an image catalog then you've seen the power of metadata at work. When you're doing things like adding keywords and using color tags and star ratings, you're inputting metadata manually to better archive your images.
This particular metadata becomes exponentially more important in the world of e-commerce. Beyond what the camera can capture automatically, we need to be able to capture information about the product itself so that it already exists in the file when we import them into our DAM system.
What's in a Name? Accurate Schemas.
In e-commerce, it's also helpful to capture information about the team that shot the product on set. At the studio level, it's common to record the photographer's name, stylist's name, and the set on which the item was shot. But too often that information has to be inputted into existing fields for the schemas already present. Which means, for example, the photographer's name must be inputted in the author's field and the stylist's name in the description field. That's because, unfortunately, the fields in existing schemas used to capture metadata just don't describe the type of information that an e-commerce business needs in their images.
Like any database management in your company, you want a clean and accurate method of recording data. And this is where Creative Force can really help.
Custom Namespaces. Skies the Limit.
Creative Force allows users to create custom namespaces with their own properties outlined within that namespace to contain the information they need.
So, if a user wants to create a custom namespace that captures the photographer, stylist and set name, but also information about the product itself (color family, collection, etc) they can create custom namespaces and describe the fields that they want to appear in that name space. Literally anything you can imagine you can create a field for and populate it with information.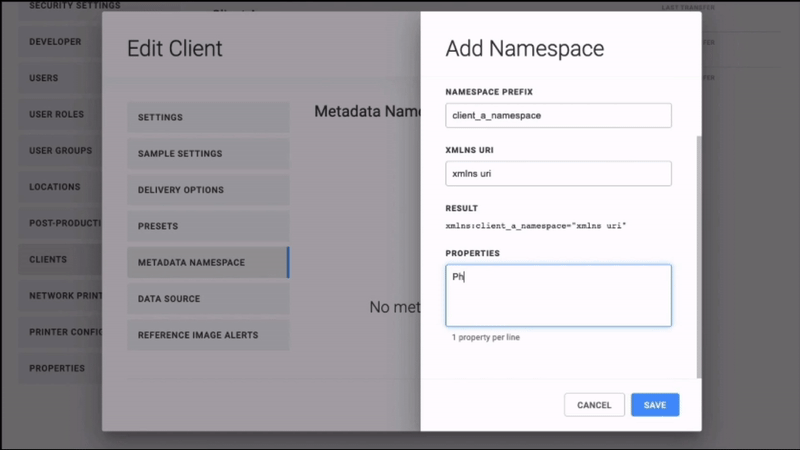 Creative Force does something that's just really special when it comes to handling metadata and it's a small thing but I think it's really important. We can create custom namespaces with our own properties outlined within that namespace to contain information that we need. Whatever you might need or want to organize these images by, we can create custom namespaces and describe the fields that we want to appear in that namespace. Literally anything that you can imagine, you can create a field for and populate it with information.
Multi-Client, Multi-Schema.
Because Creative Force is a multi-client platform — and designed to be that way — users can create custom namespaces for each client and apply those to the images for that client within the system. And, to take it even a step further, users can identify specific variants that need additional metadata or different metadata and apply that information based on the variant. All of this to say, users can get very, very granular in metadata namespace customization in this platform as it is now.
More Automation. More Creativity.
Creative Force's handling metadata enables users to take any information that's in the platform, whether it's from a shot list or a job or user's information, and apply that to a custom namespace property. This eliminates the need to ask employees to punch in a photographer's name or a color family after the fact because that information can automatically be populated based on what's set up in presets.
And less time inputting data manually means more time doing what studio teams do best — creating high-quality images for their brands.
Information can automatically be populated based on what we set up in our presets and we can let our teams in the studio focus on doing what they do best, which is creating great images for your studio or your brand, and we let Creative Force handle the metadata.