Toplist: The 17 Best Fashion & Apparel Product Lifecycle Management (PLM) Tools
Content studios, retailers, manufacturers, and brands in fashion and apparel all have complicated workflows. There are multiple internal divisions that coordinate production stages affecting omnichannel creation for a giant volume of images or items.
It sounds chaotic, and without the right tools, it would be. So wouldn't be great to track each item, from its conception to its launch to its retirement, all within one platform? You can, with Product Lifecycle Management (PLM).
What is Product Lifecycle Management - PLM?
Before we dive in, let's define PLM if you aren't already familiar. No matter the industry, from fashion or manufacturing, it's defined the same. It refers to the handling of a product (or multiple products) from inception, through design and engineering, to sales, service, and retirement. Including all product development costs.
There are many definitions of this lifecycle, but today let's focus on the highest level, which includes; introduction, growth, maturity, and decline. When you break it down like this, you can see how this type of system could be used in almost any industry out there.
How Do Fashion & Apparel Companies Use PLM Systems?
Fashion companies track goods through their entire lifecycle, maintaining a so-called "single source of truth" for communication on that product. This is where teams discuss: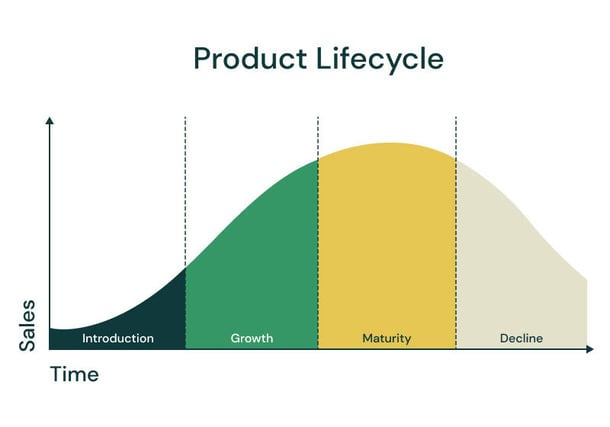 Introduction (research, develop, begin marketing, etc.)
Growth (product is live and profits are growing)
Maturity (popularity decides how much marketing is needed)
Decline (as popularity declines, so does production)
Which PLM Platform Should You Choose for Fashion & Apparel?
Because the Product Lifecycle Management process is important to most creative operations teams, with centralized communication and heightened monitoring of a product—we thought we'd compile a list of leading PLM solutions for the fashion industry.
Before we get into it, the list is in alphabetical order, not in ranking.
1. Aha
Aha! serves tech, media, and academic database clients with "the world's #1 product development software," per its website. One cool feature of Aha! is its meritocracy of ideas—you can evaluate and score feedback within the platform so that your best ideas rise to the top.
Relevant customers: LinkedIn, Dell, AAA, Hootsuite
WEBSITE
2. Aras
Used by a broad range of industries, including fashion apparel, Aras describes itself as being definitively not an out-of-the-box solution but instead a platform with a series of available upgrades for users of different industries, sizes, and locales.
"The Aras platform is designed to encourage business-specific requirements by offering a strategic approach to customizations without negatively affecting the ability to upgrade," its website reads. "Our adaptable platform allows you to customize and build applications tailored to your business needs, providing unprecedented levels of flexibility and scalability."
Relevant customers: Ecco Shoes, Fujifilm, Microsoft, Honda, Saab
WEBSITE
3. Arena
Here's another PLM software that's not specific to fashion companies but is popular with large consumer goods companies in other industries. Arena PLM, per its website, "helps dispersed supply chains eliminate manufacturing mistakes and accelerate new product introduction (NPI)."
Relevant customers: Square, Sonos, First Alert, Teleflex
WEBSITE
4. Autodesk Vault
This Silicon Valley-based company doesn't publish a list of its customers, at least to our knowledge, so we can't speak to its applicability to the fashion industry. What we can say, however, is that its PLM software offers a bill of materials (BOM) management feature that makes it easy to track item numbers, quantities, parts, and lifecycle for each component of the products you create.
Relevant customers: Delft University, Viking Yacht Company, Rokion
WEBSITE
5. Backbone
Focused on apparel, eyewear, footwear, and home goods, Backbone PLM is a platform that knows the fashion industry. Determined to "streamline your tech stack" - a premise you know we believe in - Backbone's fashion PLM software provides dynamic reports, image annotation, color libraries, and so many other features that help you consolidate your software.
Relevant customers: Chubbies, Black Diamond, Mack Weldon, Everlast, Movado
WEBSITE
6. CGS BlueCherry
Looking for a PLM specific to the fashion industry and integrated into its own enterprise resource planning (ERP) platform? Consider BlueCherry, which is designed "to compete against more nimble fashion and footwear brands," according to its website.
It's designed for today's teams' flexible, remote work models. "Work anywhere, on any device, in any browser," its website reads. "There is no need to download software or apps. Suitable for SMEs and scalable for global enterprises, BlueCherry is fast, fully-featured, and futureproof."
Futureproof? Sounds exciting to us.
Relevant customers: General Sportwear, Frye, Komar, Haggar Clothing
WEBSITE
7. Centric
Our pals at Centric describe their fashion PLM software as the first out-of-the-box configured cloud PLM for fashion and consumer products. The allure of working with Centric is that you'll get a highly customized solution—the team promises its platform can work with any business, no matter its needs, without the need for additional coding.
Relevant customers: Skechers, Sephora, Ferrero, New Era
WEBSITE
8. ClickUp
While not specific to fashion, this PLM is trusted by some big-time consumer brands. We see why given it offers a clean UI, provides Kanban boards, Gantt charts, calendars, reminders, and spreadsheets; and integrates with Dropbox, Outlook, Google Drive, and more. It's branded as "one app to replace them all."
Relevant customers: Samsung, Stanley Security, Booking.com, IBM
WEBSITE
9. Exenta
Trusted by some apparel retailers you know and love, Exenta makes a fashion-focused PLM with "the power to turbocharge your product lifecycle," per its website. That bold claim is matched by stats, as Exenta boasts of 20-50% increases in productivity and time-to-market among its users.
Relevant customers: Carhartt, Gold Medal International, Grand Forest
WEBSITE
10. Flex
Another product lifecycle management platform with a focus on retail clients, Flex PLM was designed with remote teams and collaboration in mind. Is someone on your team doing 3D work? Flex PLM, on its website, says that "3D design tools allow designers to tap into full PLM functionality from their 3D workspace"
Relevant customers: L.L. Bean, Deckers Brands, Sweaty Betty
WEBSITE
11. Lectra Kubix Link
Kubix Link is a PIM, DAM, PLM, and more for fashion clients. This all-in-one solution makes accurate information available to everyone from designers to executives in real-time. It includes communication tools that facilitate social media-style collaboration.
Relevant customers: Bravissimo, For All Mankind, Bally, Black Yak
WEBSITE
12. Oracle Fusion Cloud
Not fashion-specific but trusted by consumer brands, Oracle Fusion Cloud PLM is ideal for those of you who want a PLM attached to Oracle's extensive suite of supply chain management programs.
Relevant customers: Mazda, EmblemHealth, FedEx, Sonoco
WEBSITE
13. Propel
Need a PLM that assigns unique credentials to your team members, enabling them to securely sign in from any device, including their mobile phones? Propel could be your platform. "Notifications allow teams to safely untether themselves from the office and interact with other team members or clients without worrying about missing important updates," its website says.
Relevant customers: Shell, Vizio, SimpliSafe, Cantel
WEBSITE
14. PTC Windmill
While not, to our knowledge, working with apparel brands, PTC Windmill is the PLM chosen by several consumer goods customers. "Product diversity has been the enemy of operational efficiency, complicating business processes, introducing the potential for errors, and adding development and quality-related costs," explains the PTC Windmill website. That's why the platform offers a product variant management tool that, in our view, large-scale apparel companies could effectively put to use.
Relevant customers: Bose, Vaillant, VCST
WEBSITE
15. SAP
Another PLM from a global leader in supply chain and finance software, SAP is a cloud-based and on-premise solution used by large brands, including some in fashion apparel.
Relevant customers: KHD Humboldt Wedag International AG, Kaeser Kompressoren,
WEBSITE
16. Siemens Teamcenter
A PLM that counts apparel among its target industries, Siemens Teamcenter helps small- and mid-sized fashion brands improve their cost management, product design, artwork, and product data. "It provides full product transparency, contributes detail data to stakeholders for reliable decision making, and facilitates reuse of the intellectual property," the Siemens website says.
Relevant customers: Zhejiang Connor Industry, JCB, Dongfeng Liuzhou Motor
WEBSITE
17. Surefront
This PLM's interface is laid out in a UI that recognizes the parallel tracks of suppliers and retailers, both of whom it serves, throughout the product lifecycle. (A supplier is showcasing while a retailer is sourcing; a supplier is sending quotes while a retailer is drawing up RFQs.)
While Surefront doesn't list particular customers, its website does speak to an interest in helping fashion brands.
As you likely discerned from our writeups on these PLM platforms, your choices are far more alike than they are distinct - most PLMs offer more or less the same features. So how do you pick the one that's right for you? We recommend siding with the UI that fits your team's personality - software design that facilitates creativity instead of stifling it, like what we strive to provide with our own e-commerce content creation platform.
Possibly fashion-focused, but possibly not!
Congrats in advance on the new tools you choose to help your team promote ideas, organize notes, and create products.