How to Make a Successful Pivot to Satellite Studios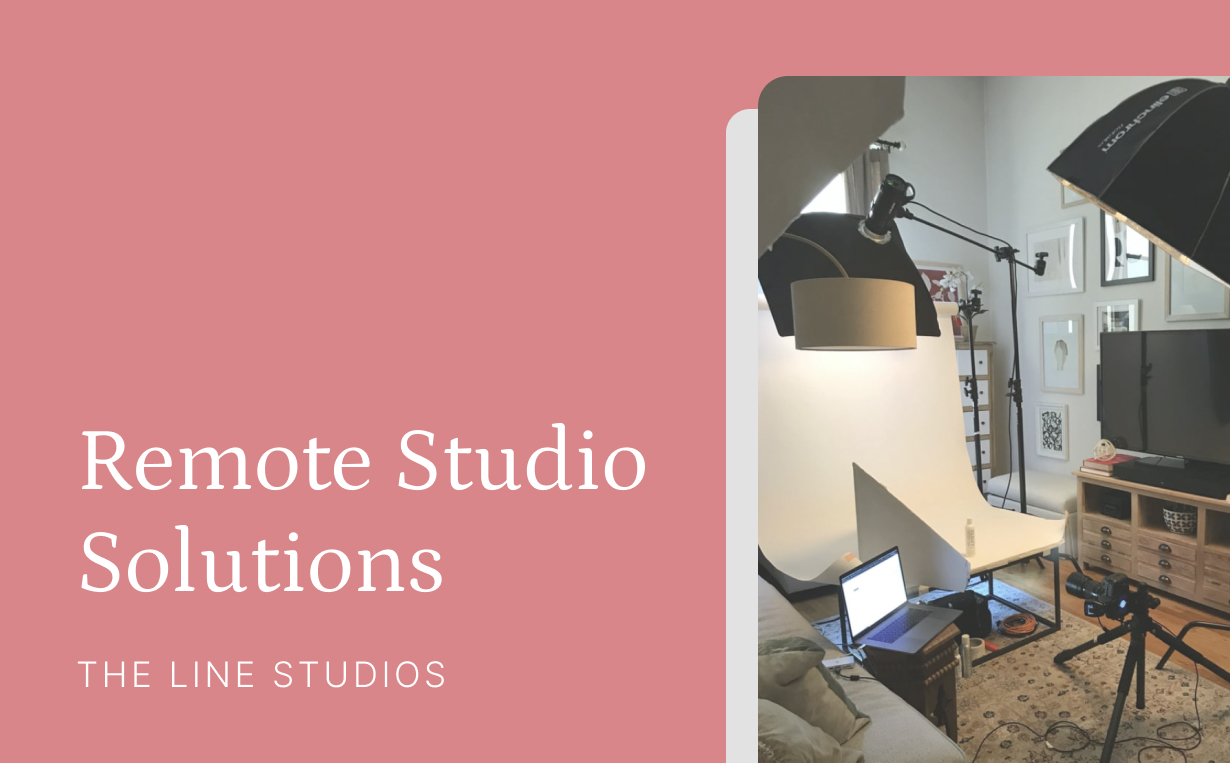 In episode 3 of our Remote Studio Solutions Webinar Series, we checked in with our partners at The Line Studios, a full-service creative production company based in Brooklyn, New York. Co-founder, Rob Harkey, and staff photographer, Michael Druce, shared how they've been leading their new remote studio operations. They shared examples of difficulties, successes, and more than a few insightful tips. Below are just a few of the key takeaways from our chat.

A fortunate head start
Believe it or not, COVID was not the catalyst for setting up remote studio capabilities at The Line Studios. In the months leading up to the lockdown, they began laying the groundwork for what they saw as a more agile way to work. While COVID certainly sped up the timeline, Creative Force's web-based software helped The Line realize that location is not everything.
"We were thinking about satellite studio spaces pre-Covid, as a way to expand our shoot capabilities. A lot of that was informed by the power of Creative Force and how it is not location-based. Knowing that we could use [Creative Force] in our studio, and then translate that approach to work from home, opened up opportunities for us to go into Covid knowing that we can execute for our clients. It's a tool that was very versatile and instrumental in us launching work-from-home."

- Michael
Coordinating under chaos
Getting several satellite studios up and running while closing up shop at their headquarters was no easy task. But Rob and his team were prepared for this pivot. They quickly put a plan into place and got to work.
Desperate times call for creative measures
With no public transit to transport equipment, Michael rented a car to minimize contact and handling of gear. Armed with measurements of each satellite studio, he then began the arduous task of building mock studios of each satellite studio, within The Line's Brooklyn headquarters. That's right. He built full-size models of each home studio to determine - based on square footage, light source, ceiling height, and other variables - which studios could handle which samples and what specific equipment each would need. After this was determined, Michael drove his rented car around Manhattan to distribute equipment, guidelines, and detailed set-up instructions to his team.
"A lot of this for us would have been difficult to do without these tools [within Creative Force]. What's really amazing...it's easy to run on remote workstations, and it's not tied directly to a server that's based in a studio. It really, really quickly allowed us to pivot. When Michael was dialing in and developing the final details for the satellite operations [we were] able to get this together in a couple of days." -

Rob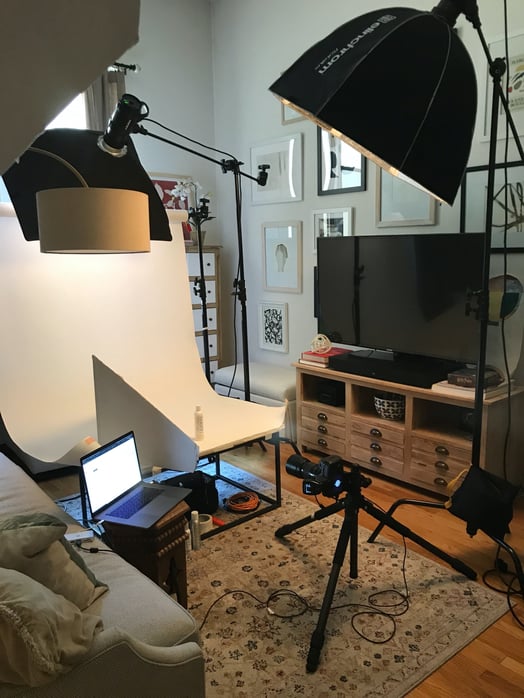 Delegating strategically
Before samples could be shipped, more assessments had to be made. Which studio, but more importantly, which individual could handle which products? Does a garment need more styling? Or is the styling minimal and more photo expertise required? Questions like these helped Rob and his producers determine where each sample would be sent for shooting.
"When we divided the studios, one of the unique things about Creative Force that was really helpful..it has the minutiae of being able to create inventory management. We were able to identify what samples we wanted to go to different locations. This allowed us to pivot and send samples according to their size and other guidelines." -

Rob
Hats. Hats. And more hats
Cross-functionality is always important for a lean studio like The Line. But running remote product photography from multiple satellite studios, everyone would have to wear a few new hats.
For instance, Michael and the other photographers would no longer have a stylist present. Which meant, when possible, they'd have to do some styling themselves. And when heavy styling was required, stylists would receive the samples instead of photographers. They'd need to get behind the camera from time to time. Cross-functionality has become a necessity. But Michael and the rest of his team are up to the challenge.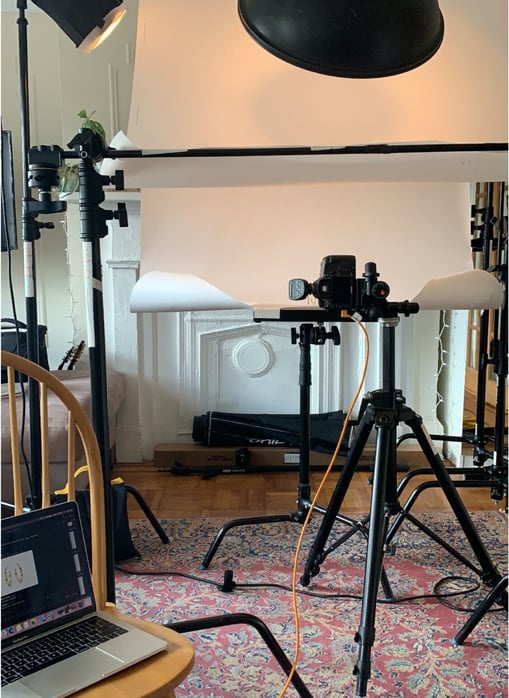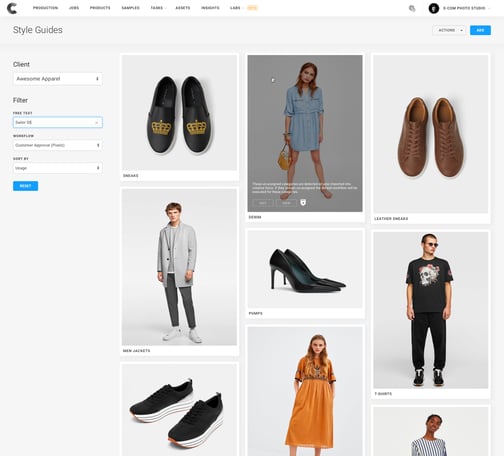 Demo of Creative Force in-app style guides
Allocating made simple
Creative Force allows The Line to deliver a sample and get out of the way. No detailed emails or slack messages outlining specific shot lists. Just a barcode housing all the data and metadata pertinent to the job. Upon scanning an item, the corresponding style guide populates and CF's intuitive UI design walks you through your role, acting as a guardrail for photo teams to upload, edit and check off tasks in real time. This allows each person to focus more on their specialty and less on the process.
"What's also wonderful about it tracking exactly where each item is is that in associating certain products and pushing them to specific areas within Manhattan or even Pennsylvania each time that a photographer interacts with that specific sample it changes and updates its location in real-time. So our production team is getting real-time feedback on the status of the actual product that's either the onset or elsewhere." -

Michael
Demo of Creative Force in-app capture positions
Managing from afar
These real-time updates have made Rob's life easier too. Typically, Rob would monitor the shoot and edits from his desk near the action. Without this proximity, he now relies on Creative Force for status updates. For instance, if one of his photographers checks in a sample but doesn't upload any photos within a few hours, Rob can see the productivity gap and reach out and see if they've hit a roadblock. He can even track items as they move from location to location, making inventory management a breeze.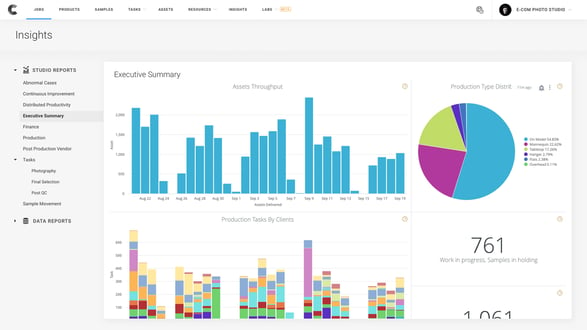 Demo of Creative Force in-app reports

"[For visibility into productivity] it's...smooth. We can log in to [Creative Force] to see what the daily productivity was, what was remaining to be done, and it was really easy to understand and manage what was going on." - Rob
Making their mark
In the past, Rob, Michael, and the rest of the team would send countless notes via email or slack regarding specific photos that were in process. But now, notes are made in context simply by marking up the photo in question. These notes become metadata, traveling with that photo from location to location, making it easier to communicate across different functions.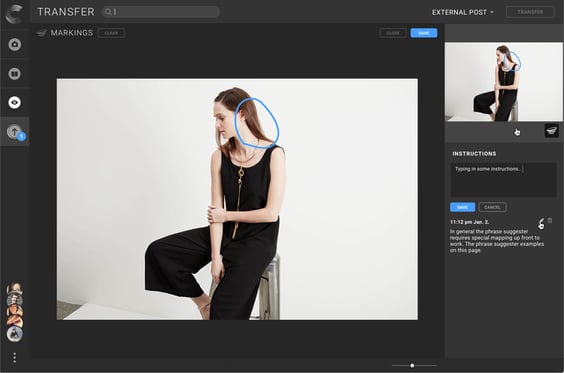 Demo of Creative Force in-app retouching notes


Collaboration. In real-time
Prior to COVID, clients were often on set for a shoot. So as issues or questions arose, they could be addressed on the fly. But now, not so much. Fortunately, The Line has been using Creative Force's photo review function to bridge this communication gap between clients and photographers. By offering clients input prior to post-production, The Line has cut back on revision and editing inefficiencies and generally made for smoother end-to-end production.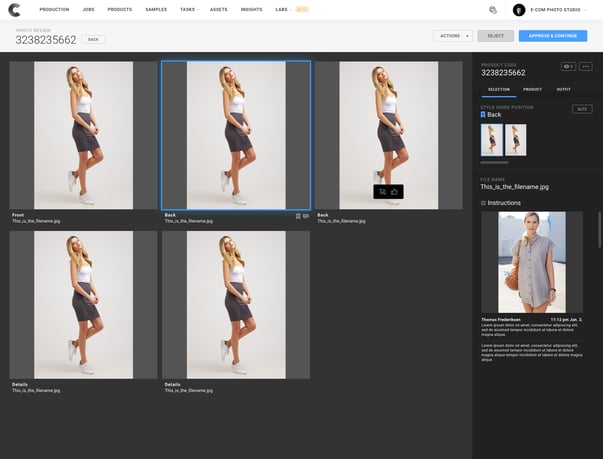 Demo of Creative Force in-app photo review
"Photo Review is a tool [within Creative Force] that our clients can use to have insight into and approve images that you shot on set before post-production even happens. If a client were to reject an image that I shot or our stylist has shot we can then go and reshoot that item before we send it off to post officially. Just to make sure that everything is in check and they like what they've gotten."

- Michael
It's not just how they're shooting that's changed - but
who
On-model photography can be challenging when practicing safe social distancing in the studio. That's why The Line has mainly relied on ghost mannequins and digital models to get the job done. It's taken some adjusting but since their team had already been using these offerings, the issues have been minimal.
"[Through these disruptions] I really wanted to make sure there were no sacrifices in the quality of photography. And so what accompanies that, I believe, is how you're able to think about the shoot and what else you can take your mind off of. What Creative Force has offered us is that no matter where we are [the] workflow is the same. How we interact with the application is gonna be the same from home as...in the studio. And so that part…I was able to understand once I make these modifications for [work from home sets], space was an issue but once that problem was solved the rest was turned over to muscle memory. That was one of the key aspects to a successful work from home shoot." -

Michael
Looking to the not-so-distant future
While today's strategy is satellite studios and digital models, The Line is starting to plan for the eventual re-opening of its physical studio. Beyond obvious social distancing measures, some ideas they're planning to implement include mandatory masks on set, temperature-taking upon arrival, scaling back hair and makeup, and UVC closets for decontamination - even limiting the number of clients present for a shoot. Whatever it takes to ensure a safe environment for all parties.
Check out the full on-demand recording if you're interested in hearing more about how The Line Studios coped with the disruptions, built out several satellite studios, and now thriving.
Plus, all the other episodes in our Remote Studio Solutions Webinar Series are available on-demand as well with even more tips from studio leaders to help you navigate our new normal.