Creative Force Now Supports End-to-End Video Management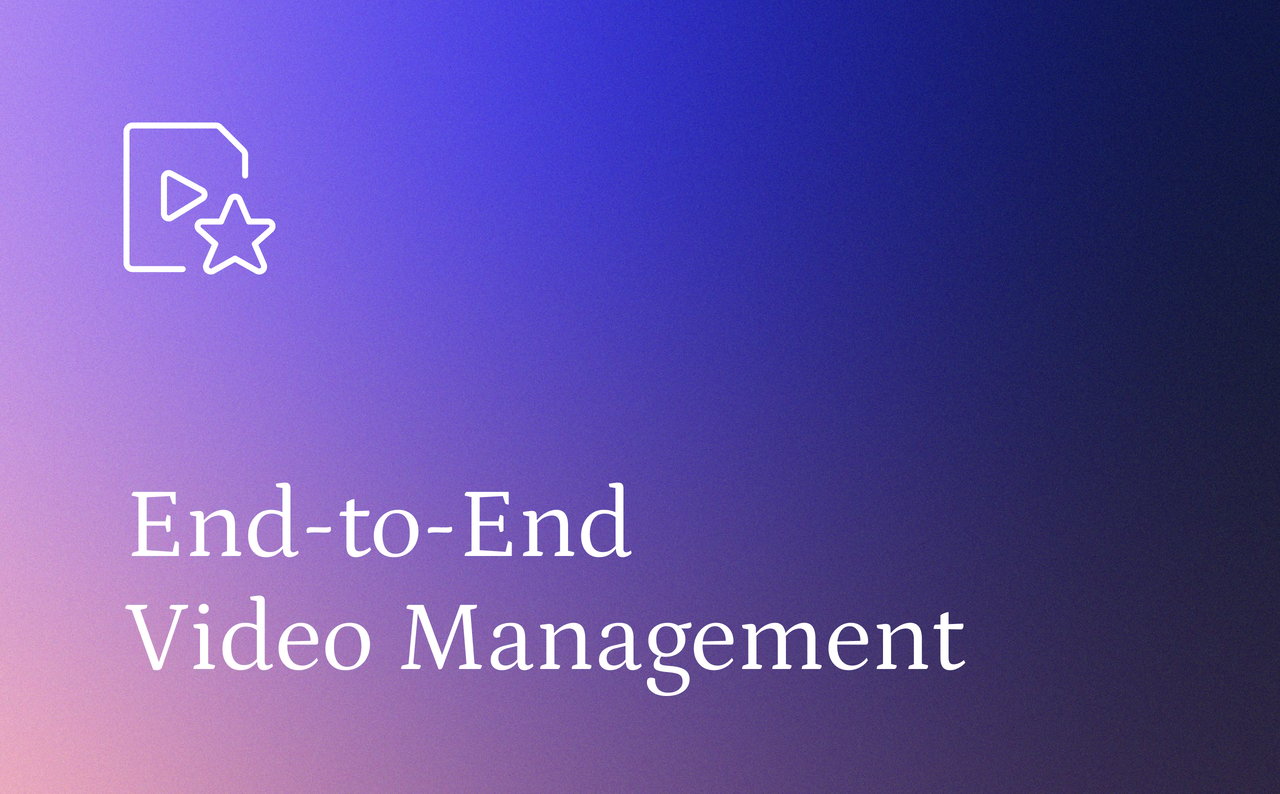 We're thrilled to share that Creative Force supports video management. Let's talk about exactly what that means, why it's important for studios today, and where we're headed in 2023.
Introduction
A lot of eCommerce studios have built incredible workflow solutions for file naming, organization, and getting projects to flow. Creative Force simplified all of it by wrapping it into a single software suite that works with the other software that our clients are already using every day.
While we've always handled end-to-end photography management, we are now bringing the same value to video with our new Cloud Video offering.

What is end-to-end video management?
Simply put, the Cloud Video add-on to Creative Force is the workflow backbone for video content from pre-production to delivery.

A simplified version of our end-to-end workflow solution.
End-to-end video flow production includes the following:
Product Data and Real-Time Sample Management
Dynamically Created Production Tasks

With Shoot Requirements and Relevant Workflows

Production Task Management from Capture through Asset Delivery
Outfit Styling and Tracking
Ingest Source Files into Integrated System
Review Source Files On-Set or Remotely
Frame-Accurate Markups

And Instructions for Post-Production

File Handling for Video Post-Production and Editing
Automatically-Sourced Color References for Color Matching Video to Photography
Review or Approve Edits

With Frame-Accurate Markups and Feedback

Automated File Naming, Metadata, and Asset Delivery
Centralized Production DAM / Asset Repository
Real-Time Insights and Reporting
Creative Force is a true end-to-end workflow, from pre-production to file handling and delivery. We're with you through the entire process, including direct API integrations (or can build them) with software like Capture One, Photoshop, and more, to create a seamless process from start to finish.
Other "end-to-end" video workflows
On the other hand, many of the "end-to-end video workflows" available today are not truly end-to-end. This isn't to say they're not good, they're just missing a few pieces to be considered complete. Below is an example of such a program:


The pieces highlighted in red are not included in many other "end-to-end" video workflow solutions.
The above program example is great, and with it, studios can get a lot of work done, but it is not end-to-end. As you can see, this program is used from the point of capture through review edits and possibly asset repository, but then they're out. That means that all preparation before capture, during workflow production task management, post-production file handling, and delivery and receiving file handling insights are taken care of somewhere else (most likely another program).
Why Now?
We noticed that while the demand for more video production has grown, there wasn't any real end-to-end production management system available to assist that growth. Multiple Creative Force customers have said that they're getting more and more requests for product videos and other video content, but they lacked a scalable way to meet that demand.
Currently, real-time video production tracking is an insanely high lift, if not impossible. Unlike photo capture, video is not tethered, so it creates a unique situation where team members don't have access to video files until the edit is complete from post-production. A lot of time and effort is spent on file handling. Traditionally, there's no easy or widely adopted way to even give instructions or feedback during post.
Most of the time, eCommerce video productions piece things together with spreadsheets, which requires a lot of manual upkeep. The review and approval process of these videos are also commonly pieced together using outside tools. Not to mention the need for video metadata to unlock searchability in downstream DAMs. Most teams don't have the bandwidth or ability to handle all of this manually or in a way that makes it consistent and repeatable.
All of this isn't to say that it's impossible to use spreadsheets or the solution set many studios have created, but with more content being produced (especially in video), the more challenging it becomes to produce video at scale without hiring.


"Video hasn't taken off to the degree that was expected. My personal theory is that the lack of good production tools is holding it back. The hardware is there, the people are there, but it's simply too complicated to make videos effectively. The existing tools on the market are "point in time" collaboration tools which are great at doing just that, but poor at managing a process.

Creative Force manages the process while solving a lot of the hard work on files, review, and more."

- Tejs Rasmussen, Creative Force CTO


What's Next?
Before our Lead Product Manager Shanna Ferris joined Creative Force, she was vetting workflow software, and would often be the one raising her hand and asking, "Those features sound great, but do they also support video?" Nine out of ten times, the answer was no. Even to this day, there isn't a true end-to-end production management solution for studios producing both eCommerce photo and video content.
Until Creative Force, of course.
In 2023, we'll be taking the next big steps in video production and building out an integration with Adobe Premiere Pro. As most of those reading this are familiar, it's still proving to be the industry leader. Building out a Premiere panel that seamlessly works with our post-production task manager application holds a lot of potential when it comes to streamlining and automating repetitive file-handling tasks that teams are executing manually.
There are also whispers of local workflows for video with limited cloud sync and enabling video for editorial. We're also currently monitoring Blackmagic Davinci Resolve. (Feel free to contact us with your thoughts!)
In Closing
It's been quite the journey with hundreds (if not thousands) of direct communications between customers, coders, designers, and more to make this project what it is today. And look out next week for a follow-up piece on the team behind the product!
Jun 14th 2023
9AM PDT / 12PM EDT / 6PM CET
Maintaining creative consistency is a significant challenge for studios. Learn how Creative Force can help manage your company's visual standards from capture to post-production with smart automations and dynamic style guides.
Jun 14th 2023
9AM PDT / 12PM EDT / 6PM CET
Maintaining creative consistency is a significant challenge for studios. Learn how Creative Force can help manage your company's visual standards from capture to post-production with smart automations and dynamic style guides.