Creating a production job in Creative Force can be as simple as uploading a document with product information or as automated as integrating fully through the API. There are several ways to get your job started in the platform. We'll look at a few of them here.
Start a Production Job Using CSV Files
If you have a CSV file with product information, simply upload that file into the platform. Once you have uploaded the CSV file, Creative Force can detect and map columns for you. Before upload is complete, you have the opportunity to review column mapping and make any necessary adjustments. Once mapping is complete, click to upload. From here, you can check a product in and set into motion the rest of the production process.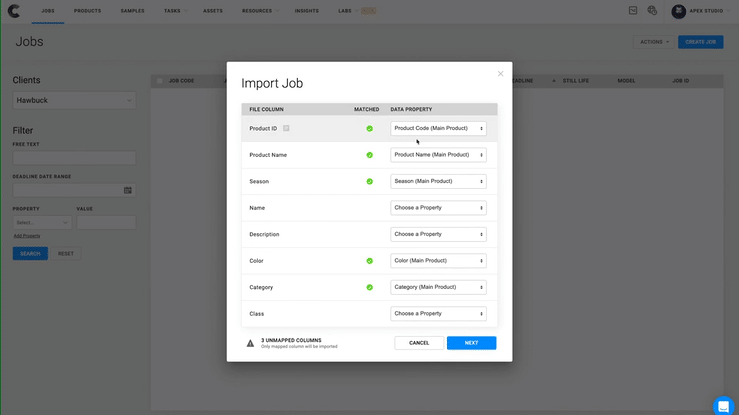 Launch a Production Job through Automation
The API-first architecture of Creative Force ensures you can integrate the platform into your existing product-management software. This allows automated import of products to begin a job.
The data source method isn't quite a full integration to Creative Force, but with powerful automation, it makes the process less manual. This method monitors a directory for information, and you can begin a job by scanning the barcode on a sample. Creative Force uses barcode data to find and import product information from the data source. Even after the job has begun, Creative Force can monitor the data source and make changes if product data is updated.
Begin a Production Job Using a Data Source
Alternatively, you can sync your job from a data source. The difference here is you can use a set of rules to continuously monitor the data source and update the job with any products that meet your pre-defined criteria. As the data source is updated, so is your job.
Find the Right Job Import Method for You
No matter how you bring data into Creative Force, the platform is built to be as flexible as you need it to be. You can import pertinent information about products, and later use that information in your assets' metadata, or your output directories and file naming. If you're unsure which import method best fits your situation, rest assured that the Creative Force team is ready to help you understand how your systems can work together and set up the platform for the best possible production experience.
No matter how you bring data into Creative Force, the platform is built to be as flexible as you need it to be