How It Works
There's nothing simple about large-scale content creation. But it's made easy with Creative Force. Here's how.
Disclaimer: No two studios are the same and your particular workflows and processes will reflect that. This is just one example.
A content creation workflow with Creative Force
Ready. Set. Go.

Studio Manager
Define Your Workflows
This dictates the automatic flow of assets, requirements, stakeholders, and more.

Sample Manager
Sample Check-In
Scan barcodes on your samples to check them in and print new barcodes, as needed. Samples can be checked in to any number of locations, sub-locations, or containers.
Locations & Sub-Locations
Organize Samples in Containers
Alerts notify you of duplicate samples or missing data.

Stylist
Styling
Your stylist will scan samples and see styling requirements, outfits, reference images, and shot lists.





Team on set
Photography
Directly integrated with Capture One, Creative Force makes sure no sample leaves set until all creative requirements are met.
Files are automatically named, tagged, and distributed.


Art director and stakeholders
Final Selection and Review
Art directors or other stakeholders make their final selects and add mark-ups and instructions for post-production. All in the cloud, accessible from anywhere in real-time.
Mark-Ups and Instructions
Share for External Review
Assets automatically go to post, as defined by the workflow.
Post-Production Vendor
External Post-Production
Your post-production vendor automatically receives not just the image files, but also color references, visual mark-ups, and any instructions given by your team.
Mark-Ups and Instructions
Data insights on vendor performance let you continually optimize production.

Post-Production Supervisor
External Post QC
Approve or reject the work performed by your external post-production vendor and add comments for your internal team.

Retoucher
Internal Post-Production
Color references, visual mark-ups, and detailed instructions are embedded with each file and displayed right in Photoshop.
Mark-Ups and Instructions
Tasks can be assigned to specific team members.

Post-Production Supervisor
Internal Post QC
QC steps can be added or removed according to your needs and you always have a complete, visual version history available.
Final Delivery
All your assets are automatically named according to your specifications, enriched with metadata that can be used by your downstream services, and finally delivered to your DAM, FTP, or wherever you want it to go.
Production Workflow Completed 🎉
Accurate, creative, and consistent assets – delivered much faster and without costly, time-consuming errors or manual tasks.
Digital Style Guides
Style guides in Creative Force are more than creative references for your production teams. They ensure consistency and enforce creative direction by intelligently managing photography requirements, post requirements, and automated file naming – and they appear automatically wherever they're needed throughout production.
Category Triggers
Set category triggers for each of your style guides. Whenever product data with a matching category is imported, that product will automatically be assigned the appropriate style guide
Production Types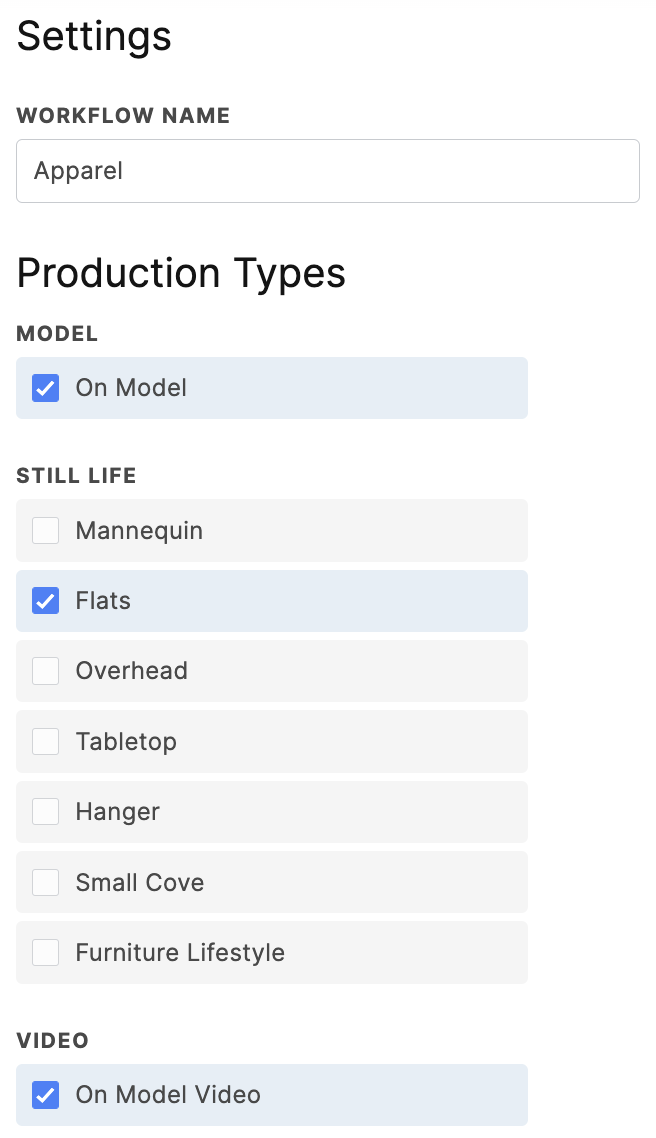 Easily select the required production types for each workflow.
Trusted by the world's top brands, commercial studios, and online retailers
Why top studios pick Creative Force
High-volume content production comes with its fair share of obstacles. Only Creative Force eliminates key complexities at every stage from vendor request to asset delivery.
Eliminate time-wasting manual tasks

Goodbye repetitive, error-prone tasks and outdated spreadsheets. Hello automated file handling and workflows.

Manage production, not problems

Extensive integrations and intuitive collaboration tools let your team focus their creativity where it belongs.

Better content online, faster

An intelligent and collaborative production flow dramatically reduces your studio lead time.

Works with your existing software

Our intuitive UI merges seamlessly with the software you're already using – like Capture One, Photoshop, and Slack.

Built to handle production at scale

A thousand products or a million – with Creative Force you scale your throughput, not the complexity.

Make data-driven decisions

Data is captured throughout production and formatted into actionable reports to improve studio operations.
Is Creative Force the solution for you?
Talk is cheap. Let us show you how Creative Force can bring real value to your studio operations and help you overcome those time-stealing, costly challenges. You can explore pre-recorded demos on your own or reach out for a guided tour.
End-to-end workflow solution
Works out-of-the-box
24/7 support in less than a minute
SOC 2 Type II certified
Native and custom integrations
Questions? Let's ... expand.
How does Creative Force work?

To simplify things a bit, Creative Force enables and elevates what we call flow production – a collaborative and continuous way of producing content at scale, where assets are moved individually through the many stages of production, as soon as they're ready.

This is in contrast to traditional batch production, where a single production stage is completed for all assets before they advance to the next step. Flow production eliminates bottlenecks and hold-ups, and Creative Force supercharges that concept with automation, metadata enrichment, integrated review tools, and so much more.
How is Creative Force different from other studio software?

Let's first differentiate between studio software and studio management software. Creative Force is studio management software that optimizes the processes around specific areas of studio operations, like sample management or post-production management – in some cases by integrating directly with studio software your team uses daily, such as Capture One or Photoshop.

Other studio software solutions do a fine job of solving problems within particular, well-defined areas of operation. But only Creative Force takes a holistic approach to studio operations and provides the tools to effectively increase productivity and visibility across the entire content creation process.

Read more about how Creative Force compares to some alternatives out there →
Who can use Creative Force?

Creative Force is built to meet the needs of brands, retailers, and commercial studios engaged in high-volume content creation for eCommerce or editorial projects. If you work professionally with any of the above, chances are you'd see remarkable improvements to your workflows with Creative Force.

Every team from studio intake to styling to capture to post-production and beyond will benefit from the extensive workflow automation, increased production visibility, and many collaboration tools.
What makes you sure I'll see positive results using Creative Force?

From the get-go, we'll work with you to analyze your specific business needs to determine exactly what kind of an impact Creative Force will have on your unique processes, lead times, throughput, and resources.

If we don't believe you'll see immediate, measurable improvements in the areas you wish to optimize, we'll let you know. We're not interested in anything less than 100% satisfied customers.

Speaking of satisfied customers, we invite you to check out our case studies. You'll find them on our website's aptly named Success Stories section.
How long does it take to get up and running with Creative Force?

There's no one-size-fits-all solution when it comes to studio operations, so we'd be foolish to make any timeline promises until we've analyzed your particular needs. That said, we're big fans of getting things done as quickly as possible while maintaining the highest quality possible. It's kind of our MO. A personalized onboarding experience and our Creative Force Academy allow us to accomplish exactly that.