A content creation workflow with Creative Force
Ready. Set. Go.

Studio Manager
Define Your Workflows
This dictates the automatic flow of assets, requirements, stakeholders, and more.



Planning team
Plan Your Production Calendar
While you work through your pre-production steps, you can schedule, organize, and plan production on a unified calendar. Then, once your teams are on-site, you can assign teams and monitor progress in real-time.
Alerts notify you in case of double bookings.

Sample Manager
Sample Check-In
Scan barcodes on your samples to check them in and print new barcodes, as needed. Samples can be checked in to any number of locations, sub-locations, or containers.
Alerts notify you of duplicate samples or missing data.

Stylist
Styling
Your stylist will scan samples and see styling requirements, outfits, reference images, and shot lists.





Team on set
Photography
Directly integrated with Capture One, Creative Force makes sure no sample leaves set until all creative requirements are met.
Files are automatically named, tagged, and distributed.
Copywriter
Copywriting
Begin your text-based asset production in parallel with visual assets, all within the same platform.


Art director and stakeholders
Final Selection and Review
Art directors or other stakeholders make their final selects and add mark-ups and instructions for post-production. All in the cloud, accessible from anywhere in real-time.
Assets automatically go to post, as defined by the workflow.
Post-Production Vendor
External Post-Production
Your post-production vendor automatically receives not just the image files, but also color references, visual mark-ups, and any instructions given by your team.
Data insights on vendor performance let you continually optimize production.

Post-Production Supervisor
External Post QC
Approve or reject the work performed by your external post-production vendor and add comments for your internal team.

Retoucher
Internal Post-Production
Color references, visual mark-ups, and detailed instructions are embedded with each file and displayed right in Photoshop.
Tasks can be assigned to specific team members.

Post-Production Supervisor
Internal Post QC
QC steps can be added or removed according to your needs and you always have a complete, visual version history available.
Final Delivery
All your assets are automatically named according to your specifications, enriched with metadata that can be used by your downstream services, and finally delivered to your DAM, FTP, or wherever you want it to go.
Production Workflow Completed 🎉
Accurate, creative, and consistent assets – delivered much faster and without costly, time-consuming errors or manual tasks.
Digital Style Guides
Style guides in Creative Force are more than creative references for your production teams. They ensure consistency and enforce creative direction by intelligently managing photography requirements, post requirements, and automated file naming – and they appear automatically wherever they're needed throughout production.
Category Triggers
Set category triggers for each of your style guides. Whenever product data with a matching category is imported, that product will automatically be assigned the appropriate style guide and workflow.
Production Types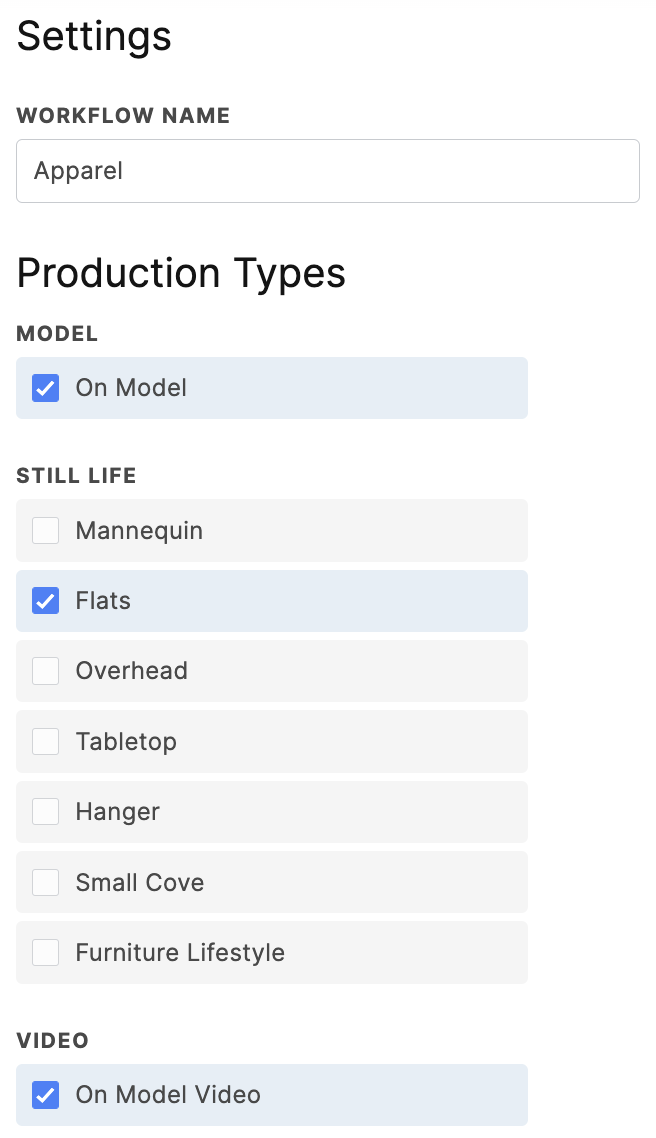 Easily select the required production types for each workflow, including video and automated imagery.
Production Steps
Automation will do the heavy lifting, while you're in complete control of the production process. Which production types are needed for a certain kind of product? Will the photographer be doing the selects? Should assets go through external or internal post-production? Perhaps both? How many rounds of review should be done and by whom? You can be certain that each product goes through exactly the steps you want it to.
File Naming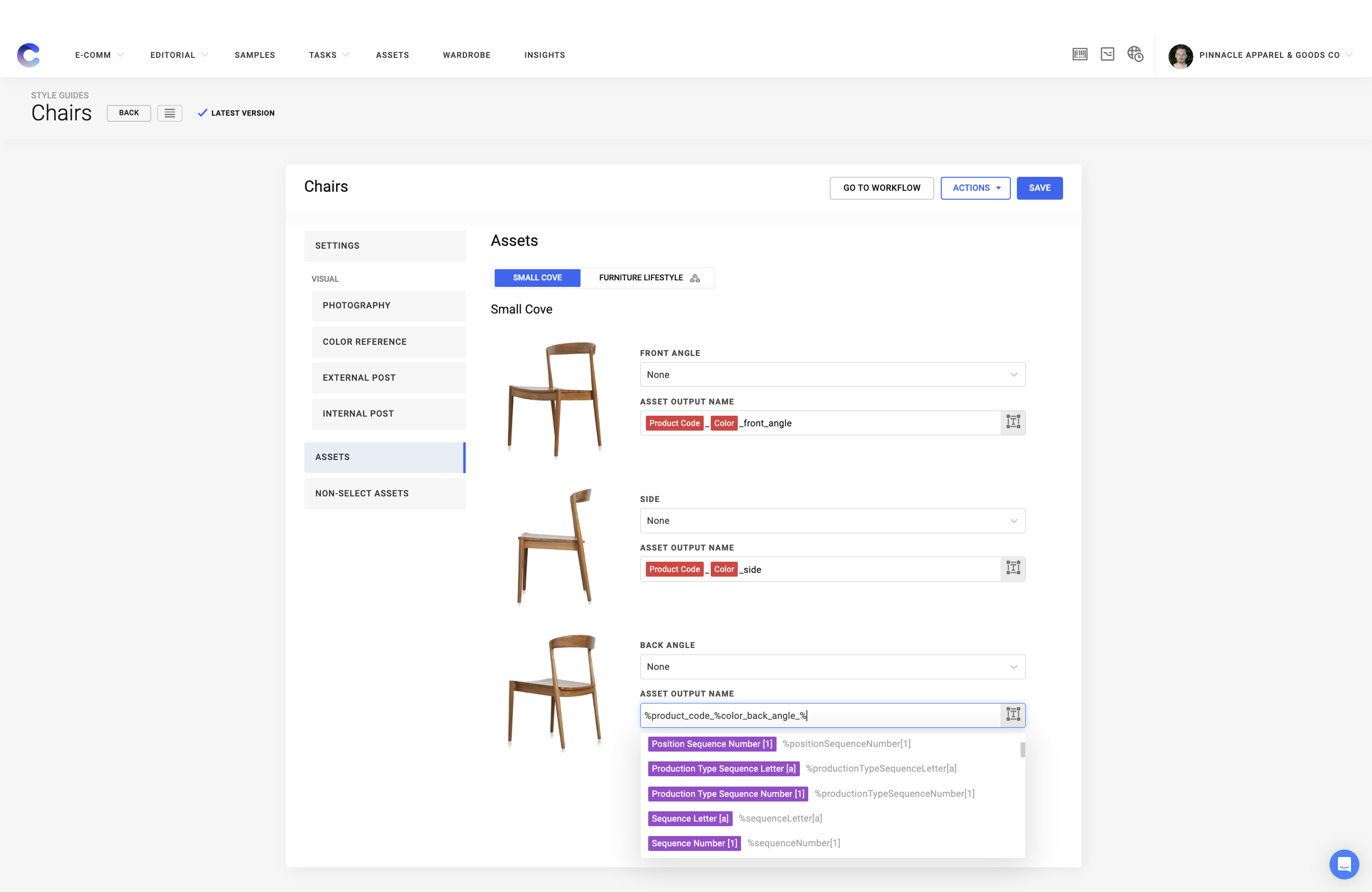 File naming is a notoriously error-prone and time-consuming task in studio production. In Creative Force it's completely automated. Here, your style guides dictate how each type of asset is automatically named using product data, event data, studio data, free text, and more.
Asset Delivery
A multitude of integrations with industry-leading partners makes file delivery a breeze. In your workflow setup, you'll specify the delivery matrix for each product or even each production type, so you're always certain the right assets end up at the right destination – without your team ever manually handling a file.
Import Data
Creating a job in Creative Force is as easy as uploading a spreadsheet (or CSV or JSON file, for that matter). Your product data is automatically mapped to product categories in Creative Force, triggering the right style guides and workflows.
Create From Scan
Whether it's a box of samples that – somewhat unexpectedly, perhaps – showed up at the studio or a list of barcodes, you can create a job in Creative Force simply by scanning the products you want to include.
Data Sources
Upload product data once – or connect a data source, which Creative Force will then automatically check for updates. You can connect a local file, a feed URL, or a file hosted on FTP, Amazon S3, or Google Cloud.
Add New Session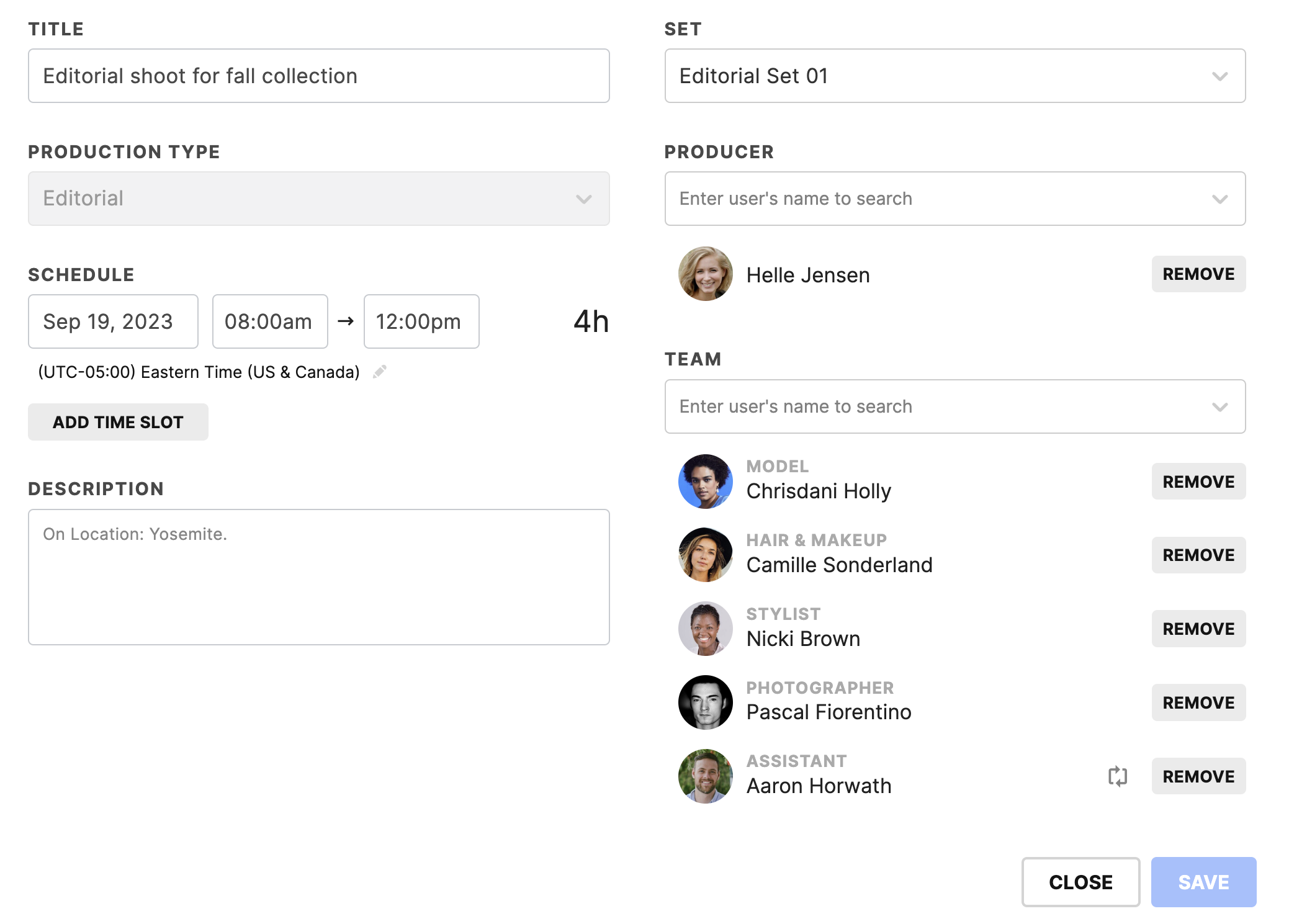 New sessions are added with a simple button click. Add as much or as little information as needed, with the flexibility to update it at any time, even during the session itself!
Assign Production Tasks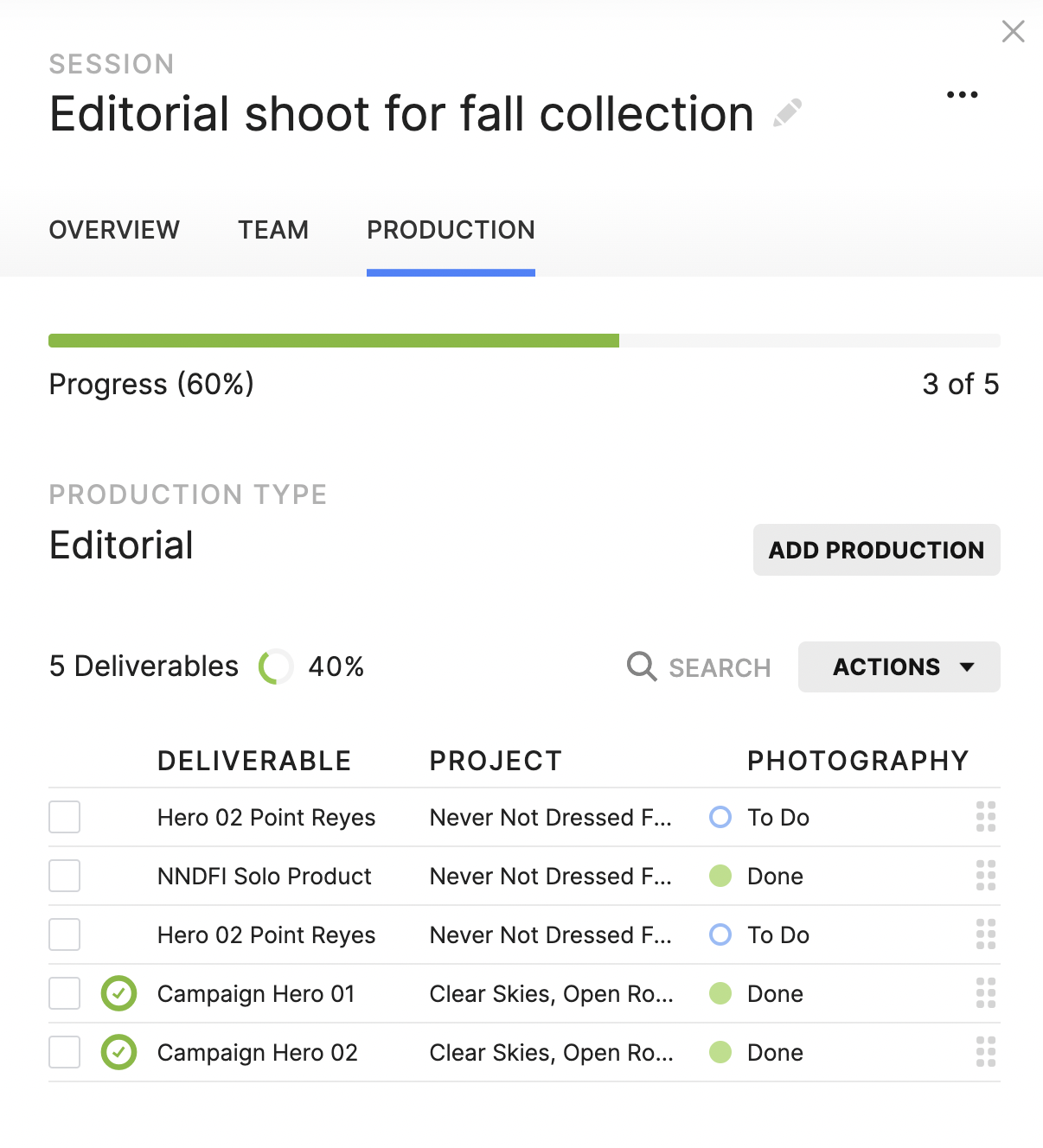 Assign already-created production tasks – from photography to video and editorial – to your session. These are updated automatically as the session progresses, flowing from planning into your workflow without any latency
Monitor via Session Card
Sessions are all easily viewable and monitored via session card, making key information available to studio managers and other teams. Progress and sample availability are also updated instantaneously
Load Planned Sessions & Shot Lists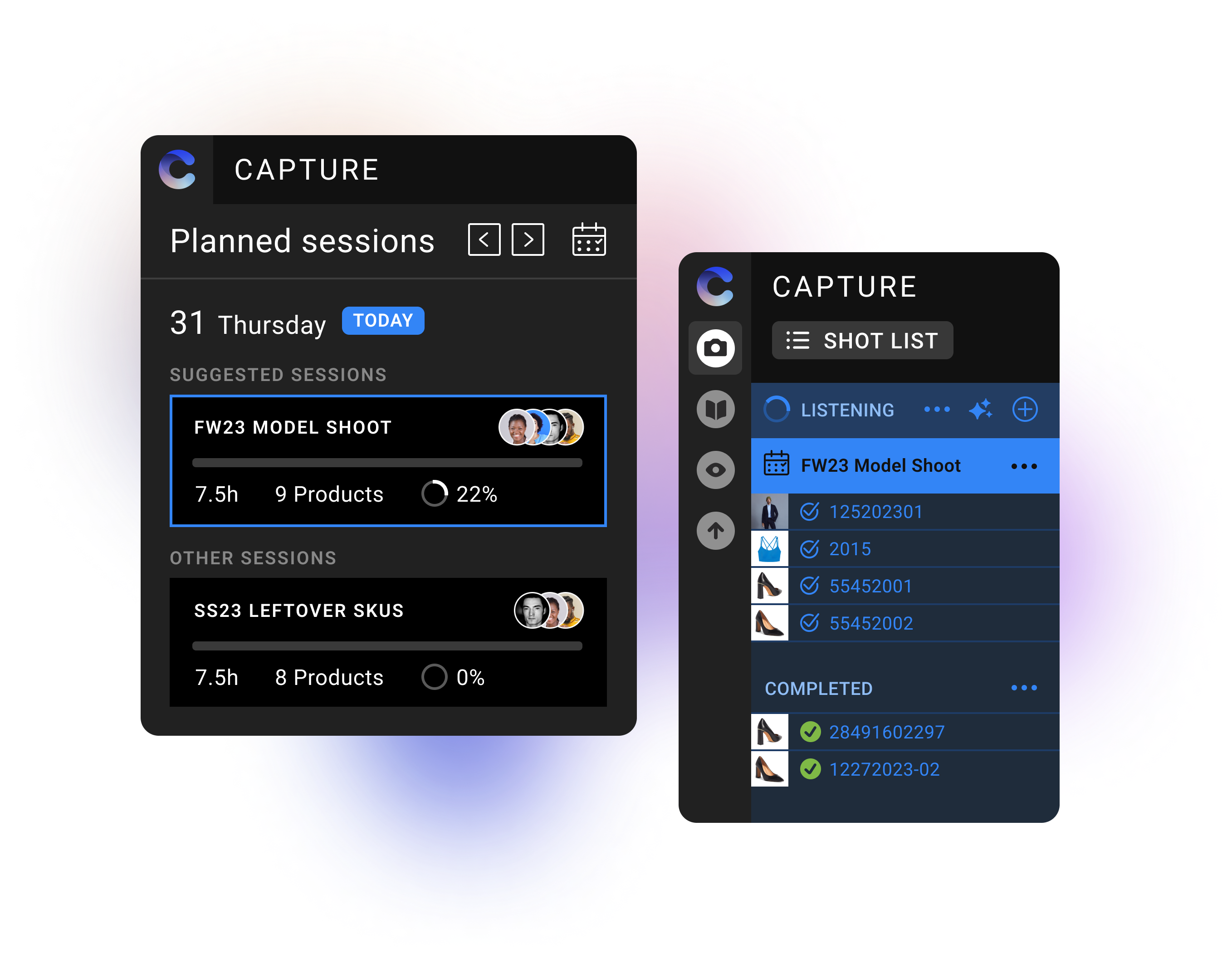 When your on-set teams log in, they'll be prompted to confirm their assigned session. Creative Force will also automatically load the planned shot list, syncing to any last-minute changes, with shooting then tracked in real-time
Scan Barcodes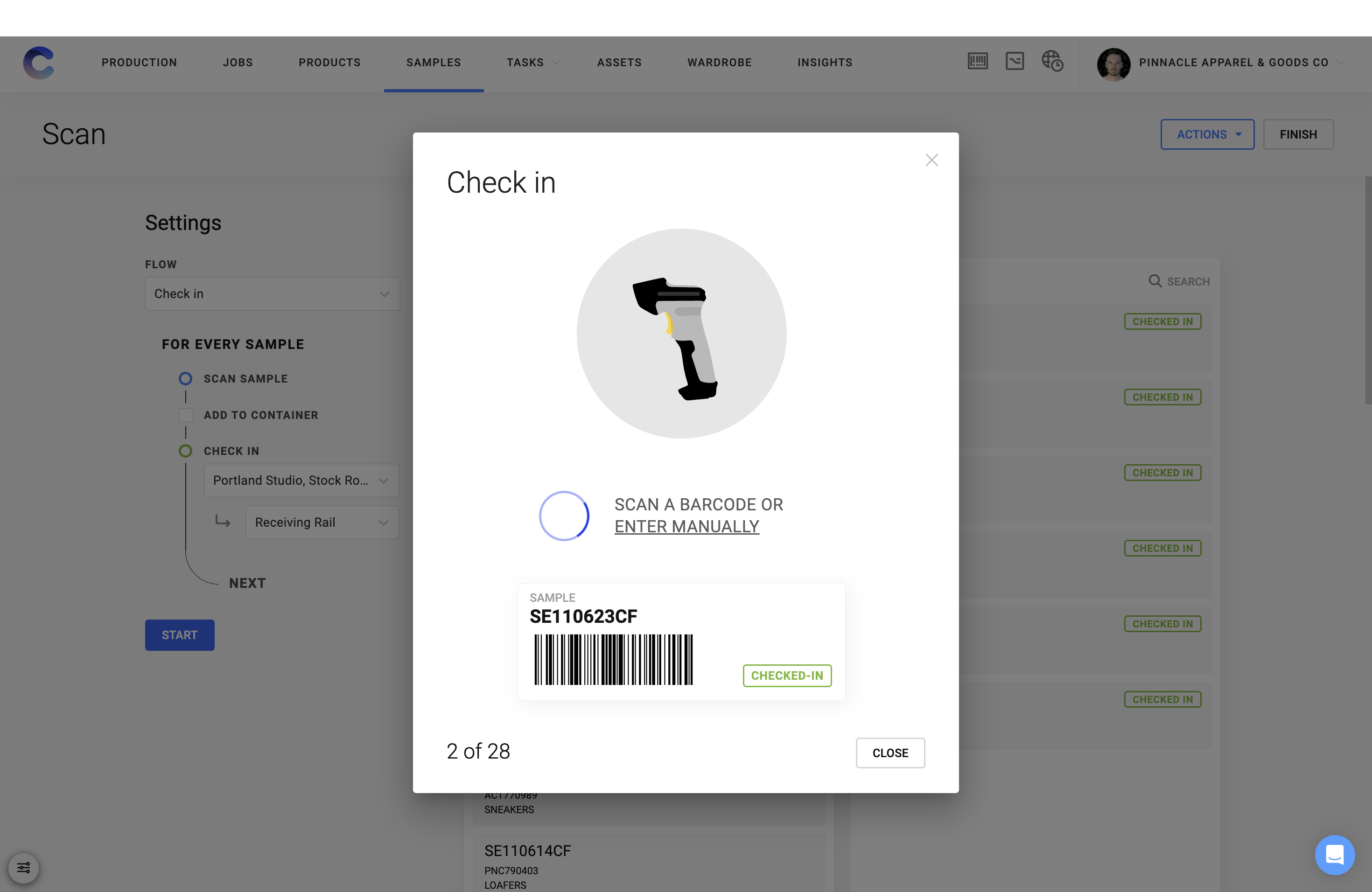 Use a handheld barcode scanner or smartphone to check in samples. The system logs time stamp, location, user, and sample data. You even have the option to review and update the associated data and can set up as simple or elaborate check-in flows as needed to always know exactly where your samples are – and where they are needed.
Print Sample Label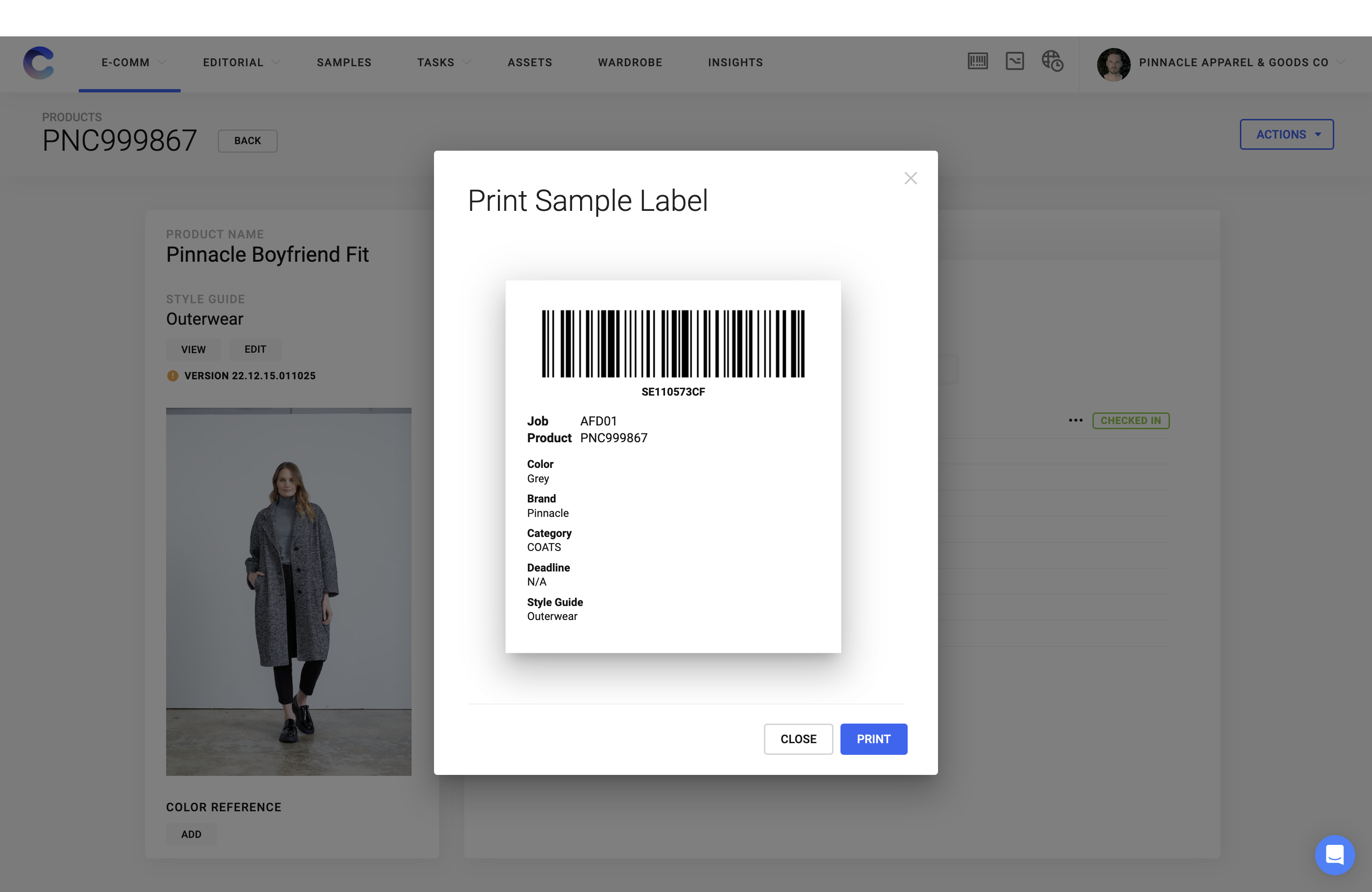 If the received samples did not come with barcodes, or if you prefer to use barcodes specific to Creative Force and the job at hand, you have the option to print barcodes, as you're checking in the samples. You can also print barcodes for containers, such as sample racks, boxes, bins, shelves, or however else you might store and move samples in your studios.
Assign Locations and Sub-Locations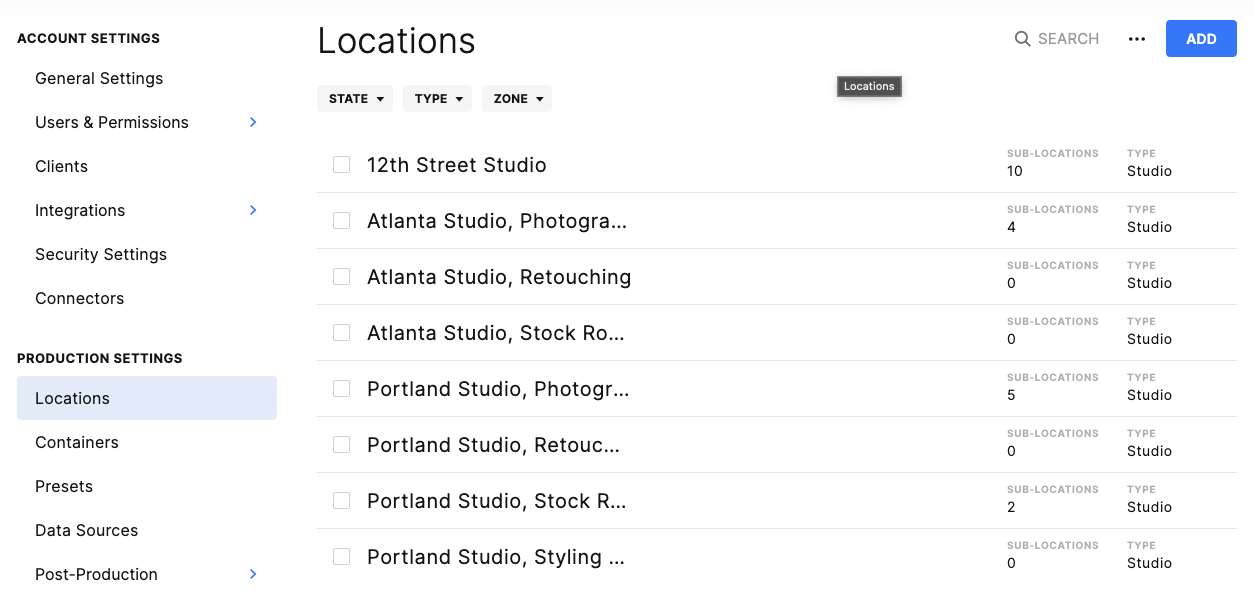 Location and sub-locations in Creative Force enable teams to track the flow of products as they move from set to set around your studio, or to and from your warehouse. Get complete visibility into where a sample is at any point in the creative process.
Organize Samples in Containers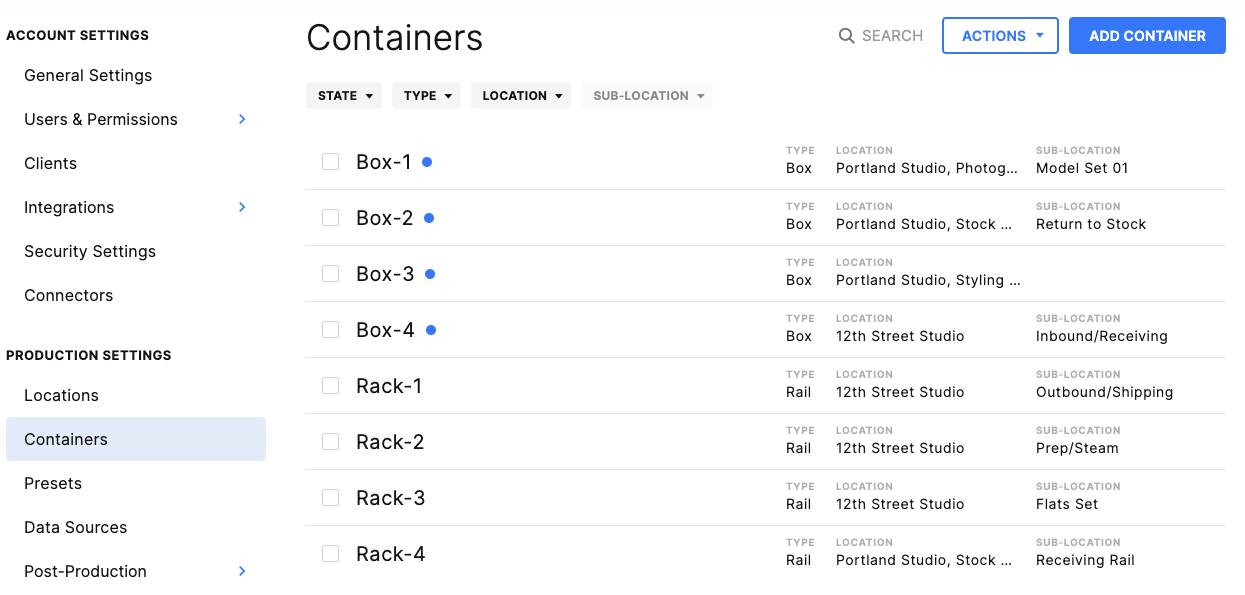 Containers in Creative Force make the process of managing large groups of products much easier. Containers are a set of samples that have been grouped together and can be actioned in bulk.

Containers usually correspond to the physical containers used to store and transport samples in your studio, like boxes and clothing rails.
For example, you can move a container of products from one location to another by scanning the container label, rather than having to scan each individual sample in the box.
Configure Alerts
Creative Force has visual and audible alerts to make scanning samples easier. A standard tone confirms a successful action, whereas an alert tone notifies team members of an exception to investigate.
You can choose to be made aware of any or all of the following exceptions.
Check-in alerts:
Already checked in
Already checked in (different sample size)
The product is in production with the ability to define specific workflow steps
Sample has defined property value
Check-out alerts:
Product is still in production
Styling Wardrobe
The styling wardrobe includes garments the studio keeps on hand for a season or longer to complete an outfit when a sellable product may not be available or fit the shoot aesthetic.

By maintaining a styling wardrobe in Creative Force, teams always have a record of the items in the image. Users can also pre-style a complete outfit and load it into the platform, giving prep teams a way to make sure the product and wardrobe are on the right set at the right time.
Outfits
Build and track outfits for on-model photography with Creative Force.

Outfits are built around a primary product, with other samples in the outfit recorded as secondary products for the asset. This information is stored in Creative Force and can be used in metadata fields, asset naming, and in generating reports.
Capture One Integration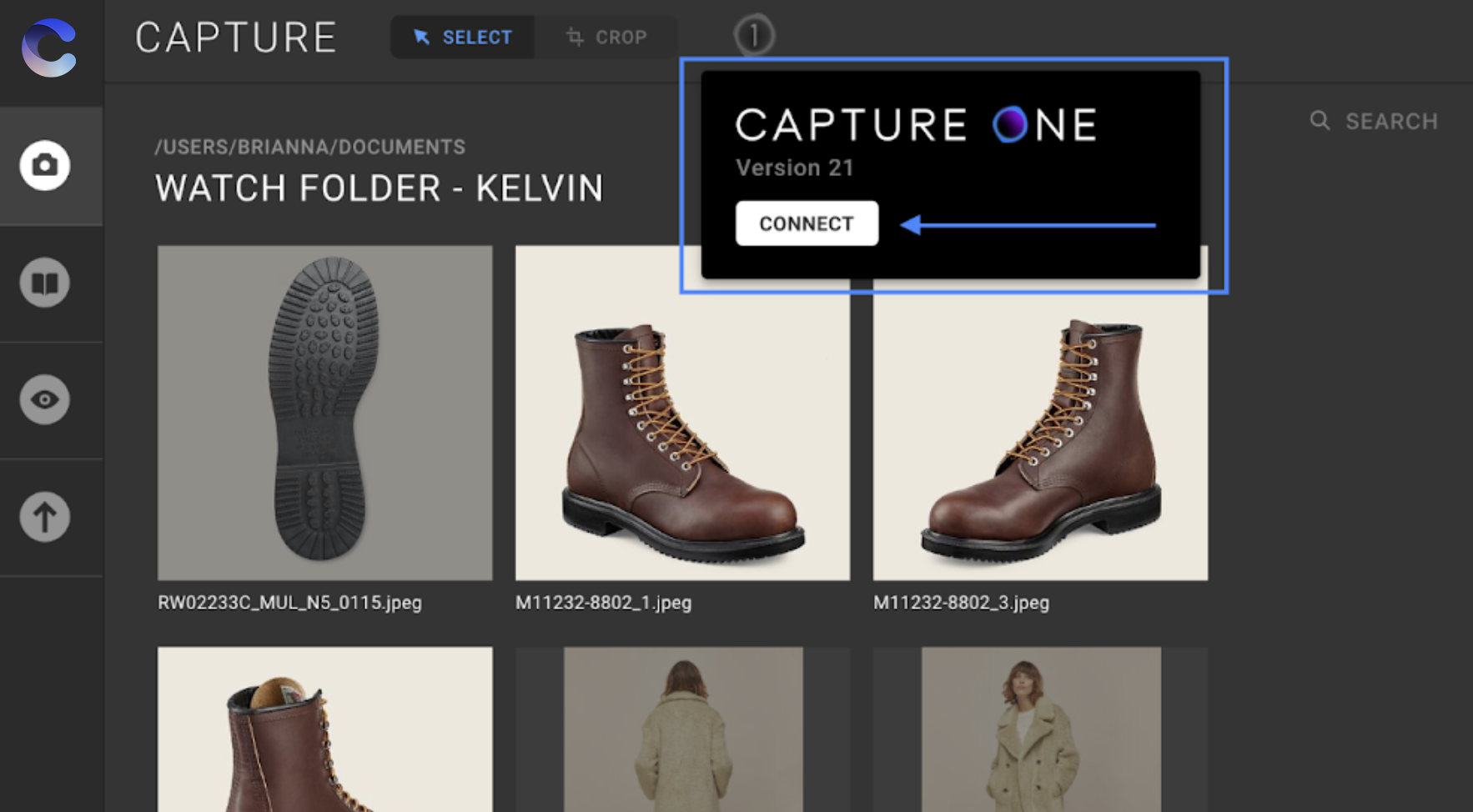 Creative Force has a seamless integration with Capture One, which offers the fastest tethered shooting in the industry.

Features:
Session Controls: Enforce file naming conventions for every shot.
Backup Assistant: Ensure files are retrievable with accurate file naming and secure data backup.
Reversible Crop: Transfer full-size image files, including cropped pixels, with "undo" abilities.
Stream Photography (Coming soon)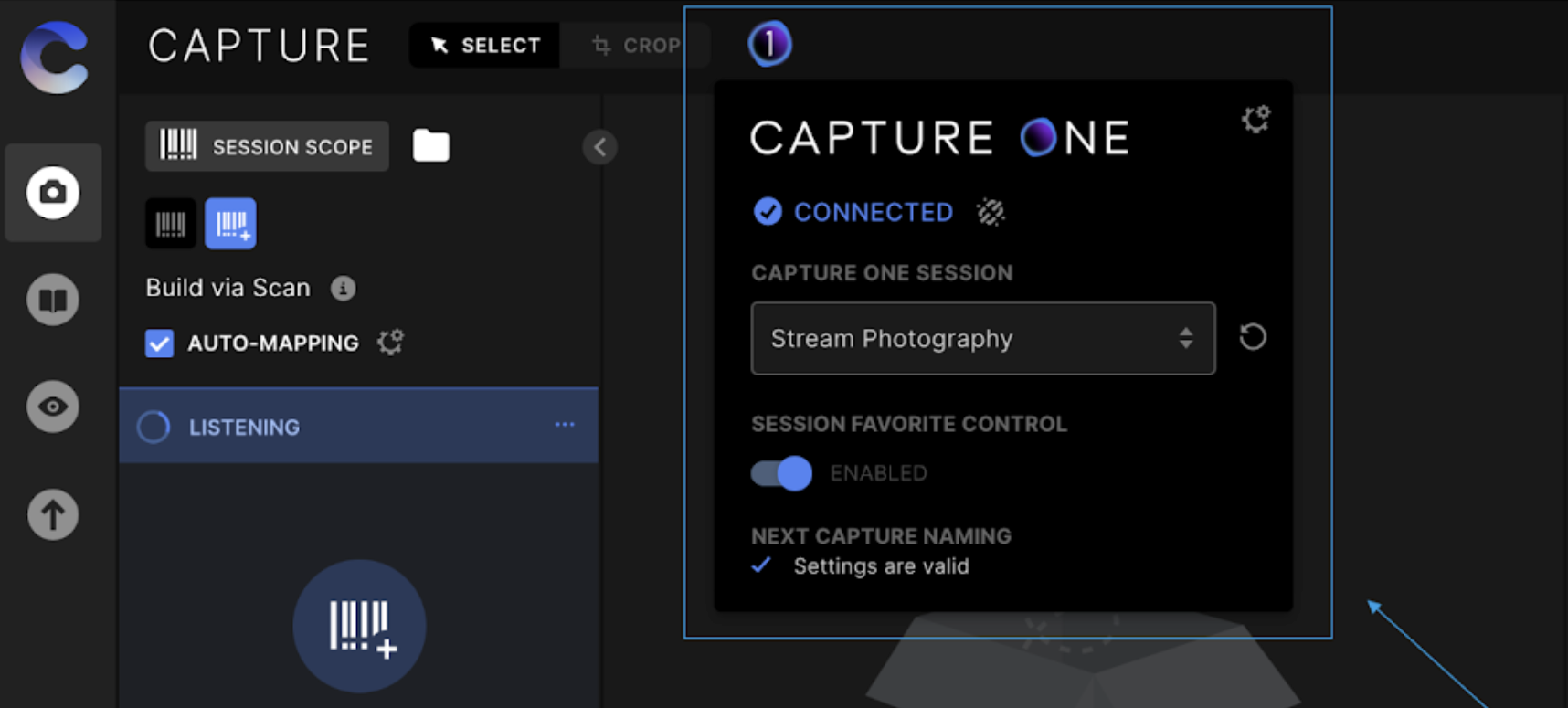 Stream photography allows images to flow effortlessly from the studio set into Creative Force production in real-time.
Minimize mouse clicks
Enhanced barcode scanning
Auto-maps files to style guides
Auto-transfers files to production
Automatic File Handling
No more missing images or misnamed files.

Creative Force is powered by Style Guides and Workflows which route assets through the production process. Assets are automatically advanced to the next step as tasks are completed, while the status of the product is updated in real-time.

Creative assets are automatically uploaded and stored in the cloud, so your team members won't have to worry about renaming or transferring files during production. In addition, a copy of the asset is saved at each step of production and review.

Once selects have been made, retouching is done, and final assets have been generated, Creative Force automatically names files according to your preset naming conventions and delivers them to their final destination.
Grid Layout
Fully-customizable and tied to your style guides, content sections can be added, removed, or adjusted to meet your specific needs
Set Content Guidelines
Add text-based content to any new or current workflow, then pre-select content parameters such as length, color options, iconography, and much more
Enrich via AI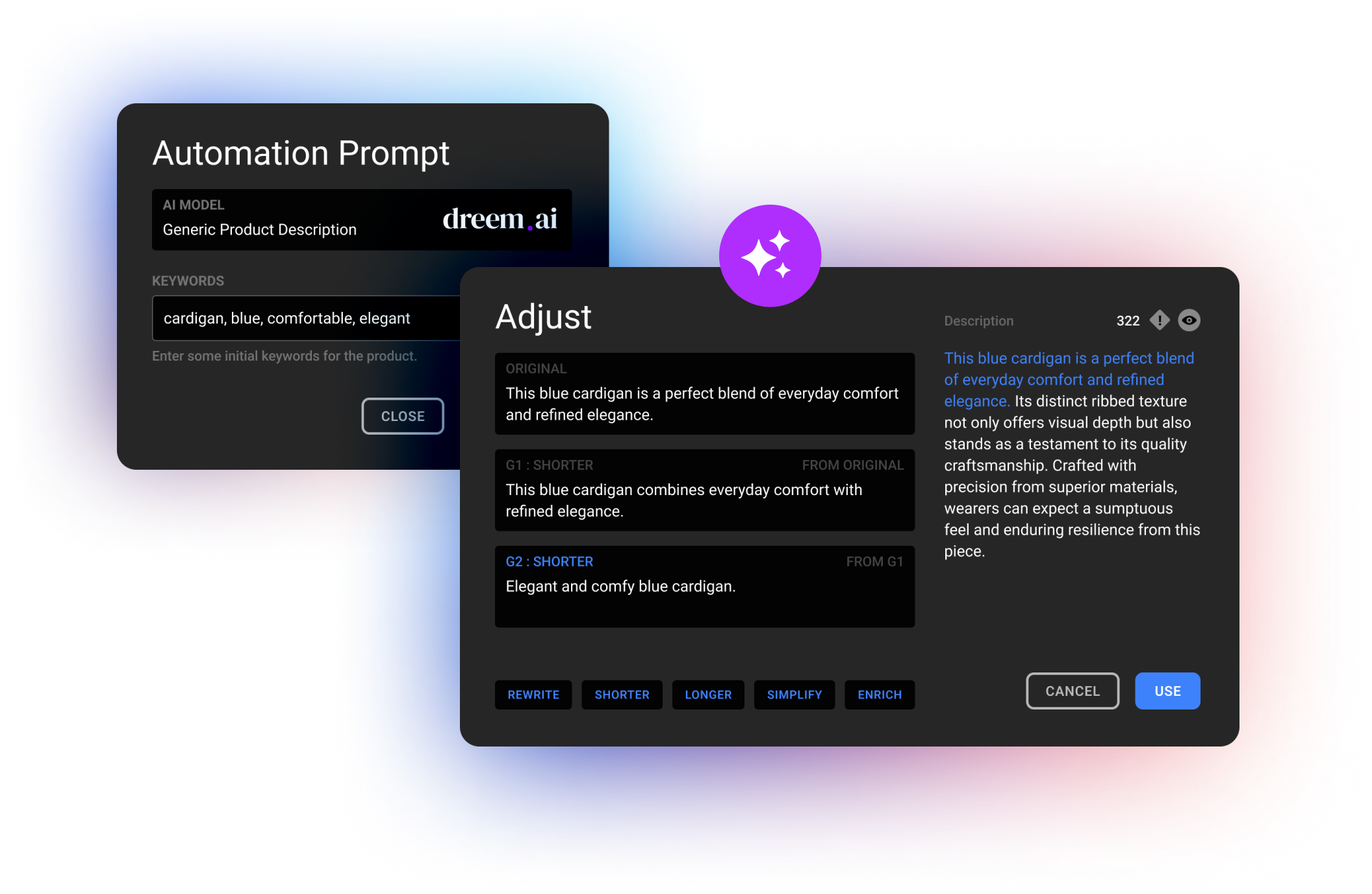 Generate starting product descriptions based on simple prompts via dreem.ai integration, then adjust and iterate to get your best end result
Track & Improve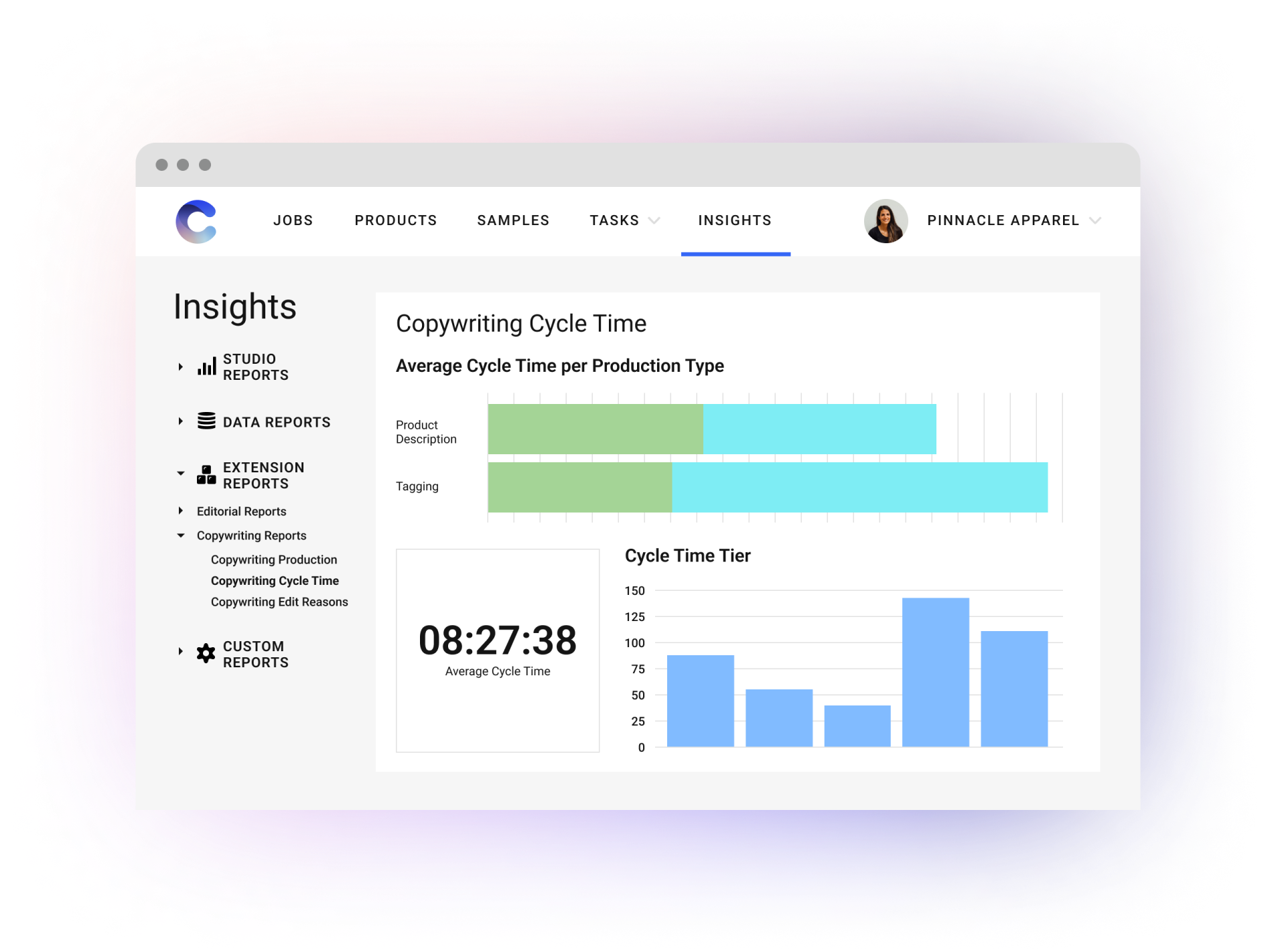 Visually monitor your Copywriting output via detailed reports:
Production tracks throughput across tasks and team members
Cycle Time breaks down how long tasks are taking, quantifying overall efficiency
Edit Reasons provides insight into common feedback patterns across all written content
Final Selection Process
Creative Force handles your final selection and review processes within the platform, without the need for disconnected emails and separate project management platforms.

There are no copies, no low-resolution proofs, and no cloud-based folders full of non-selects to dig through. Your team is always working with assets and sample records in a way that allows them to quickly reference a product's journey from check-in to final delivery.

Creative Force makes it easy for key stakeholders to select images, provide in-context visual feedback to your retouch teams, and approve final assets with the click of a button.
Markups and Instructions
Creative Force's selects process allows reviewers to provide notes and image markups explaining rejections to the photo team or provide instructions for retouching.

The relevant team is automatically notified by Creative Force that more work may be required for that product.
Production DAM
Scale your production with cloud-based storage that syncs assets across multiple studio locations and enables access from anywhere.

Images and videos are immediately visible as they're captured, so you can search, view, and review assets in real-time. A visual version history provides transparency and enables optimization throughout production.

Create and save your preferred views based on advanced and accurate filtering, and easily print contact sheets from specific selects or full search results.
Share for External Review
Simplify the review process for internal teams and external stakeholders by consolidating all feedback in a single platform.

Invite anyone with an email address, from an agency to the CMO, to review and approve assets before delivery. No Creative Force account is required.
Connect Vendors
Integrating external vendors into your Creative Force workflow is simple. If your preferred post-production vendor can accept images via FTP, then they can be set to receive images from Creative Force. Some post-production vendors like Pixelz can be set up with API integrations.

You can set up as many vendors as you like, and setting up multiple vendors allows you to use the right vendor for each job. For example, if you prefer one vendor for on-model work and another vendor for tabletop work, simply set up those respective workflows to route to your preferred vendor.
Bypass External QC
Workflow settings in post-production allow admins to set the workflow to bypass external post-production QC in cases where it is not required.
Photoshop Integration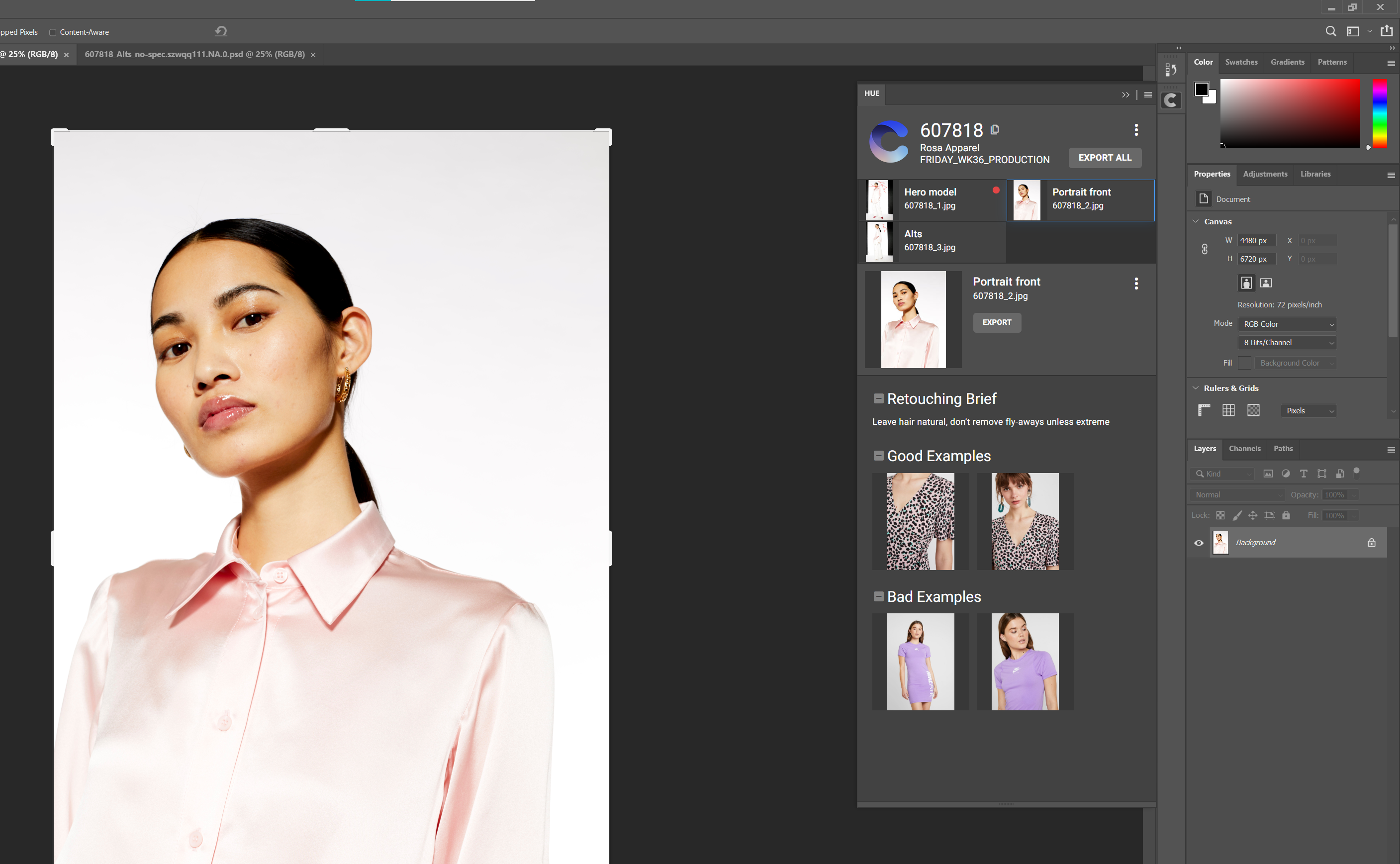 Creative Force's native Photoshop extension enables retouchers to manage images directly in Photoshop. All the files and information they need are loaded into Photoshop automatically, increasing productivity and reducing errors.

When a retoucher picks a task in Creative Force, the extension loads all the images for that task in Photoshop. The retoucher will also see retouching instructions and output requirements in a side panel.

Creative Force automatically checks image requirements and warns the retoucher if they are not met.
Trusted by the world's top brands

Why top studios pick Creative Force
High-volume content production comes with its fair share of obstacles. Only Creative Force eliminates key complexities at every stage from vendor request to asset delivery.
Eliminate time-wasting manual tasks
Goodbye repetitive, error-prone tasks and outdated spreadsheets. Hello automated file handling and workflows.

Manage production, not problems
Extensive integrations and intuitive collaboration tools let your team focus their creativity where it belongs.

Better content online, faster
An intelligent and collaborative production flow dramatically reduces your studio lead time.

Works with your existing software
Our intuitive UI merges seamlessly with the software you're already using – like Capture One, Photoshop, and Slack.

Built to handle production at scale
A thousand products or a million – with Creative Force you scale your throughput, not the complexity.
Make data-driven decisions
Data is captured throughout production and formatted into actionable reports to improve studio operations.
"It has been an absolute game-changer for how we deal with an ever-increasing demand for accurate photography. Being able to review shots before they go through to retouch is invaluable. It helps productivity and allows smooth management of multiple sets."
"You can tell Creative Force is developed by industry pros with extensive e-commerce backgrounds. Nine times out of ten, there's a solution to your specific problem already built into the system, and if there's not, the Creative Force team will work with you to build it. From the post-production side the amount of manual tracking and filling out information on spreadsheets that Creative Force has eliminated is amazing."
"Producing thousands of images daily in multiple locations with global partners has never been better. CF has given us our single source of truth through a seamless end-to-end production workflow."
"We've enabled faster turnaround of post production with our external vendors. Streamline the quality review process. As well as assuring our clients pick the right selects based on our guidelines. Which they can do both on set and remotely. "
"Creative Force has allowed us to create uniform scalable processes and drastically reduce manual work and mistakes. Their integration with post processing vendors has also significantly reduced our turn around time. The CF team is also incredibly responsive and helpful in answering questions and helping us tailor our workflow."
"Creative Force is easy and intuitive to use. It provides a clear overview of the shooting process from samples check-in to retouch. End to end process into one system."
"How Creative Force integrates with photoshop to make the retoucher's life easier, workflow faster, helping avoid human error when it comes to file naming, sets of images are automatically uploaded so you can never miss one, and how intuitive the interface is becoming. How it saves me time everyday, automating what used to take me double the amount of time, like delegating, QC'ing and uploading images."
Ready to see Creative
Force in action?
Talk with one of our experts to learn how you can empower your teams to work faster, deliver superior results, and simplify eCommerce content production.
Deliver assets on time, on budget, and on brief
Reduce time-to-market
Increase operational visibility
Frequently Asked Questions
How does Creative Force work?

To simplify things a bit, Creative Force enables and elevates what we call flow production – a collaborative and continuous way of producing content at scale, where assets are moved individually through the many stages of production, as soon as they're ready.

This is in contrast to traditional batch production, where a single production stage is completed for all assets before they advance to the next step. Flow production eliminates bottlenecks and hold-ups, and Creative Force supercharges that concept with automation, metadata enrichment, integrated review tools, and so much more.
How is Creative Force different?

Let's first differentiate between studio software and studio management software. Creative Force is studio management software that optimizes the processes around specific areas of studio operations, like sample management or post-production management – in some cases by integrating directly with studio software your team uses daily, such as Capture One or Photoshop.

Other studio software solutions do a fine job of solving problems within particular, well-defined areas of operation. But only Creative Force takes a holistic approach to studio operations and provides the tools to effectively increase productivity and visibility across the entire content creation process.

Read more about how Creative Force compares to some alternatives out there →
Who can use Creative Force?

Creative Force is built to meet the needs of brands, retailers, and commercial studios engaged in high-volume content creation for eCommerce or editorial projects. If you work professionally with any of the above, chances are you'd see remarkable improvements to your workflows with Creative Force.

Every team from studio intake to styling to capture to post-production and beyond will benefit from the extensive workflow automation, increased production visibility, and many collaboration tools.