Stay Organized with the New Creative Force Vendor Portal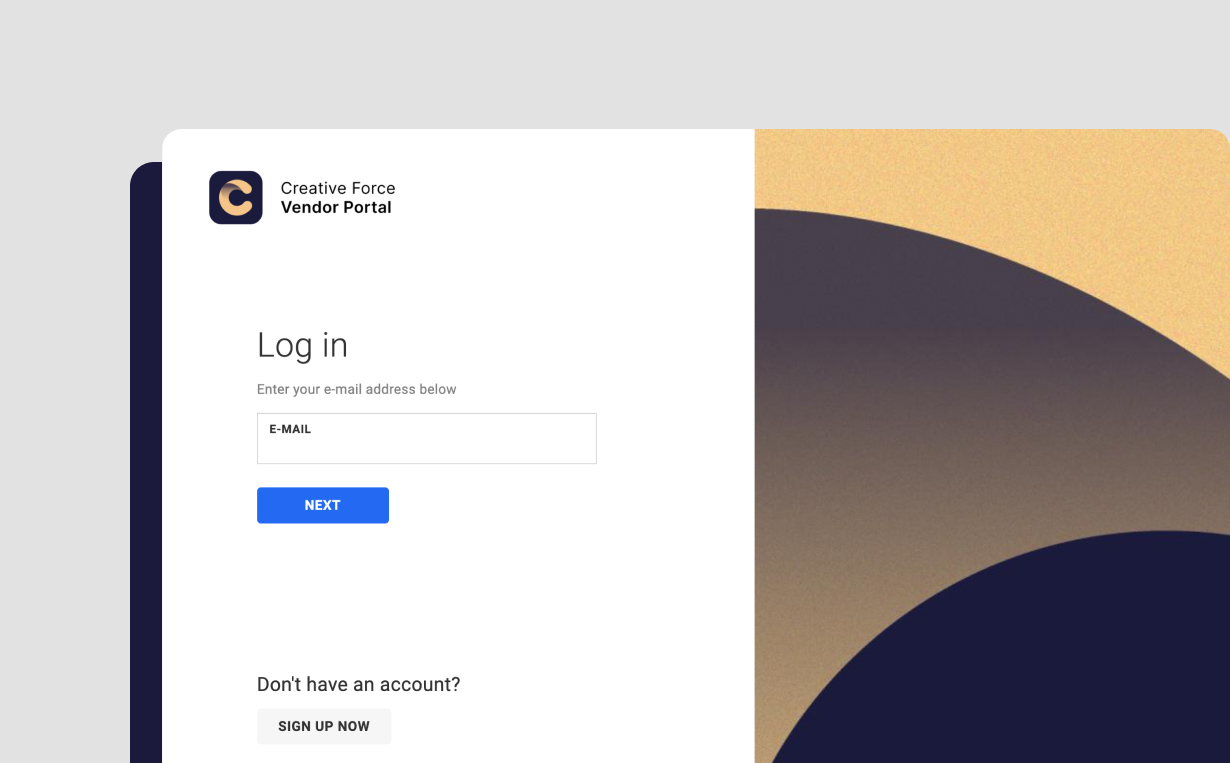 Using vendor imagery is a great way to save time and cut production costs but there are a lot of challenges that can come along with it.
It's a problem we had heard a lot about from our customers and as our CPO, Tejs Rasmussen, puts it, "whenever there's something that's really annoying to our customers, that's an opportunity for us to build something great."
We recently launched our Vendor Portal and sat down with Tejs to learn about all the ways it addresses customer challenges and puts an end to their frustrations.
Q: Let's start with a bit of context—from a production standpoint, what's the difference between vendor-provided imagery and images produced in the studio?
Tejs: Because they're used by the vendor, vendor-provided images have typically been processed already. So retailers will bring these images to their own sites but they won't fit with their cropping standards, image ratios, and so on. The retailer then needs to crop, adjust, and rename them but the files don't need a lot of retouching. It's a different post-production process than what you'd need after a studio shoot.
Q: So how do these vendor-provided images enter the workflow in Creative Force? Are they handled with the images produced in the studio?
Tejs: Within Creative Force, users can now set the source of their images for each production type (like on-model, mannequin, etc.). The default source is still studio photo production, but you can also set it as vendor-provided.
No matter which source you select, eventually you want all the images to run through at least some of the same steps in the workflow. You can envision train tracks coming into the train station—at some point, they merge and become one track. The same is true here.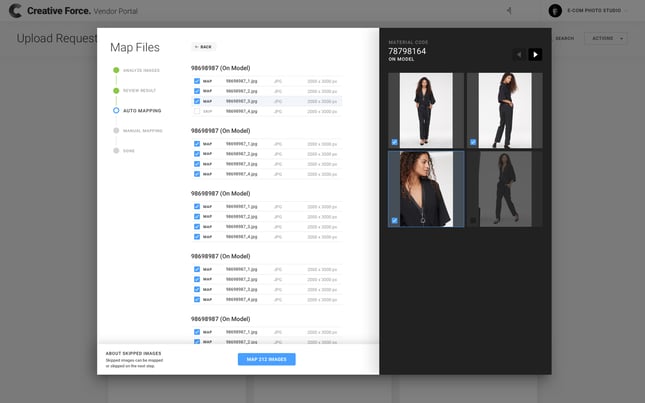 Q: And at what point in the process do those tracks merge?
Tejs: They can merge in at three places—three different steps in the process—depending on something we call the 'request level.'
Working with bigger brands, you might not be able to request much work from them. You might only get pre-selected images, enter them into final selection, and then pick selects. With a smaller brand that shares in the effort, you might ask them to do pre-selection and even final selection.
Q: With photo production in Creative Force, you set up a Style Guide, and you establish required images, optional images, and positions for the capture step. Are those steps equivalent, at the request level, in the VP?
Tejs: Yes, that's exactly how it is. We have those three different request levels, and that helps with making sure you do the right select. We started with just pre-selection but in our latest version, we released pre-selection by position, where you add as many files as you want for each position, so long as you fulfill the minimum requirement.
Q: Is this a case where studios are producing e-commerce shots but getting vendor-provided images too? Say a retailer is producing the product photography and the brand is sending editorial or campaign shots, that they can then associate for a complete suite of imagery using the Vendor Portal?
Tejs: Yeah, that could be a case where you would have another production method or production type just for that, just for on-location shots of this product.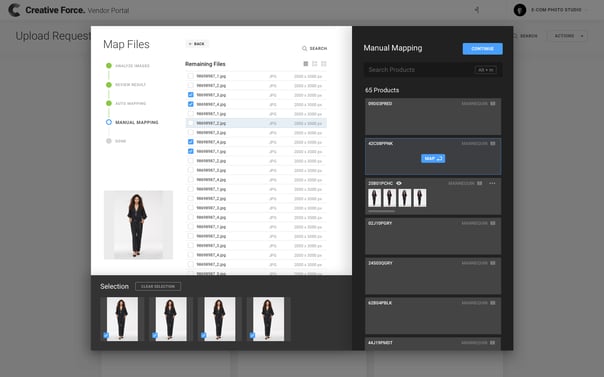 How is post-production handled when the source changes like that?
Tejs: Let's say you get on-model photography from your vendor and sometimes shoot it in your studio. You want to maintain the same naming rules. When you shoot it yourself, it should be processed one way in post-production and if you're not shooting it, it's a different way, but there still needs to be a post-production setup. Running two different post-production approaches depending on the source is really complicated, but we've solved that with our system.
"Running two different post-production approaches depending on the source is really complicated, but we've solved that with our system."
Q: Where did the idea for the Vendor Portal come from?
Tejs: It definitely came from our customers and wanting to address a need they had. It was clear they spent a lot of time on this and had experienced headaches.
They were trying to merge vendor images into their own process, getting everything to the same place, no matter the source but sometimes the vendor doesn't supply the right or enough images.
That adds complexity for the customer and the vendor because it takes effort from people to validate; "Do we have the right files? Are they cropped and named correctly?" That's been a manual process.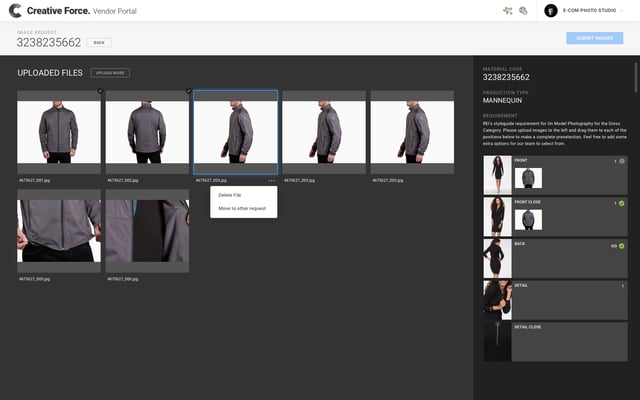 Q: In addressing those challenges, what is the most important part of the concept?
Tejs: It's that everything, no matter its source, ends up as part of a complete suite of images. Along the way, there are other things solved, like being able to bulk-upload and to map with different approaches, like file name or metadata, but the end goal was always to end up with a full suite of images. That's what the customer needs and that's the problem we have to solve.
"Everything, no matter its source, ends up as part of a complete suite of images."
Q: So then what is the coolest thing in the concept?
Tejs: It's the ability to upload hundreds of images and, with one click, have the system analyze those images, assign them to the right tasks, and make sure the right files for a product go with that product—automatic distribution. Pretty cool, I think.
Q: What surprised you the most during development?
Tejs: It's like renovating an old house. You think you need a new door, but then you take out the old one and find out, oh, there's something wrong with the floor, and you remove that. Suddenly you're digging into the entire foundation of the house—replacing pipes and all that, just because you meant to put in a new door. You needed to go deep to get everything right to support this new door.
We had to refactor and upgrade many things to make the portal function well. We had to build a new application, the Vendor Portal, which was a big project with the security levels we run.
So how deep we had to go to get everything to a new level—to support this new way of production—surprised me a lot. It was two or three months of work.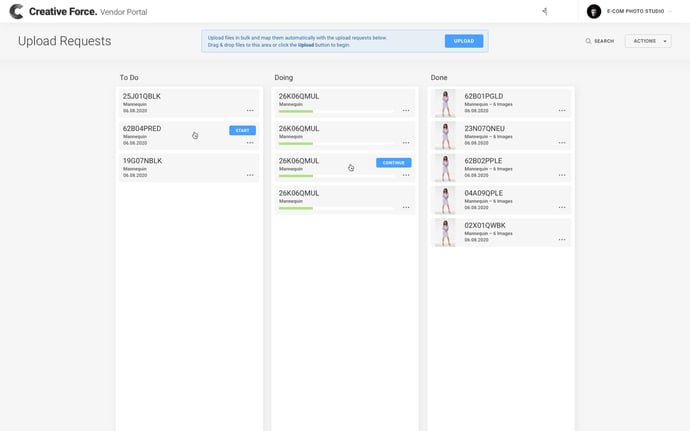 Q: So it sounds like general improvements were added across the entire Creative Force platform. Is that right?
Tejs: Yes, we upgraded Workflows to handle each production type separately, and we upgraded the style guides as well. We introduced the production view to allow for source changing on a production type level, and so on. So yes, a lot of improvements were triggered by this project.
Q: What was the hardest part of the concept to design?
Tejs: The hardest part was making a portal easy enough that someone could just sign up and use it right away, with no prior knowledge of Creative Force. I'll let users decide if we've achieved that but ease of use has been our goal.
We want to bring users from no knowledge to enough knowledge, without losing them on the way. With bulk uploading and mapping—it's new, something they haven't tried before. How do you figure it out unless you've tried it? Addressing that learning curve, and making it as easy as possible—was a challenging task.
"To bring users from no knowledge to enough knowledge, without losing them on the way. Addressing that learning curve, making it as easy as possible—that was a challenging task."
Q: Who would you say benefits the most from the Vendor Portal?
Tejs: It helps retailers that sell outside products and works with pre-existing images. They can just reuse existing images and benefit greatly.
Q: Last question—what's next for the Vendor Portal?
Tejs: Well, the product isn't finished. We've already gotten valuable feedback from users, and we'll be working our way through that. Specifically, we will be looking at adding Final Selection as another request level. And we're looking into supporting video–which seems to become more and more relevant for everyone. In general, we just want to keep improving the product, and it's going to be exciting to watch it grow up and mature over time.