All releases
Sprint Release #91
Sprint 91 Release Note: Custom Production Types, Better Production Overview in Sample Screens, Workfront Connector for Editorial, and more! We're back with a super exciting release! Enjoy the read!
Custom Production Types
It's finally here! The much requested feature to make additional custom production types. No more "hanger workarounds" 😎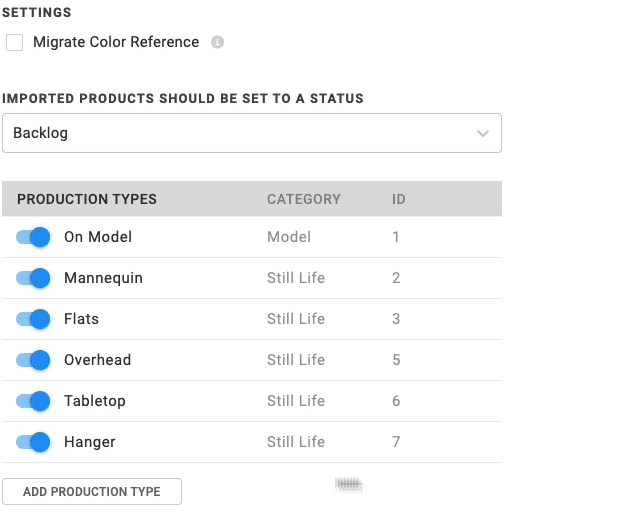 You can also deactivate production types that you are not using, making it easy to keep a clean system and workflow setup!
Please be aware that created production types can not be deleted, only deactivated.
Better Overview of Production in the Sample Screens
We've added a Production tab to the sample slide in. Here you can see each production request where a sample is being used. You can click on each request and see additional information in a secondary slide-in.
Project and Deliverable columns have been added to the sample list screen.
Other Improvements
Better outfit creation logic to avoid making extra outfits by mistake.
Date and Date time properties can now be used for Sync Jobs.
Workfront Connector for Editorial
Our Workfront connector now supports connecting an Editorial Project in Creative Force with a project in Workfront. Each deliverable in the project will be created as a task and status will be updated in real-time.

Other Editorial Improvements
You can now use model properties in conditional metadata.
We've updated the download folder structure from Assets.
Editorial Workflow: Better UX around workflow initiation buttons.
Workflow Tab: Use similar badges / icons as on e-comm for rejections.
Bugs fixed
Fixed: Editorial: Resetting a post-production step does not reset rejection count.
Fixed: Delivered assets showing "No Date" for Delivery Date.
Fixed: Secondary sample codes separated by dashes "-" in metadata.
Fixed: Editorial file name displaying incorrectly with thumbnail on Assets page.
Fixed: Kelvin: Stuck while loading.
Fixed: Hue: All images open when opening actions is set to "First Image".
Fixed: Network busy message on External Post QC on multiple tasks.
Fixed: Unable to bulk submit products in the vendor portal.
Fixed: "Dragging" Cursor in post instructions window.
Fixed: External Post QC functions broken
Fixed: New project properties not displaying as merge fields.
Fixed: Disabled style guides appear in Assets filters.
Fixed: Unable to assign images to positions via the vendor portal.
Fixed: Unpicked tasks in 'To Do' in Photo Review disappear.
Fixed: Samples from the wardrobe do not use the correct badges.
Fixed: Deliverable due date sticking.
Fixed: Complete Reset of a workflow, needs to update the deliverable status.