All releases
Sprint Release #63
Sprint 63 Release Note: Launch of Vendor Provided Imagery Portal, HUE UX Upgrades, and Improvements to Insights Dashboards.
With this release, we are bringing support for Vendor Provided Imagery and much requested UX updates to the HUE Photoshop panel.
Vendor Provided Imagery (VPI)
A lot of you are using vendor-provided images in your production. With the launch of the Creative Force Vendor portal, we now support that in a way that seamlessly blends in with your in-house photo production as illustrated below.

Here are some important key features to know about the concept.
Vendor Portal
One of the key benefits of the VPI concept is that your vendors are doing the uploading.
For that purpose, we've built a Vendor Portal that you can invite your vendors to sign up for. Here we have made a mass uploader flow with file validation, auto-mapping and also implemented the proven and tested kanban methodology to the task screens.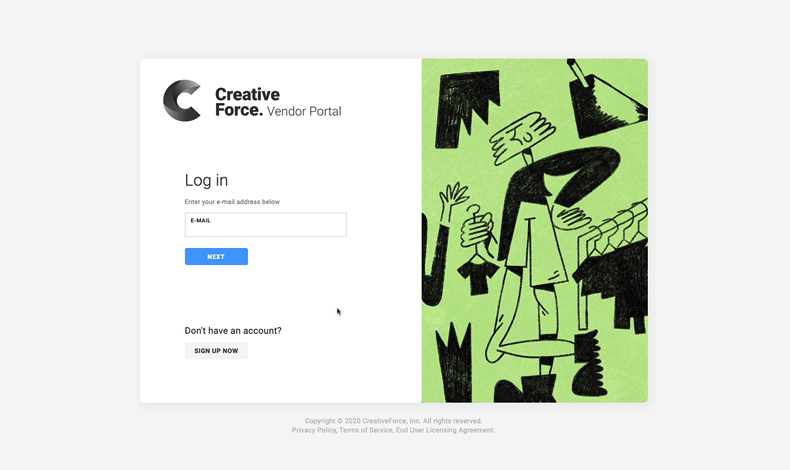 Source Control
You are in total control of what you want to produce internally and what you want to request from your vendors. As a default, everything is set to be produced internally but you can easily change the source of the production to a specific vendor.
Same Style Guide
A crucial part of getting this to work is that we are still using the same style guides. This means that all requirements for a product are the same no matter which source the images will be coming from. This also applies to asset naming conventions. This way you can trust that you still get a full suite of correctly named assets at the delivery destination.
Unique External Post Mapping
In one area it is important to have the option to do a bit of traffic control. Some external Post-Production vendors (eg. Pixelz) are highly reliant on correct mapping and the nature of a Vendor provided image means that you typically have very little retouching requirements compared to raw unretouched images from your studio. We've therefore made it possible to apply separate mapping for both Photo Production and Vendor Provided Imagery in the style guides.
Want to Learn More?
If you are interested in learning more about how this new concept can speed up your workflow of existing photography, you should reach out to your account rep to get an in-depth demo of the entire concept.
Hue UX Update
We have done some general updates to the UI to improve button labels and placements. Made the dropdown more visible when editing multiple tasks at the same time and made the cropping illustration accurate to the actual requirements. Besides that, we have added the following:
Export All
The Export all functionality lets you export ALL the required outputs with two clicks. Before this addition, you would have to export each image individually which apparently caused some aching of arms. Sorry about that!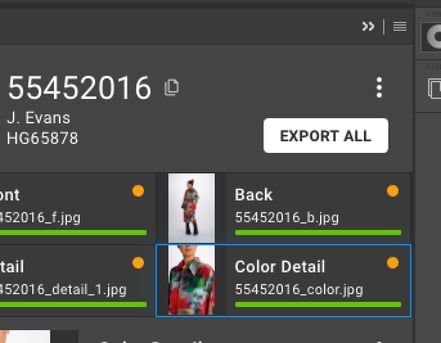 Copying The Product Code
You can now easily copy the product code by clicking the icon next to it.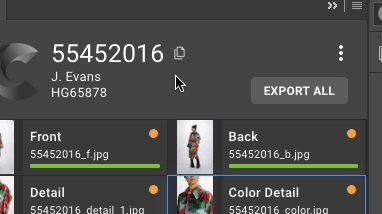 Stopping Uploads and Re-opening Tasks
When the HUE panel is finishing the task it sometimes happens that the user spots something they want to fix while Photoshop is flicking through the files on its own.
This would be a bit too late as the task would move to Completed and the uploading would begin. We've therefore added so that you can stop an upload and re-open the task to fix the issue.
Before / After History in Post QC
In the Post QC screens, we have added a history dropdown for the before images to allow you to look at previous versions of the file.
Insights Dashboard Update
Today, we are releasing a new dashboard experience. The new dashboards have modern look and feel and much-improved performance. In addition, new filter types have been added and will be implemented where suitable in the coming days. Functionality stays the same, so you can continue to schedule, drill-down, and export Dashboards and Looks as usual.
Other Improvements
Date/Time merge field.
Better update priority for the ElasticSearch Data.
Assigning Retouchers: More smooth UI
Cancel Button to the Scan flow
Edit a sample after duplication but before printing the label.
Bugs Fixed
Fixed: Photo Review displayed old assets after reset.
Fixed: ElasticSearch Filter was slow to include custom properties and values.
Fixed: File clean-up issue in Kelvin.
Fixed: Problems with property updates after update from a file.