All releases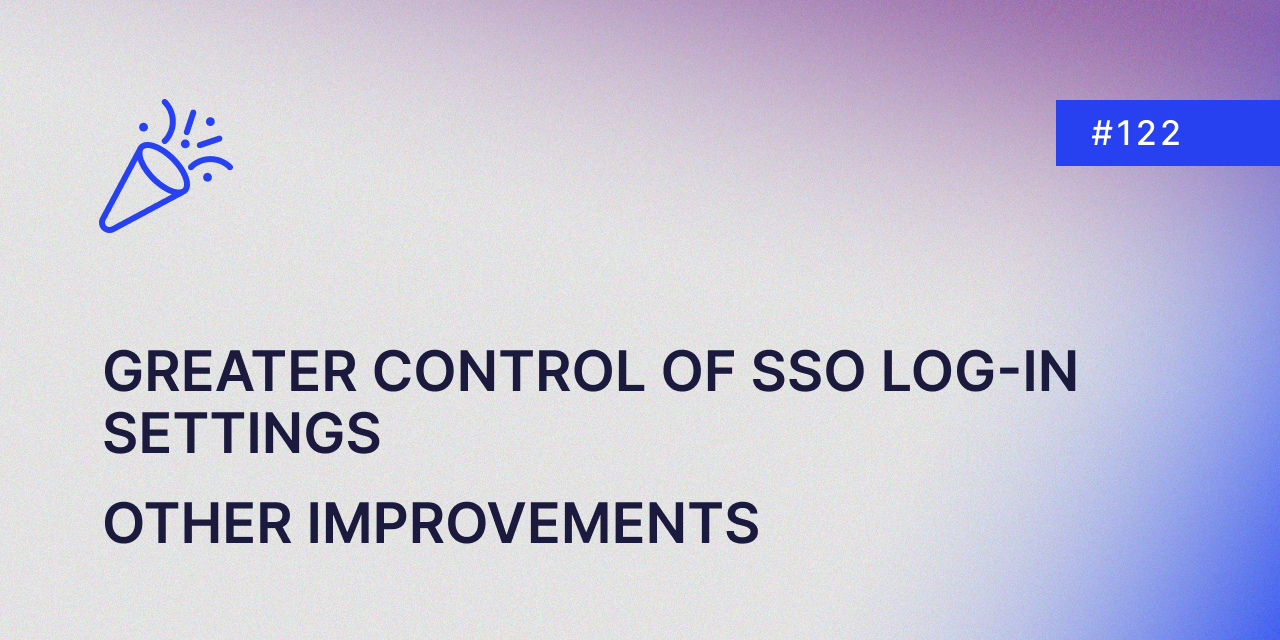 Sprint Release #122
Sprint 122 Release Note: More Control when Configuring SSO Log-In Settings and Other Improvements. It's release day again! This time a shorter edition - but don't worry, we have been working on some really powerful features that we're excited to bring to you soon. Enjoy the read!
Greater Control when Configuring SSO Log-In Settings
WHAT:
We've added two new options in your studio's Security Settings when enabling the setting Enforce SSO Log-In.
Previously when enforcing Single Sign-On, only the Account Owner could bypass SSO to access Creative Force with their password instead. With this release, you'll now see two options depending on which level of access you'd like to allow:
Enforce everyone except Account Owner
Enforce everyone except Administrator and Account Owner
WHY:
In the case that your SSO setup or provider is experiencing issues, relying solely on the CF Account Owner to access your instance of Creative Force may be a bottleneck.
This new feature gives studios using SSO more control over how their CF instances are accessed in the event that the Account Owner is not available.
Other Improvements
Added ability to use up and down arrow keys within Studio Settings filter
Upgraded Electron version of Hue and Kelvin for improved app performance
Added error message when uploading a Style Guide cover or position image which contains special characters
Bugs Fixed
Editorial: Fullscreen preview displaying Mood Board images as small thumbnail
Editorial: Issue with direct reference sample after adding and editing product
Editorial: Issue with displaying Main File button in the Deliverable Workflow tab
Editorial: Post Review: Unable to preview assets in Firefox browser
Editorial: Task preview showing incorrect assigned controller information
External Post API: Sending rejection info for positions that have bypassed External Post
External Post: External Post Vendor information missing in table grid views
External Post: Task not finishing even after receiving files if no subsequent steps are needed
Gamma: Displaying Sample action 'Release from Container' as an option in slide-in even if sample not added to a container
Gamma: Job View: Unable to reset production after selecting all products in Job
Gamma: Markup Tool: Crop from Final Selection not saved after hitting Continue
Gamma: Presets: Fixed display bug in Preset Spec screen
Gamma: Preview: Displaying incorrect step order and Latest Step assets for images with External > Internal > Internal workflow
Gamma: Sample Location & Sub-Location discrepancy between table grid and Sample slide-In
Gamma: Studio Settings: Displaying 'Enable' action on Product Vendor user while user is already enabled
Gamma: Studio Settings: Error when deleting Post-Production Vendors
Gamma: Studio Settings: Filtering or searching too quickly displays wrong results
Gamma: Style Guides: Save Button remains enabled after saving successfully
Gamma: Video Player: Videos unable to play in Firefox browser
Hue: Incorrect file opening in Hue, despite thumbnail being correct
Vendor Portal: In Progress tasks not being moved into Doing column
Vendor Portal: Rejected tasks not removing from Done column