All releases
Sprint Release #136
Sprint 136 Release Note: A new version of the Kelvin App, now in v5, introduces shot lists to the Creative Force workspace. Happy reading on sprint release day!
Never Lose A Shot With Kelvin v5
Kelvin v5 represents the next stage of evolution for our application as we continue to expand its already industry-leading capabilities. We're excited to bring some big changes for this release designed around boosting productivity and providing more flexibility to the way on-set teams work with Creative Force.
Introducing Shot Lists
We have re-imagined the left-hand panel to display all of the tasks being worked on in Kelvin, while keeping things more organized and tidy.
As items are scanned into Kelvin, they will automatically be added into your shot list. Alternatively, you can click the little + in order to paste an entire list of product or sample codes and pre-load all of your tasks before you start working.
If available, the shot list will display a thumbnail image for the product in order for you to keep an overview and easily switch between tasks.
As the shoot day progresses, you'll find your tasks moving down to the 'completed' section, making it easier than ever for you to keep track of your work and manage your time. Especially if you're batching your shots and transfers.
A few more things to mention about Kelvin v5
"Watch Folder" filters allow you to filter your files by the active product - this can be toggled on in Display Settings.
Completed tasks in your shot list that have been rejected will now automatically be flagged for re-shoot.
It is now possible to drag-and-drop files directly into Kelvin to copy them into your Watch Folder.
Lastly, changing your Watch Folder is now easier than ever, by using the new folder button in the top-right corner, next to the looking glass.
Jumpstart Production With "Reuse Images"
We are also excited to introduce a new feature in the Creative Force web application that has been a long-time request for many users.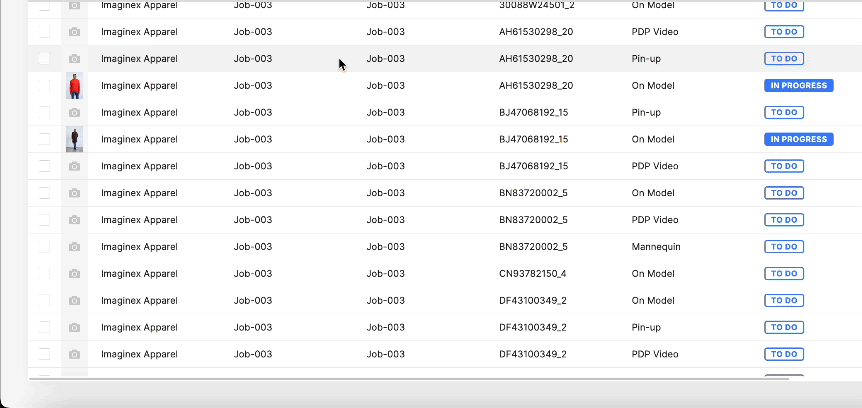 With this release, we've introduced a new action in Gamma called Reuse Images, which allows you to easily choose and reuse images that have been previously produced, without the need to upload them manually.
The feature is designed to save you time and increase workflow efficiency, while at the same time providing you with centralized tracking of your assets. It is especially helpful for customers who frequently use the same images for various purposes or when transferring products to a new season.
Other Improvements
In Gamma
It is now possible to see the time of check in, check out and creation of Samples, as columns on your Production, Samples, Products and Wardrobe pages.
The menu for adding date filters has been optimized for search precision and ease of use.
Bugs Fixed
In Gamma
Where Select All was not loading tasks correctly into Bulk QC.
Presets showing a wrong media type after being added in the Studio Settings.
In Post QC images did not scale to fit the thumbnail size correctly.
For Editorial, inconsistency when adding Products and Samples to a deliverable.
Where it was not possible to save a Style Guide after certain Merge Fields were added.
When changing properties of a Resource User was giving an error.
Where redundant copies of Metadata Schemas were created when duplicating a Style Guide with Presets to a different client.
Bynder not being able to authorize when the delivery option is edited.
In Hue
Where assets were not added correctly when creating a work file.
An issue where the image being worked on is suddenly replaced by another image.
The "disk copy of the file was changed" issue has also been resolved.