All releases
Sprint Release #94
Sprint 94 Release Note: New Outfit-Based & User Overview Reports, Added Features for Check-in Flow, and Other Improvements
We are back, and this time with new and impactful out-of-the-box reports as well as updates to check-in flows and style guides!
But wait, there's more on the horizon - in addition to the forecast from our last sprint release, we also have key enhancements coming around product and sample management in Editorial projects in February as well. Enjoy the read!
New Outfit Products Report for Insights
Now presenting a whole new window into outfit-based metrics for your studio!
This new report provides an overview of all the outfits in your instance. Each row contains an outfit and its production type. The columns to the right show the Primary, Secondary and Styling Products for that outfit as well as its sample code. The number of columns updates dynamically depending on the content displayed.

The dashboard can be found in the "Data Reports" section in Insights and can be filtered by the client name, primary product code of the outfit, job code or outfit code. You can use the date filters to outfits based on the outfit created date or the photography finished date. By default, the report returns all outfits that were shot in the last 7 days.
New User Overview for Insights
This new report summarizes information about all of your users in Creative Force!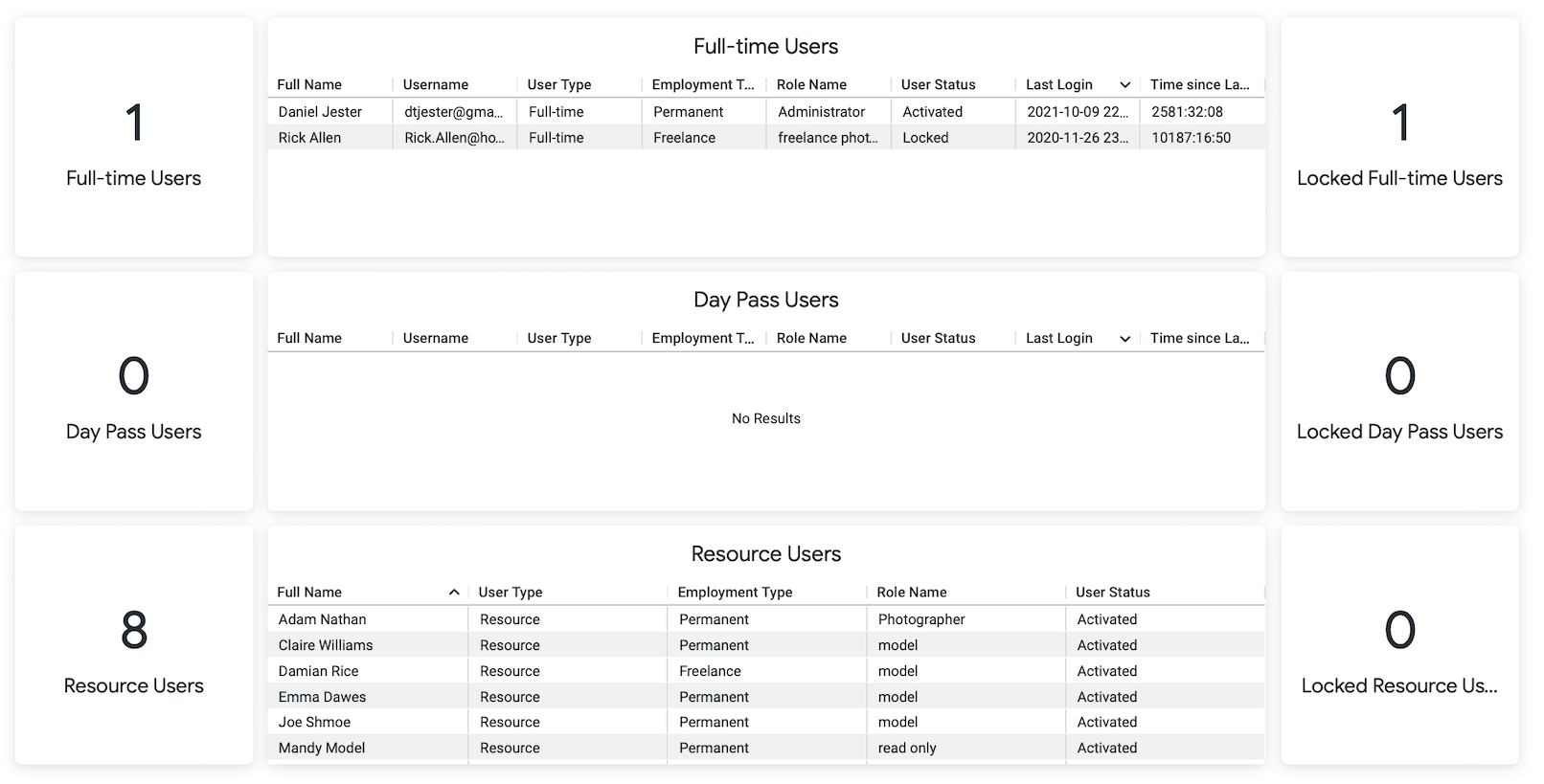 Creative Force User Overview
It includes information around the User Types (Full-time, Day Pass, and Resource) and User Roles. You can quickly identify users who have not logged for a long time, their status or employment type.
At the bottom of the report, Users are aggregated by User Role. The dashboard can be found in the "Data Reports" section in Insights and can be filtered by Client name, User Full Name, User Type and User Role.
Check-in Flow - Show Job Information
When scanning in a sample associated with different jobs, we've now provided visibility into information from all of them. This new update will help you and your team make informed decisions on a single screen!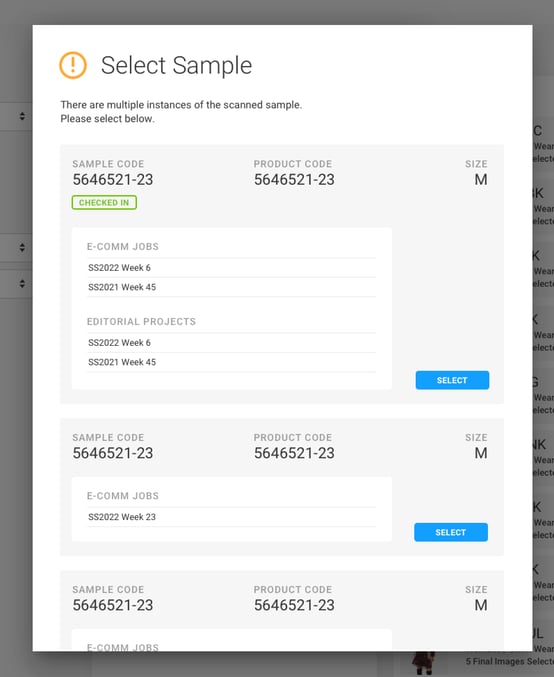 Show Job Information When Checking-In Sample Associated with Multiple Jobs
Scan Flow Settings - Set Scope to Ignore Inactive Products
With this new feature we are giving more control over your settings for scan flows!
When you're scanning sample barcodes (to check them in, for example), you can now choose to ignore inactive products when scanning. This setting is saved per user.
Check the "Ignore Inactive Products" Setting to Use this New Feature
When this scope setting is checked you're able to scan away, automatically only checking in samples associated with active products!
Note: when this scope setting is checked, inactive products now "do not exist" in the context of this scan flow. So if you scan a sample code associated with an inactive product you will receive the same message as a product that does not exist.
Style Guide View - Change Default View to List View
We all have style guides, and for many of us we have too many to count! This is where we can provide more ease of use and bring relevant information (like assigned workflow!) front and center.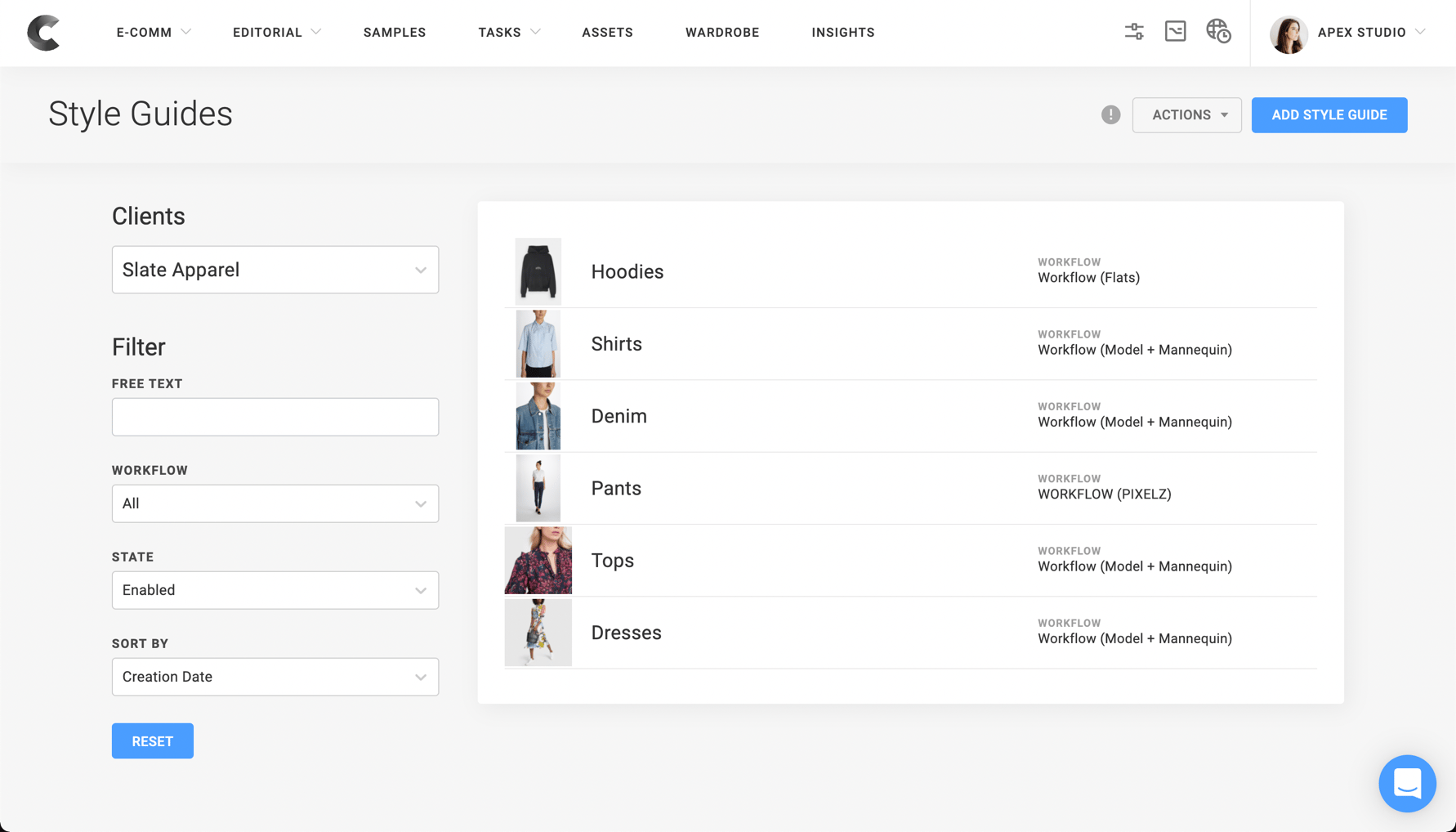 List View for Style Guides
Other New Features and Improvements
Add new CF Gateway API to list job: GET /jobs
Prevent disable workflow when it is being used by default style guide
Increase EXIF tool version 11.25 → 11.70
IAM Role based Setup for S3 - Improve
IAM Role based Setup for S3 - Support External ID for IAM Role setup
Bugs Fixed
Fixed: Unable to use "Export all" function in HUE.
Fixed: Image error on new style guides, and they cannot be edited.
Fixed: Outfit sheet not printing on Job ID.
Fixed: Unable to scroll through saved views in the production page.
Fixed: Label layout not correct in Gamma but correct in Printer confirmation screen (Specific label for a studio).
Fixed: Unable to create job via data source.
Fixed: Loading forever after saving new style guide.
Fixed: Unable to zoom in on images in Gamma.
Fixed: File has error "Warning : [minor] Text chunk(s) found after PNG IDAT (may be ignored by some readers)" only after Photography Step.
Fixed: Jobs page product count does not match number of products on a job.
Fixed: Inactive Products are counted as part of the number of "requests" in the Vendor Portal.
Fixed: Unable to update products with additional samples for big file.
Fixed: Product awaiting color reference despite already having a color reference.