All releases
Sprint Release #59
Sprint 59 Release Note: New Kelvin Functionality, Conditional Style Guide Positions, Post-production Load Balancing, and Server Upgrades.
Sprint 59 is here and ready for you! Lots of improvements and some great new features. Enjoy the read and thank you for all the great feedback!
New Features
Kelvin Transfer Functionality Update
Man, this has been on our wish list for a long time. We are so happy to announce that you can now do the following in Kelvin:
Stop a transfer. 👍
Delete a transfer. 💪
Restart a transfer. 🙌
Edit a selection for a stopped transfer. 😁
Edit a selection when doing instructions. 🤪
Reset a transfer even after it has finished. 😭
Conditional Positions
We are thrilled to launch this power feature to activate style guide positions based on product data and/or production rules.
With the feature, you can have positions that are only active when shooting an outfit. You can have positions that are only active if the gender is different from "kids". You can have positions that are only active if the property contains a certain value. Or even a combination of all of the above.
The result is that you can cover more product categories with a single style guide and avoid a lot of redundant work.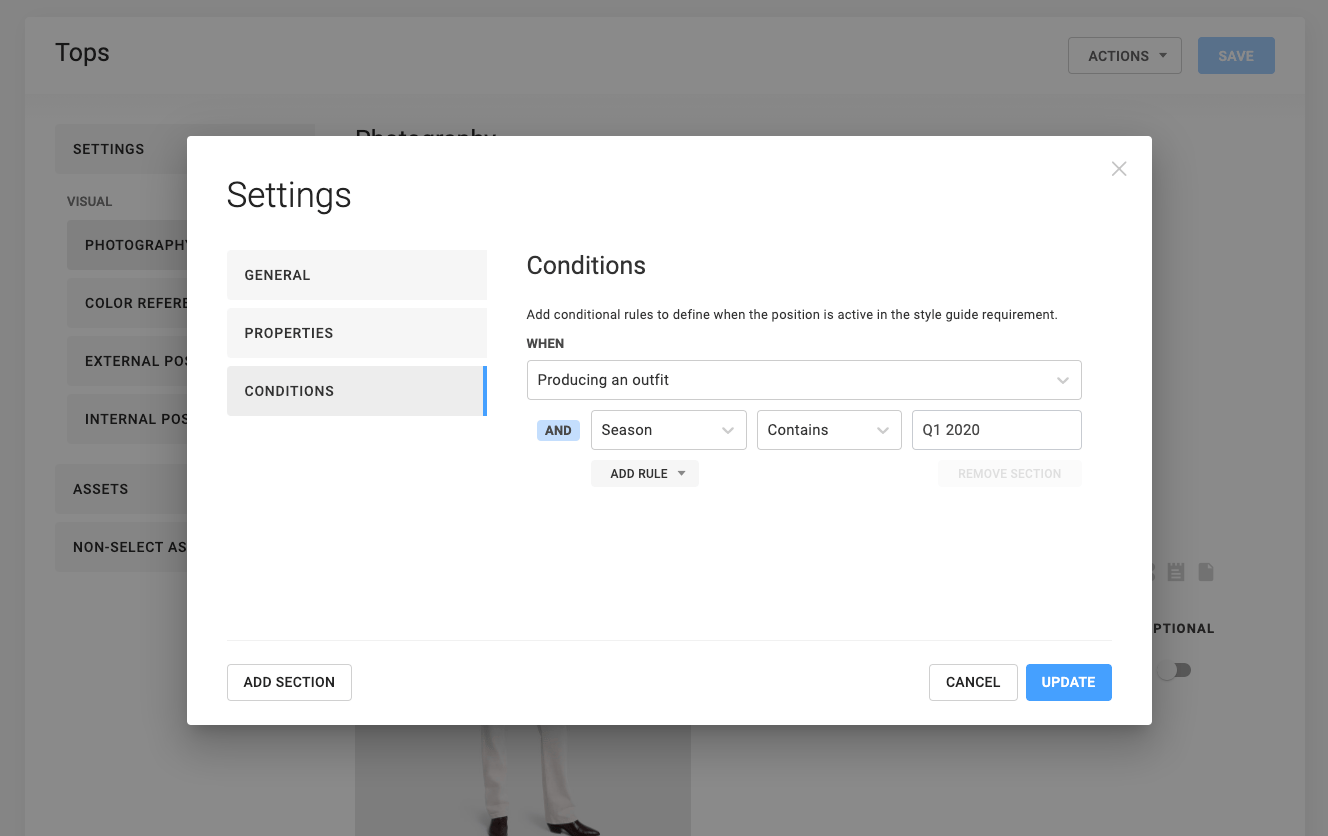 Updating Product and Sample Properties via file Upload
Editing multiple products and samples is now easier than ever. We now support uploading a CSV file that will update product and sample properties.
It works the same way as when you upload a job file. Product code is the required column and you can map the remaining columns to product and sample properties.
Values from your file will overwrite the values in the system – also when the a value is empty in your file. ⚠️
Editing Outfit Properties
Yes, it's both in Gamma and Kelvin and it works as you expect 😉
Load Balancing Pixelz Post-production
Load balancing between post-production vendors is to many of our customers an important functionality. However, running with a combination of FTP vendors and Pixelz on a workflow has to this point been impossible.
We are happy to announce that it's now possible to do exactly this.
It requires you to set up mapping for both FTP and Pixelz on the style guide, but it will give you complete control over how much work you send to your vendors.
API: Create Product Without a Default Sample
We have launched support for importing a job without creating the default CF sample.
https://developers.creativeforce.io/
Please notice! Products can not be produced without a sample, so you will eventually have to add one, but now you can decide when and avoid the clean-up.
Export Data from Scanning
We've added a highly requested feature to the scanning screen. You can now export the data you have worked with. This will include:
Product Code
Sample Code
CF Sample Code
Sample Check-in Status
Custom Product Properties
Custom Sample Properties
Database Server Upgrade
We've upgraded both our production database server and the server that powers our Insights area. This has resulted in much greater speed in especially the insights area.
We continue to monitor speed and will implement caching on critical functions like scanning on the following sprint 60.
Bugs & Improvements
Color reference clean-up has been improved.
Sync criteria are no longer case sensitive.
Double-click will open up the previewer in Assets.
Better handling of asset delivery timeout situations.
Support for CMD / CTRL selection in Final Selection Film Strip mode.
Photography Kanban added under labs.
Select the entire result for Styling Item and Styling item sample views.
Reserved product properties can now be updated for products that are DONE.
The star-rating is now remembered better in Final Selection.
Clients: Preset: Change the three-dot menu to icon.