All releases
Sprint Release #57
Sprint 57 Release Note: Streamlined Job Import Direct from Data Source, Optional Color References for External Post.
Hi there 👋
We have launched some great updates to Creative Force and are happy to share the release notes with you!
Happy reading!
Cheers
Matthias and the product team
New Features
New Job Import Method
We have added a new job import method: SYNCED FROM DATA SOURCE
This is basically the closet thing to a full integration, where you only have to create a full data file and Creative Forces handles the logic defining the products to import.
Where the User has set up a data source on a client, they now have the option to create a job that automatically pulls products from the data source that meet defined synchronization criteria such as season or campaign code.
The job will then be kept up to date whenever the data source is modified. The system will:
Add new products

that meet the defined synchronization criteria
Update existing products

with new property values.
Data Source - Delta Updates
We've updated the data source feature to now support delta update files.
Delta files may sound a bit technical, but in reality, it means that you first make one file containing everything (the full file) and from then on, you create smaller files that only contain the changes since the last file upload. These smaller files are called delta files.
Delta update files can be used to:
add products
update existing products
delete products
deactivate / activate products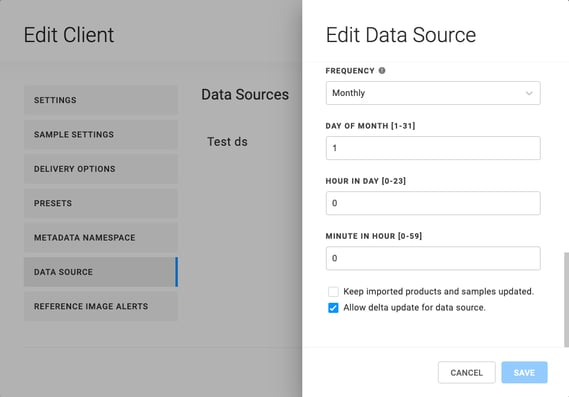 Color References for External Post
We have updated the options when sending a color reference file to external post-production vendors. The user can now choose to either:
send color reference files for all products within an outfit
limit the color reference file to the primary product.
Others
Gamma
Bugfix: Target image does not show on the Style guide external post tab
Bugfix: Error 'undefined is not an object' on the instructions page for Final Selection
Bugfix: Contact sheet from Assets displays IDs instead of product properties label
Kelvin
We have removed the 'Client permission warning' as well as the 'sample change location' notification
Bugfix: The Ghost Mannequin 'no inclip' option is not displayed
Bugfix: Not possible to transfer images where the asset filename has special characters
Bugfix: Cannot open Kelvin due to failure to validate the 'applications' folder