All releases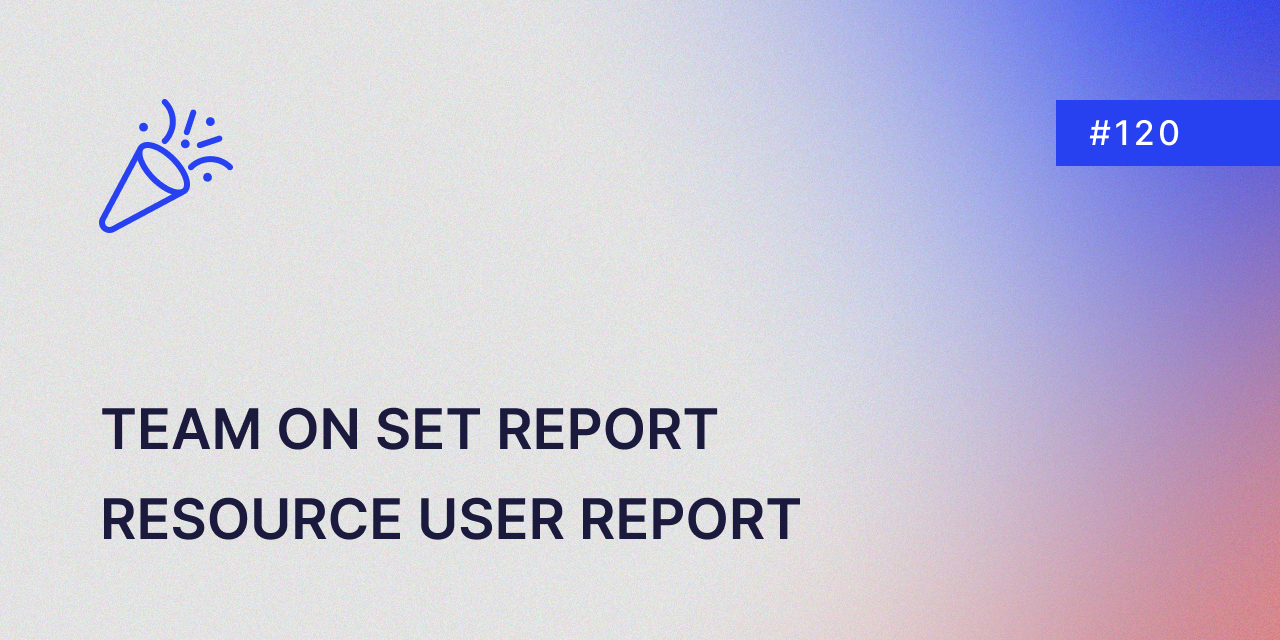 Sprint Release #120
Sprint 120 Release Note: New Team On Set Report, New Resource User Report, and More! We're back with another round of sprint release notes!
Happy reading and Happy Valentine's Day!
Easily Identify Missing User Data With the new Team On Set Report
WHAT
This new report gives you an overview of the team on set associated with completed photography. At the top of the dashboard, there are two indicators that show the number of production types that are missing a model or photographer on the team on set.
WHY
It allows you to identify which team members have worked on recent shoots and to manage any team on sets that may be incomplete.
Pro Tip: Set up an alert as shown in the GIF above to get notified when a model or photographer is missing from the team on set!
Ensure Complete Metadata With the new Resource User Report
WHAT
With the new report, we give you the possibility to view resource user properties of multiple users at the same time. For example, you can get an overview of your models and their properties, like "Gender", "Height" or "Eyes".
WHY
The report is very helpful when you are trying to manage and maintain model properties. You can easily spot if a property has been missed for a model or get an overview of the talent pool you have available, and ensure complete and accurate data.
Other Improvements
Editorial: We now support uploading Keynote file types as Editorial Documents.
Editorial: We now also inform the user of the full list of supported file type extensions when uploading files to Editorial documents
Updated list of frame rates in video presets to be compatible with all supported frame rates from industry-standard editing software
Event Log Access: allow the user to filter the Product Log by Job Code
Updated the asset download zip file folder structure to be compatible with the new External → External post-production workflow model
Added workspace folder to debug info
Sync job from Data source can now be activated on request
Performance improvement when loading category triggers in Style Guide Settings
Bugs Fixed
GAMMA: FIXED: Cannot Print Container Overview
GAMMA: FIXED: Prevent adding resource user as on behalf user when adding/editing registered apps‌
GAMMA: FIXED: Vendor Portal: Video thumbnail is not shown in the reject information screen
GAMMA: FIXED: Vendor Portal: Discrepancy in the number of requests in Vendor Portal
GAMMA: FIXED: Studio settings: User roles: Edit user role--> Tab Users: Not showing correct result when free search
GAMMA: FIXED: Studio settings: Common errors of filtering
GAMMA: FIXED: Studio settings: Resource users: Error if no data on screen
GAMMA: FIXED: Studio settings: Presets, Users, Resource users, User roles, User groups filter errors
GAMMA: FIXED: Studio settings: Webhook filter: Only show loading after filtering
GAMMA: FIXED: Video Player - UX Error on hovering to Loop button
KELVIN: FIXED: Duplicated images showing in preselection for editorial
KELVIN: FIXED: Capture One Merge Fields issue
KELVIN: FIXED: Editorial instruction feedback
API: FIXED: Download zip of Editorial from Assets
API: FIXED: Product remains "In progress" at Asset delivery step
API: FIXED: Long transfer time from External Post
API: FIXED: Remove record in table VendorPullingTask when deleting product
API: FIXED: Duplicate annotation when bypass L1 with video
API: FIXED: Error when updating Team on Set in Gamma
API: FIXED: Discrepancy in the number of requests in Vendor Portal