Getting Results in a Contingency Shoot: The Arc'teryx Case Study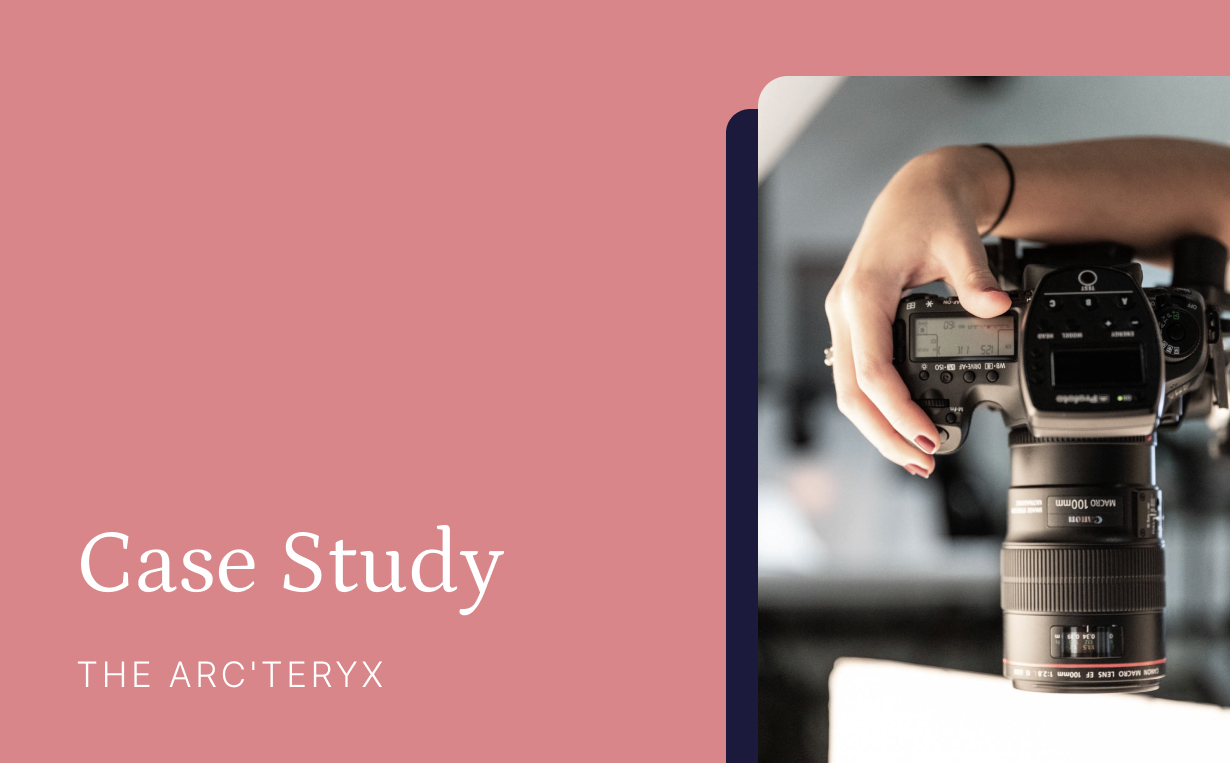 Running a photography studio is no walk in the park. But responsibly executing a 1 week on-model shoot just 7 weeks after suspending studio operations due to COVID 19? That's a whole different beast.
Fortunately, Lindsay O'Brien, Senior Manager of Production Operations at Vancouver based Arc'teryx, enjoys a good challenge. Here are some takeaways from her experience on their first contingency shoot.

Weighing the options (and impacts)
After making the difficult decision to suspend studio operations temporarily, Lindsay and her team were faced with even more uncertainty. With only 50% of a seasonal on-model shoot captured and production on pause, her team began making contingency plans.
They quickly identified cities in which businesses had returned to normal as this presented a possibility to outsource production. However, budget constraints, sample shipping logistics, and onboarding inefficiencies made this option nearly impossible.
Which left one other choice — to delay internal production. This meant adjusting timelines, reducing crew, revising deliverables, and increasing health and safety requirements — basically a complete and total rewrite of all prior processes and protocols.
Pre-production with a capital "Pre"
During pre-production, Lindsay and her team paid special attention to their pre-COVID processes. And while they all didn't need changing, each certainly benefited from this thorough re-evaluation.
Some adjustments that would be needed were more obvious than others. For example, studio layout. Spacing out stations and touchpoints was a must. As was, unfortunately, the need to eliminate the beloved snack table.
But, not all decisions were so cut and dry. Lindsay had to determine who among her staff was completely essential to the success of the shoot. Putting safety first, Lindsay cut the on-set crew in half and narrowed it down to four roles — the stylist, photographer, model, and producer. This meant, of course, that everyone would need to wear more than a few hats.
Without a sample coordinator or assistant stylist, both the producer and stylist took on a lot of extra tasks including prepping racks and ensuring the studio was ready for the shoot. No assistant photographer meant their on-set photographer needed to spend more time back and forth between her computer station and camera to make sure everything was on track.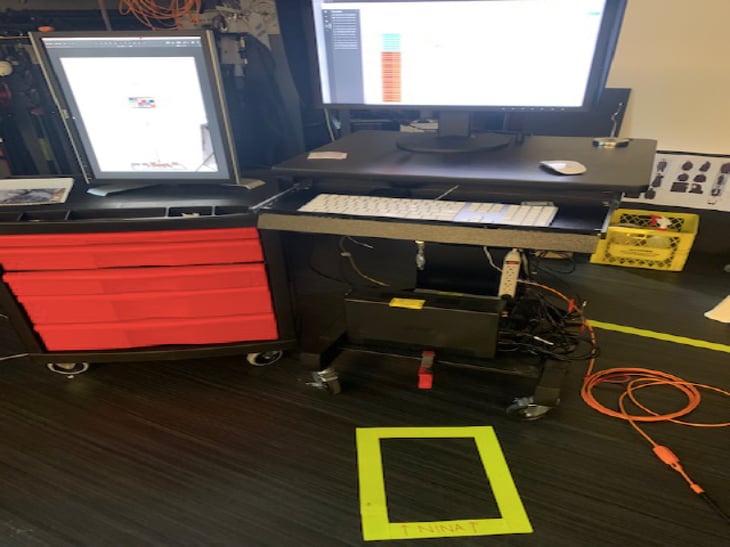 As a result of many of these new self-initiated guidelines, goals and quotas needed to be adjusted. For some products, this meant cutting image quantities in half. This allowed for accelerating the time to capture each outfit, thus increasing the number of outfits captured each day.
And while all of these shake-ups made for a very different-looking shoot, some things remained constant. Art Direction and lighting, style guides, outfitting — the selects, approvals, and retouching process — all existed unchanged in this first shoot.
All of this planning of course, as well as all casting, shot lists, and digitally preparing racks and outfits was done entirely by the rest of their staff, working remotely from their homes.
But Lindsay and her team weren't completely without guidance. They leaned on their local government and health ministers to provide tips and inform their own guidelines for a safe shoot.
Models and team members alike were required to arrive via private transportation, not public transit. Hair and makeup were done ahead of time by the model with only minimal virtual assistance. They kept studio doors open for increased fresh air flow. Provided adequate space for social distancing and ensured a sanitized and contacts-less on-set experience.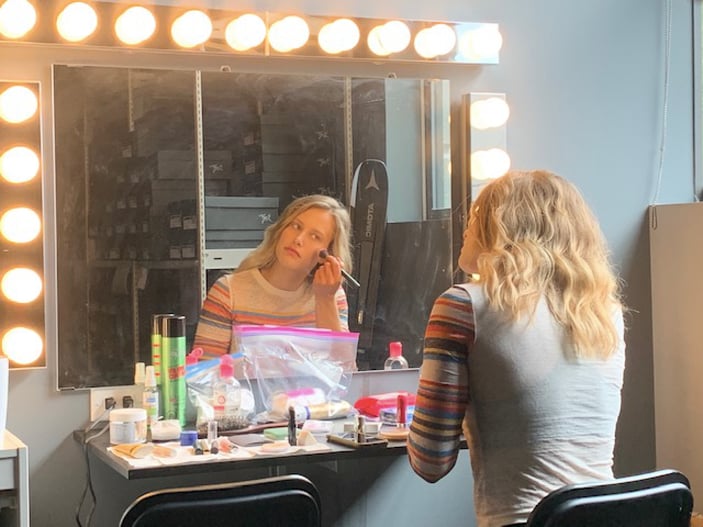 Success in shifts
Leading up to the shoot Lindsay and her team scheduled staggered shifts for styling, production, photography, and lighting. They increased their normal cleaning to every night and, of course, sourced additional masks, wipes, gloves, hand sanitizer, and tape for personal spacing and workflow guidance on set. They even used six-foot poles — think lacrosse sticks — for handing models accessories and pointing out necessary product adjustments. And any and every object that wasn't needed was removed for the shoot to increase space for the crew.
As for lunch, they ordered out through a delivery service with a contactless option to cut back on any unnecessary cross-contamination.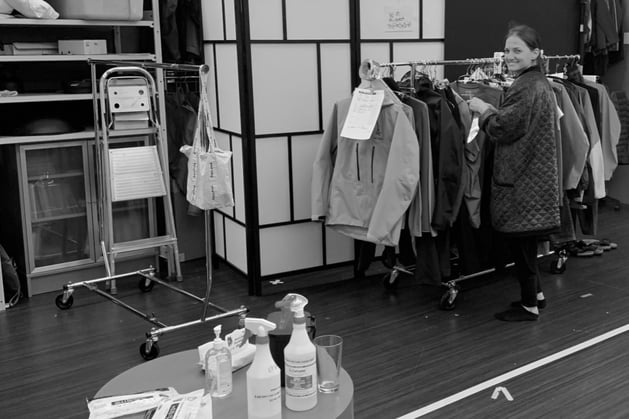 Styling from a distance
In advance of the shoot, stylists prepared racks and set up tables with individually assigned accessories and props to be handled by the models. Since they'd already prepared the rack lists digitally, they were able to simply pull and place products with greater efficiency.
During the shoot, the stylists gave cues from a distance. They used mirrors on set to allow the model to self-adjust and even "handed" props, like climbing helmets, to models using their handy six-foot poles.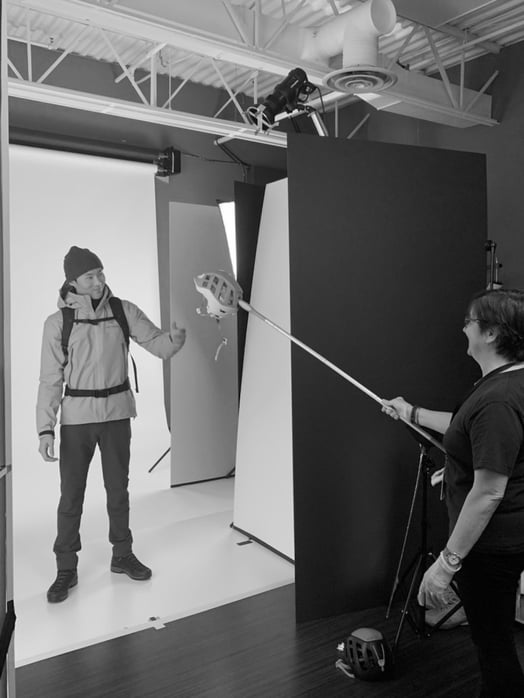 After the shoot was completed the entire racks were moved to a separate space outside the studio to be quarantined for 72 hours before staff could safely handle the contents again.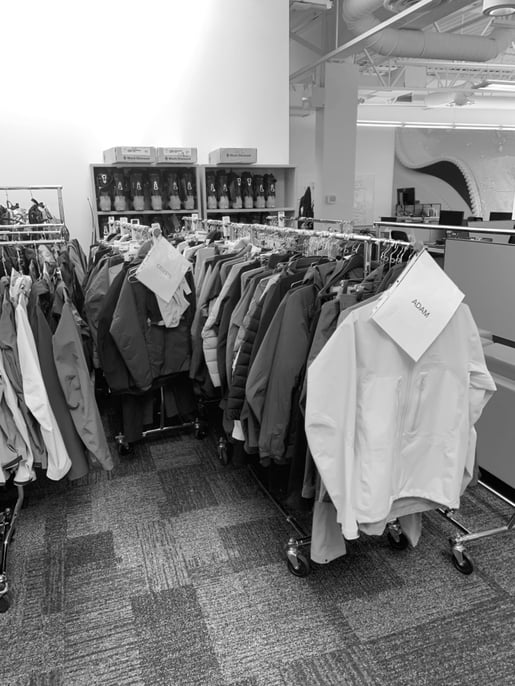 Casting: a narrow net
Before moving forward, Lindsay and her team had to decide on their capture approach. Being that 50% of this shoot had already been captured, they decided to cast models with whom they'd previously worked. Special consideration was given to models that would need only light touches for hair and makeup. The last step, before final selections could be made, were screenings and check-ins to see how the models had fared without haircuts for nearly two months.
Once talent was chosen, and before the shoot, each model would receive a video consultation from a makeup artist for additional tips. The producer then ordered single-use make-up supplies and models were even asked to bring their personal beauty products as they would be in charge of their own hair and make-up throughout the shoot day.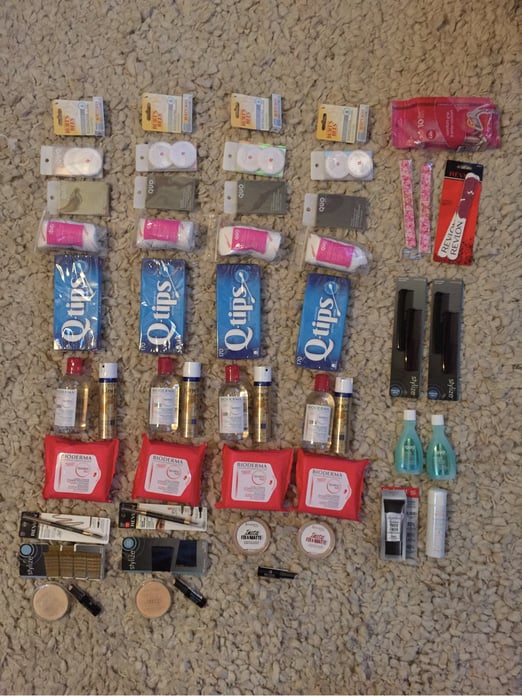 New habits, slowly but surely
All these new processes proved challenging. After all, old habits are hard to break. This, coupled with the leaner crew, made for long days. In addition, some of the products and materials made it tough for hands-off styling — suffice it to say, the hair stylists were missed. And of course, so were craft services.
But there were plenty of wins to offset the losses. Overall, Lindsay and her team found that implementing change in processes wasn't nearly as hard as they imagined. Largely in part because, as Lindsay put it, her team is so awesome.
The hard work, research, planning, and collaboration had paid off. And in the end, they were able to capture all outstanding deliverables despite the seven-week delay in production.
Looking forward with the past in mind
As Lindsay and her team prepare to return to daily operations in their studio, they'll continue to seek guidance and adhere to requirements from the local government. The number of people on set will remain limited, but this new lean, core team will now be able to leverage many of the things that worked in this first contingency shoot.
As for safety precautions, Lindsay and her team are stepping up their game even further. They've ordered face shields and are exploring other PPE to keep their staff and talent safe on set. And while they know this new normal will continue to slow progress, they're confident that as these new habits take hold, they'll continue to get more and more efficient in both process and workflow.