Few Creative Force tools model this as much as Kanban View. It's a simple but powerful way to visualize the state of production in your studio.
Kanban View Separates Tasks Within Easy Three-column System
Kanban View in Creative Force is made up of three columns: to do, doing, and done. The information in each column is pretty much what it sounds like-samples that are to do, in progress, or complete for a given task.
Kanban View is updated in real time, reflecting up-to-date production status for each task in your studio, making it easy to get a high-level sense of the workload for each task as well as to sample specific information.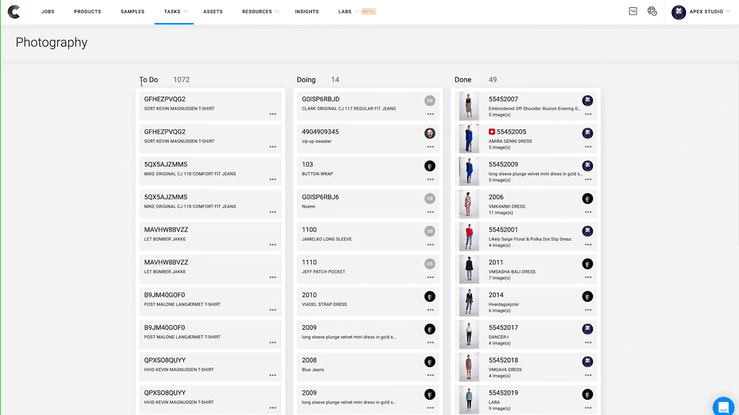 Real-time Production Overview of All Studio Tasks
Kanban View is available for each task listed under the tasks menu in Gamma, Creative Force's web application.
For tasks such as photography, Kanban View is informational. For tasks such as final selection, Kanban View is how you access the function in the web app-simply select sample records to work on and, once you've picked image sets to review, click to begin the process.
If you started but did not finalize your selects, the sample record will stay in the doing column, you can resume your work by clicking the record in the doing column.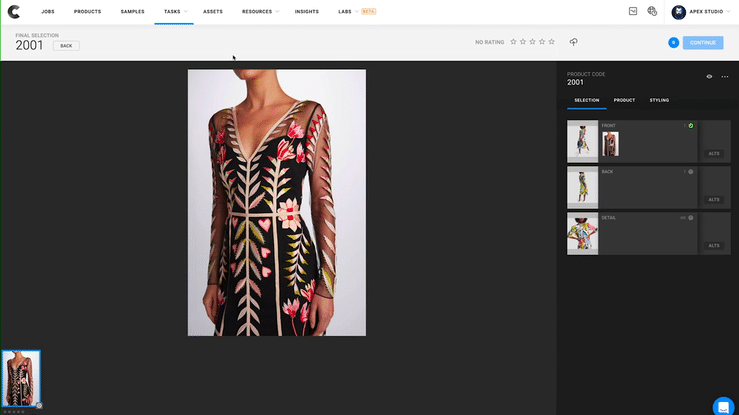 This view in Creative Force is emblematic of how the team wants to make your creative production as easy and streamlined as possible. One of the best ways Creative Force can help is by making important information available quickly and easily, so you can focus more energy on things that add value to your team and stakeholders.