All releases
Sprint Release #111
Sprint 111 release note: Major Upgrades to HUE, Greater Version Visibility for Style Guides & Workflows, 'Container' Improvements, Plus a Whole Lot More. Happy reading on another sprint release day! 🎉


Hue Updates
Filtering, Sorting, and Search - Oh My! We are VERY excited to announce that another of our top requested features is now live! 🚀
As a retoucher, when you're going through your task list in Hue, have you ever found yourself thinking:
"I wish I could filter my tasks to see all rejections at once, so I can focus and prioritize my work."
"If only I could filter by post step, so I can see which step the images are in and what type of work will be needed."
"I'd like to be able to change the sort order of my tasks, so the most relevant tasks are front and center of my list."
Good news! You can now do all of these things and more.
In our post-production application, Hue, you can now do the following:
Filter by a multitude of relevant properties
Save filtered views
Define the sort order for tasks
Search the task list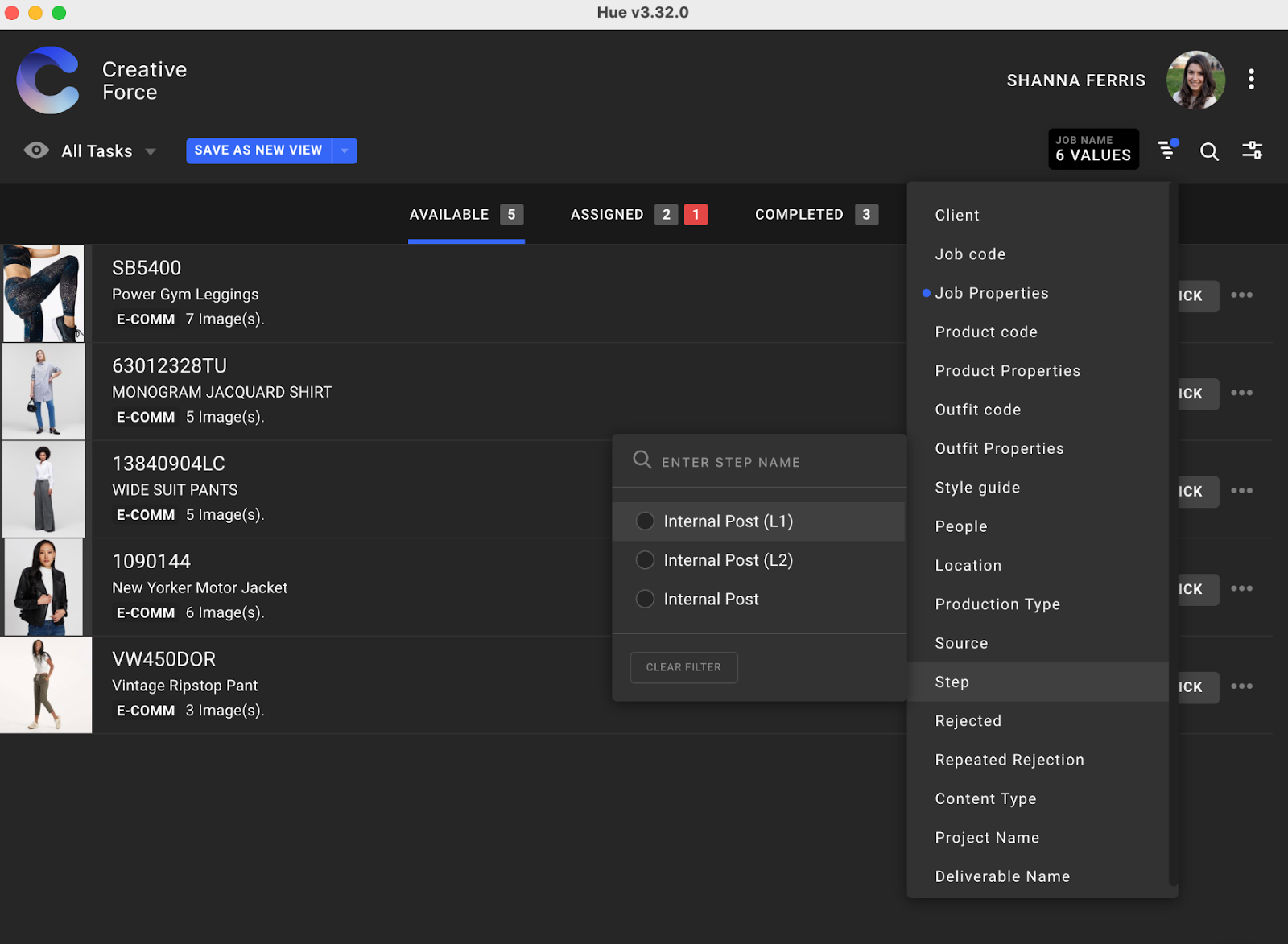 So many filters to choose from in Hue!



Reminder: Save your favorite filtered views, so you can access them with the click of a button later!


Automation Enhancement for Backups
Within Hue settings, the user has previously been able to define the destination for back-up working files.
However, for trying to find local files, contextually-relevant folder structures are key, especially at the scale and rate of ecom production.
Do your post team members pull their hair out trying to find specific working files in one enormous parent folder? Do they spend extra time moving backed up working files to relevant sub-folders?
You can let Creative Force take that tedious task off their plate!
Now, users can also have Creative Force intelligently create subfolders based on relevant properties within our system. Now organizing your working file backups is automated and effortless!

Define templated folder structures for both e-comm and editorial working file backups in Hue Settings > General > Back-up work files.


Enhanced Style Guide & Workflow Version Visibility
With clear visibility of the style guide version and the ability to dive into the details, you can now self-diagnose unexpected production outcomes and quickly resolve issues as they arise.
This feature is a bit nuanced, so let's take a look at an example scenario together for when to utilize and how to reap the benefits! 🚀
Imagine a typical work week where production is running along smoothly and efficiently in Creative Force.
And then one day out of the blue, you start to notice some unexpected things happen in production:
Maybe expected images are missing...
Or perhaps some images aren't sent to External Post like you thought they would be...
Or maybe some images aren't showing up in Photo Review...
Historically this would involve spending time trying to figure out the cause, prompting various coordinated efforts, reaching out to support for further cross-referencing and troubleshooting, and ultimately may even cause a halt in production.
Most commonly, once everyone gets to the bottom of the issue, a change has been made to an assigned Style Guide, but the update has not been applied to existing productions. (Remember: when you save a change to a Style Guide, it automatically updates production requirements for new products moving forward.)
With this latest update, we've provided full visibility in the system, allowing you to quickly and efficiently make informed decisions and resolve issues yourself.
On a production that is not providing an expected outcome, easily see if the style guide version is out-of-date.

Example of a production slide-in showing an out-of-date style guide version.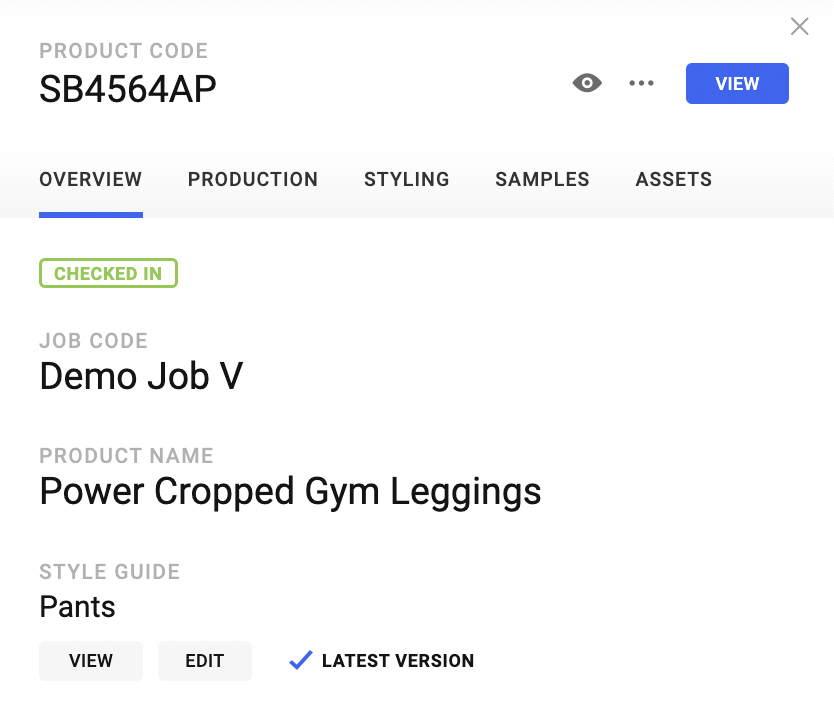 Example of a production slide-in showing confirmation that the assigned style guide is the latest version.


Click "Edit" to cross-compare the configuration of the former style guide version with the latest version.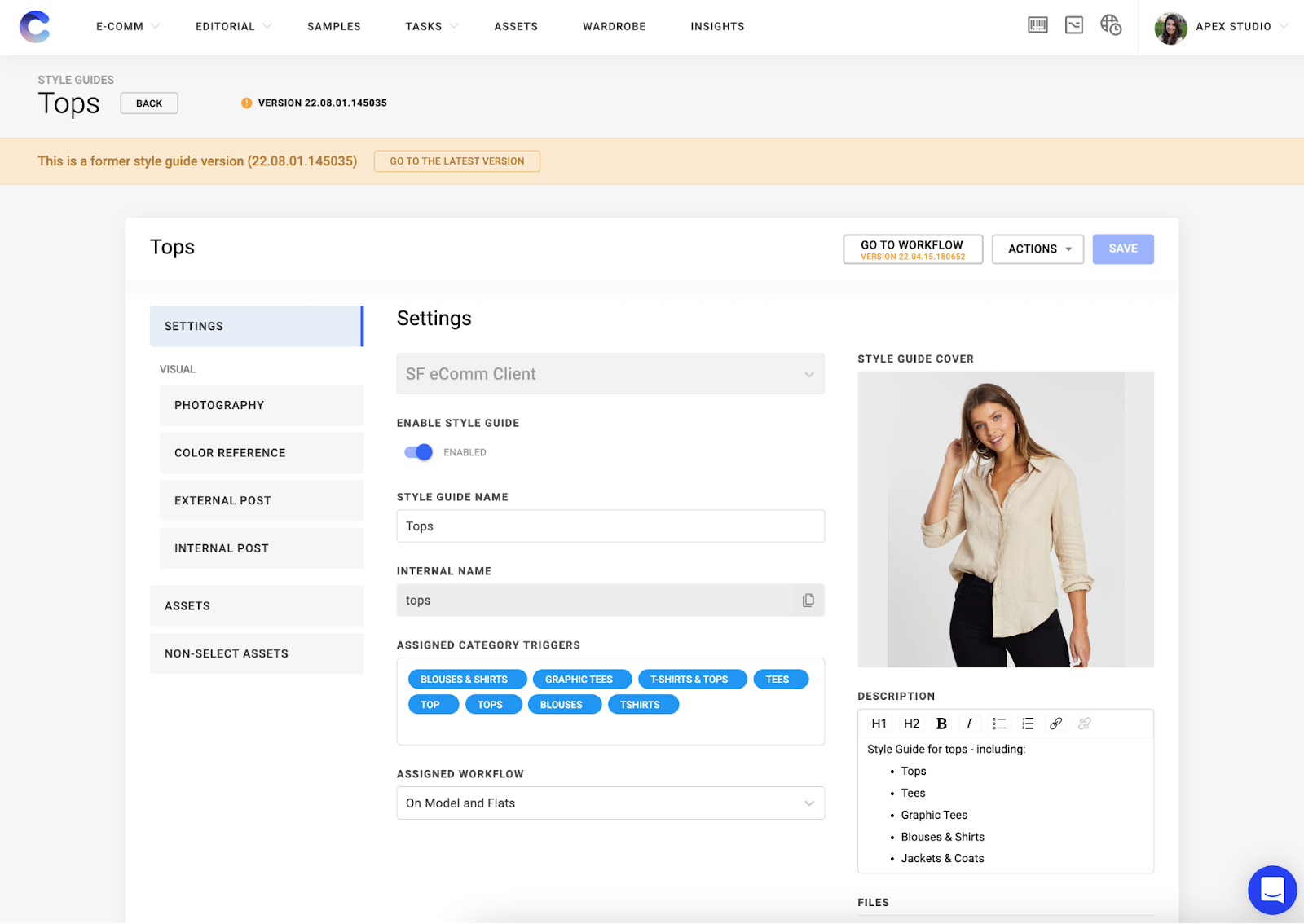 From the slide-in, simply click "edit" to see the configuration of the exact old style guide version a particular workunit is running. Use the button in the banner to also open the latest version to cross-compare.


Use this information to apply updates to that specific production, and any other applicable productions, in the Style Guides > Apply Updates window - keeping your productions running as smooth as butter! 🚀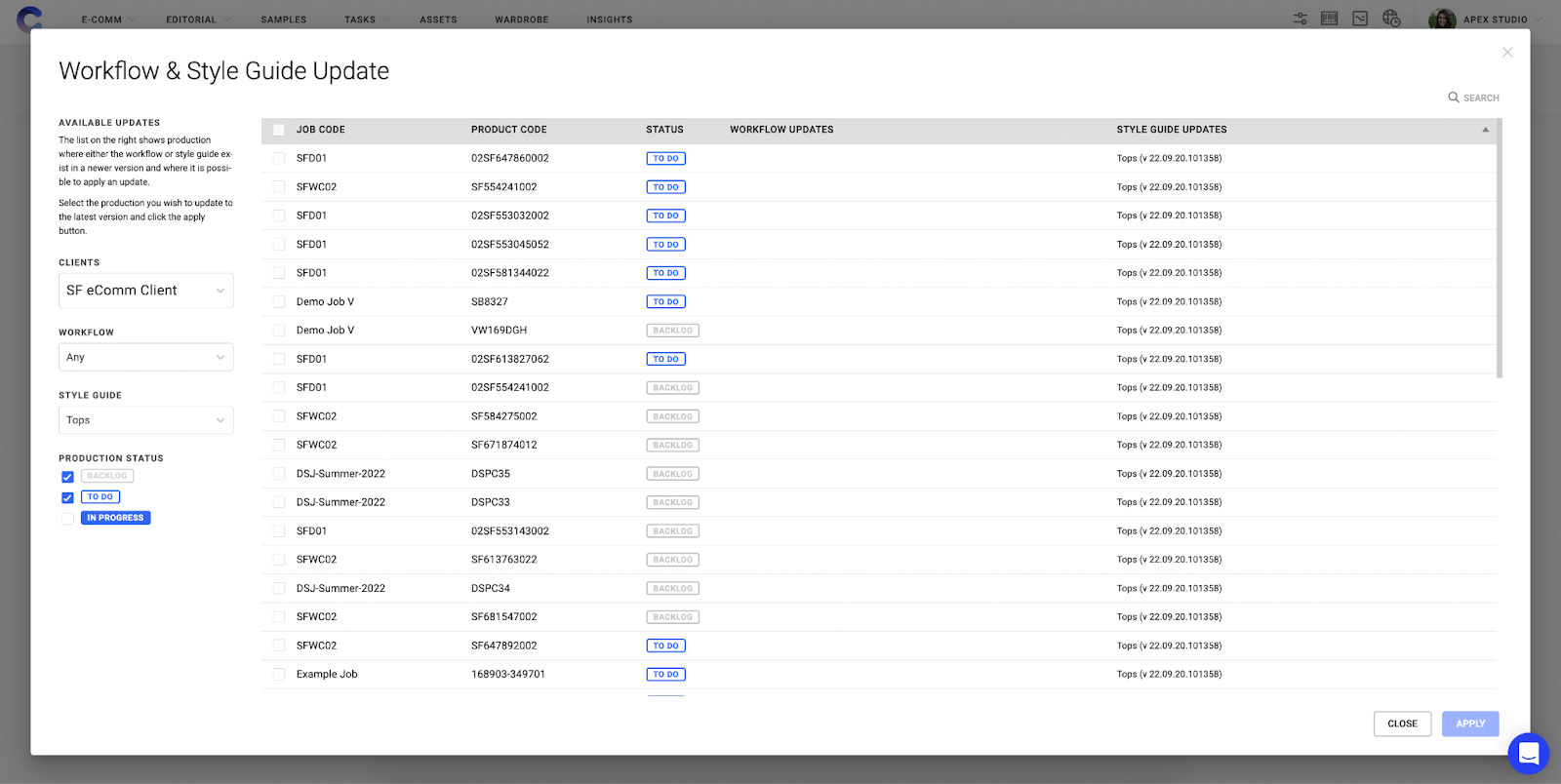 Style Guides > Apply Updates


New Container Actions in Gamma
We've continued to build out what you can do with containers in Gamma in this release.
When using Universal Scanning today, we can already scan a container barcode to see important information like its location and the samples within it.
Now you can execute relevant sample and container actions in Gamma as well!
Moving a box of samples from sample inbound to the styling prep area? Scan the box's container barcode and change the location of the container from your laptop in a snap!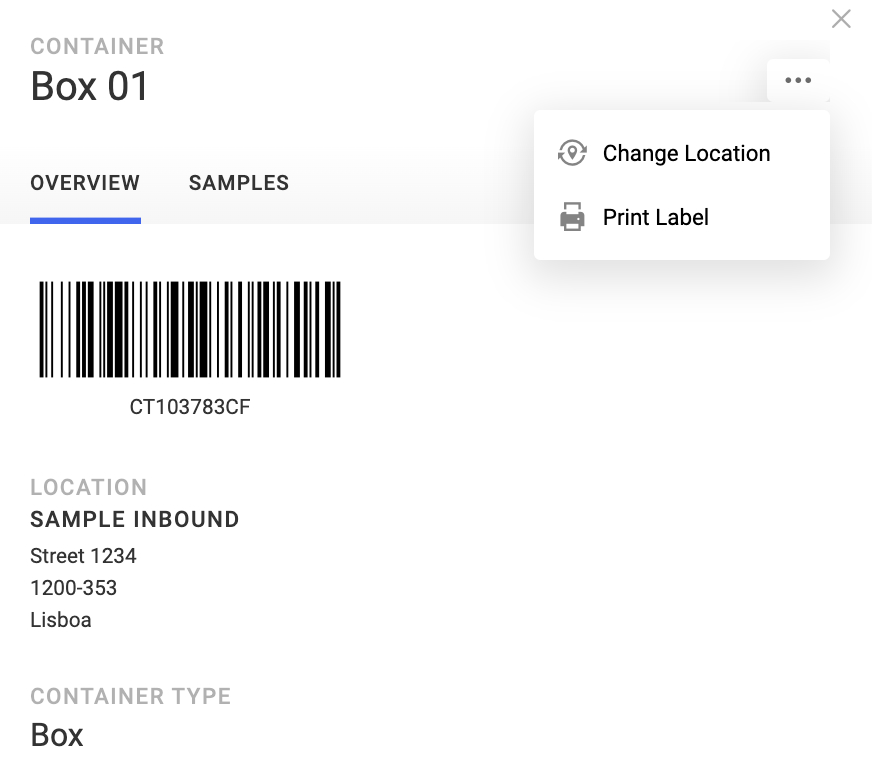 After scanning a container barcode, execute container actions from the Container slide-in's three-dot menu


Sorting individual samples onto a rail? Scan the rail's container barcode and easily add or release samples!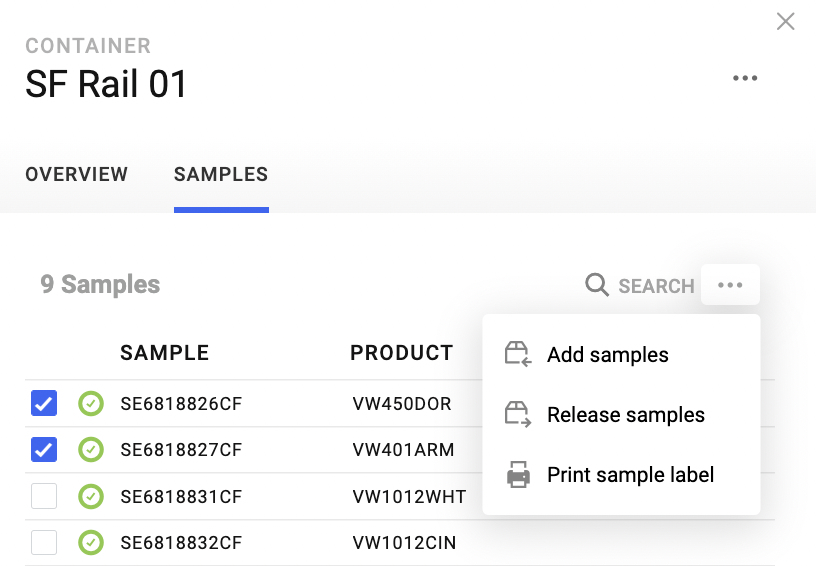 Execute sample actions from the Container slide-in > Samples tab


Other Improvements
Phase 1 of a Kelvin Performance Update was successfully rolled out.
A new S3 bucket was added to better serve the Australia region
A small UI update was made to the Kelvin onboarding screen
The Netcore service was updated from 2.1 to 3.1
A separate search proxy endpoint was created to improve Elastic Search performance. - LH-14178
The Hue onboarding experience was updated
The performance of Final Selection was optimized, including improved image loading speed
The mark-up modal loading & submission speed was optimized, including:
Final Selection instruction / rejection
Photo Review rejection
Internal / External Post QC instruction / rejection
The data source File Upload run in scheduler was updated in order to reduce the time taken to process requests to update data source via the CF Gateway
A default style guide badge/indicator was added to the list and masonry view
Bugs Fixed
Fixed: Kelvin: App crashes when running with BitDefender in iMac due to leak memory
Fixed: Kelvin: Reversible crop does not apply
Fixed: Kelvin: Unable to select correct Merge field in Next Capture Naming
Fixed: Gamma: Hotkey issues in Final Selection & External post QC screen
Fixed: Gamma: View on External Post QC Kanban not loading correctly
Fixed: Gamma: Universal Scan: issue with working popup in background
Fixed: Gamma: Filter Menu crashes after free-text searching with status filter
Fixed: Gamma: Not able to delete user avatar.